LG800 Tracfone with 1400 Mins &Triple Mins w/3 Gel Skins
In Stock
Sold Out
We're sorry. This item is not available at this time.
Pre Order Possible .
Low Stock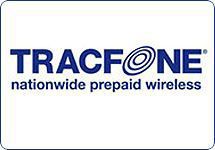 Get on Trac!
Learn more about the LG Tracfone.
Description
Clear conversation. Internet and app access. A camera and video recorder. Picture messaging. A music player. The 800G is everything you want in a smartphone--and with TracFone service, it's nothing you don't want!
With this TracFone, you get all of the above, minus the hassle of activation fees, contracts, monthly bills, or credit checks. You pay for the service up front, and with this package, you get one year of service/1,400 total minutes to use--but, you also get triple minutes for the life of the phone, which means you gain two additional minutes for every single minute you purchase! On top of all that and the sleek, compact touchscreen 800G phone, you'll also receive a car charger and three gel skins for colorful, on-the-go convenience. From LG.
Use of Bluetooth Wireless Technology requires Bluetooth software and Bluetooth-compatible accessories. Additional accessories may be required.
Includes LG 800G smartphone TracFone, lithium-ion battery, wall charger, car charger, 1,400 minutes/one year of service, triple minutes for life, and three gel skins
Touchscreen display
2 megapixel camera and video recorder
MP3 player
MMS picture messaging
Mobile Internet access; apps available for download
Bluetooth wireless technology
Measures 4"L x 2-1/2"W
UL listed wall charger; 1-year Limited Manufacturer's Warranty
Made in China
Reviews & Community QA
E223809 - LG800 Tracfone with 1400 Minutes & Triple Mins w/3 Gel Skins
91
91
Inferior Phone
I used my phone only for emergencies and it died within three month. Such a waste of money.
04-09-13
Absolutely Perfect!!!! NO MORE CONTRACTS!!!
This phone is perfect for the person that doesn't use a lot of minutes and is tired of paying lots of money for a cell phone contract. I like that I can change easily change the color with the gel skins. Very small and convenient to carry. I had to use a walker after hip replacement surgery......and it was small enough for me to easily carry in my bra. I've had this for about 4 months and have only used 300 minutes.....so this should last me over a year. For what I paid this would have been only one month of service with my cell phone contract. Plus it came with the home charger & car charger!!!! I didn't have to go out to purchase any additional supplies or equipment. Very easy to get charged and to get my new number. If something happens to it.......I'll just purchase another. With my cell phone contract if something happened to my phone I had to pay over $200 to replace it and also had to extend my cell phone contract.
03-17-13
wORST CUSTOMER SERVICE FROM TRAC PHONE. TERRIBLE
I bought this phone as a gift for a elderly neighbor. The phone itself was great until the screen kept disappearing, we called trac phone and they said they would replace it, Yes they did send a phone to us but it was refurbished and the back would not stay on, so once again we called (for another hour on hold) and they told us to send it back . WE DID>then 2 days later his phone was shut off, we call trac phone for 2 Weeks and told them we never received the new sim card, they again told us it was sent out,after 3 days we call fed ex and they have no delivery for us from trac phone. We called back was put on hold for hours no one spoke ENGLISH and the simm card again was sent to the wrong place. I recommend not to use trac phone all it does is upset you and give you a nervous break down trying to have customer service help you with a problem. After 3 1/2 week with no phone we decided to go Metro pcs and we are so HAPPY we did. You have a better chance of being brought back to life after being dead for 6 months then getting any help from TRAC PHONE'S CUSTOMER SERVICE REPS. Thank God for QVC they gave us a refund on the phone so we were able to get him something else.
02-13-13
Disappointed
I purchased two of these phones...one for me and one for my daughter. I'm a senior citizen and just couldn't get use to the touching....ordered a different phone from tracfone (triple mins) with larger numbers under the screen and I'm very happy with it. I've been with TracFone for years. Now, my daughters phone....she liked it at first, but then started having problems with it and then it died. She reactivated her previous tracfone.
02-11-13
So Far, So Good
I've been using this phone about a month. I am not married to my cell phone so this seemed ideal, especially with the bill we pay every month for minutes we don't use. One for my hubby is next. Tracfone had a little problem transferring my old number but it was completed fairly quickly with instructions for me to follow. I am still discovering new functions on my phone. Will update my opinion at the end of the year when time will pass for a true test!
02-01-13
~AT&T to Prepaid Tracfone? ~ Don't know yet.
After watching the first showing of this phone, I thought this would be a good way to save 60.00/per month on my cell phone & 89.00/per month on my husbands cell phone. The house phone is another matter!!! We have had cell phone's for years.. I do not text at all..it cost money) nor surf the web, desktop and laptop computers for that. , Husband did have blackberry but went back to old cell phone bill over $100.00 per month. When we both saw the showing again - he asked me to check into it & see how much money we could save with Tracfone vrs AT&T. Mine you I have been an AT&T customer since I was in high-school & have always had AT&T! HOWEVER I'm so tired of phone bills & all the double/triple tax on tax!! Being a senior, you would think thay would give a discount at MaBell! .We will see how this works--husband has activiated his & uses it - me, I'm on the fence... but am working up courage to call & nd just say good by to MaBell. More later! Will this phone work if you have nails or will you have to use a stylist?
01-18-13
Easy to activate and operate. NICE!
I purchased this phone for my 13 year old at Christmas for his first cell phone. I thought it would be good to keep in touch for after school things if needed. Peace of mind for sure on my part. Well, it was soo easy to set up online. Activating the minutes on the phone was just as easy. Just read the directions and it all was activated in very quick. Once the minutes were activated, I expected a long wait time for it to work. Trac Fone gave us 20 minutes free to set up, I'm guessing?, in case minutes needed activated from that phone. But all 1400 minutes were available for use, plus the 20, in 10 minutes! No long waits. He has used it for phone time only as of now. But maybe text or web in the future. He didn't really want a phone, but now that he has this one......he's excited about having it and feels much safer having in when he is not with me so he can be in touch with me if needed. AWESOME phone! Extra gel skins are fun too :-)
01-17-13
Nice phone
I ordered 2 of these phone sets. First, both of them only came with 2 gel skins instead of 3. Second, it is a bit complicated to set up the phone and minutes. But, once it is set up, this is a very easy to use phone. It's my 1st cell phone, so I am not tech savvy, but I easily figured out how to use it, set it up etc.
01-11-13
Great Purchase
I purchased this phone for my 12 year old as his first phone in order to be able to communicate with him about after school activities and while he is at friends' houses. It was a great choice. The phone works well and has great reception. The touch screen seems to be of good quality and works well. My ONLY complaint is that it is so easy to mistakenly touch the browser icon and waste minutes. Perhaps you can call tracfone and have them disable the browser function?? It is not too big of a deal, though, thanks to the triple minutes perk. I would recommend.
01-10-13
Unhappy with this purchase
This may be a wonderful phone but since I was unable to activate it--I guess I will never know. When I called customer service for help I was told that this phone would not work in my area, but they would send me--free of charge--a different phone that would work for me. The new phone would have ZERO minutes. I declined.
01-07-13
So Far, So Good
I read a lot of reviews before I bought this phone and figured I had a 50/50 chance of keeping it based on others' experiences. I am not a really seasoned cell phone user but the activation and minutes crediting all went without a hitch. I did have some trouble entering contacts and called Tracphone for help. I waited about 12 minutes but once I got to an agent they answered my questions and were easy to understand. This phone has a lot of additional features that my old pay-as-you-go cell didn't so my next challenge in learning to text and use the Internet. I checked to see if we got a good deal and it looks like to me the free minutes that came with the phone alone are more than what we paid for the package. I think this is well worth trying for someone who is not a heavy cell user.
01-07-13
Nice Phone
The phone is nice, love the triple minutes and all the features BUT... I have had terrible service with Tracfone. First they told me this phone wasn't compatible with my zip code. They told me they couldn't transfer my old phone number and remaining minutes because I had already activated my phone. They sent me a phone that would be compatible with my area but it was an inferior phone & only had double minutes. I returned it and after 2 weeks still haven't received the replacement. I called to inquire and they didn't have my ticket #, said I didn't tell them I was going to return it which was untrue, blah, blah, blah. I have other issues with tracfone but these aren't QVC's fault. I love QVC and have been a customer for about 20 years. Tracfone needs to get their act together.
01-07-13