LG Tracfone Prepaid Android with 1200 Min Texts & Data Plus Accs.
In Stock
Sold Out
We're sorry. This item is not available at this time.
Pre Order Possible .
Low Stock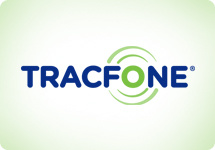 Description
Stay connected--but not tied in--with plan-free talk, text, and data that lasts up to a year. Now you can enjoy the great features of an Android(TM) smartphone without the hassle of a phone contract.
With this LG Optimus Dynamic II TracFone bundle--packed with 1200 minutes of phone service, 1200 texts, and 1200MB of data for up to 1 year--plus Triple minutes on all future minute purchases for life of the phone--you can enjoy top-of-the line tech without activation fees, monthly bills, or credit checks.
What makes the LG Optimus Dynamic II TracFone special? You get 3G and Wi-Fi connectivity for Internet access, a powerful 1 GHz processor, a 3 megapixel camera and video recorder, and a crystal-clear 3.8" diagonal touchscreen LCD display, all supported by the Android 4.1 Jelly Bean software. From LG.
You also get an Android app bundle! Enjoy a 60-day FlixFling trial, a $50 PrinterPix voucher, Trend Micro mobile security, and way more.
How does the TracFone service work? You pay for service up front, so you only use what you need. With this package, you start with 1200 minutes of phone service, 1200 texts, and 1200MB of data for up to 1 year when activated within 60 days. Plus, you get triple minutes for the life of the phone, which means you gain two extra minutes for every minute purchased.
What's in the box? Optimus Dynamic II TracFone, lithium-ion battery, AC wall adapter, car charger, USB cable, 4GB SD card (installed), case, Android App Pack, 1200 minutes/1200 texts/1200MB data for up to 1 year, and triple minutes on all future minute purchases for life of phone.
Use of Bluetooth technology may require software and accessories.
Access to and use of the Internet may require payment of separate fee to an Internet Service Provider.
Wireless capability may require network connection, accessories, and/or a service connection fee.
Please consult manufacturer's documentation regarding safe and proper use, handling, storage, charging, and disposal of products with lithium-ion batteries.
Includes LG L39C Optimus Dynamic II TracFone smartphone, lithium-ion battery, AC wall adapter, USB cable, car charger, 4GB SD card (installed), Android app pack, protective case in your color choice
Offer includes 1200 minutes of phone service, 1200 texts, and 1200MB of data for up to 1 year (if activated 60 days from order date)
Triple minutes on all future minute purchases for life of the phone
Android 4.1 Jelly Bean software
1 GHz processor
3.8" diagonal touchscreen LCD display
3G/Wi-Fi connectivity
3MP camera with camcorder
Bluetooth capable
Cannot ship to Guam or VI
Measures 2-1/2"W x 4-3/8"L x 1/2"H; weighs 4.43 oz
UL listed adapter; 1-year phone Limited Manufacturer's Warranty
Imported
Reviews & Community QA
LG Tracfone Prepaid Android with 1200 Min Texts & Data Plus Accs.
312
312
Lost minutes
The first 1200 minutes that came with the phone went fairly well although there was one time that the phone said I was out of minutes and I knew that I was nowhere out of minutes. Had to wait to get back to my house two days later so I could use a landline to call Customer Service. When I returned home the phone was fine and never had to call Customer Service. Eleven months later (I seldom use this phone and that is why I went pre-paid) I had to purchase more minutes. Six weeks later the phone says it cannot make calls as it is out of minutes. I doubt that I have even used 30 minutes at this point. Customer service was no help. I was really hoping that pre-paid was going to work for me as I love to text and don't need a cell phone except for an emergency basis. Don't know what to do at this point as I won't waste money on a regular cell phone because I barely use the minutes and don't want that tremendous expense.
04-18-15
Very nice phone, but ...
This is an awesome phone. All the bells and whistles you could want. But when I tried make phone calls from my house, no one could hear me. I found out from TracFone that I needed at least 3 bars out of 5 to make voice calls. I could get only 2. It's just a bad location. That's my only caveat with this phone. It was a coverage problem with TracFone.
03-24-15
QVC should dump this relationship
I love QVC and needed a new cell phone so who better than to trust, knowing that they'd take it back if I wasn't happy. It wouldn't even activate. Of course, I get to pay the lousy $6.95 return fee and now I have a headache too - lol - but back it goes! Consumer Cellular has been suggested to me, and I'll be calling them shortly. I understand real live people living in the USA answer their phones.
03-01-15
Try a Different Phone
I bought this phone last year for the sole purpose of NOT having a monthly cell phone bill. It worked reasonably well but there was no service when we traveled to Canada. Unable to take 'selfies' with the phone... so if that's your thing- try another phone. Quality of pics from the phone is fair to poor. Two big issues with the phone- have to go thru many steps just to check balance of minutes; and attempting to reload minutes is nearly impossible! If you are looking for ease of use, try a different phone!
01-04-15
Tracfone
This is a terrific phone. My husband has loved it and used it so much!
12-18-14
Nice phones
We have had these phones for a while now and they work great. I wanted a phone that took nice pictures and a phone that I could easily send those pictures to facebook and this phone easily does that. You can't beat the triple text, data and minutes! We love not having a monthly cell phone bill. Very happy with this deal.
11-08-14
A-W-F-U-L Tracfone Service
I have owned this Tracfone for 6+ months now. I was assigned a phone number that had been used before. I received texts meant for other people often. I responded telling them they had the wrong phone number. I use the phone rarely. It was purchased for Emergency use. In Sept. I couldn't access the Net. My 1200 Data Minutes were ZERO. I had not used this phone since April 2014! Someone else used up 1200 minutes playing on the Internet AT MY EXPENSE. I called Tracfone Service and explained the situation. I talked to a Supvsr. when I didn't get any help from the Rep. No Help! Trackfone blamed me (!), saying " you must have accidentally used up all your Data minutes..." While they were looking at my acct. Phone and Text minutes were still at 1100 minutes each- and Data was ZERO! Just looking at my acct status would have told them something was OFF about my acct. TRACFONE SERVICE IS WORTHLESS! They didn't even offer ideas for how to protect my acct. in future. I changed my phone number + bought more minutes to get Net access Data minutes. QVC: please get these No Contract Phones from a cell provider that will provide reasonable Service for the phone.
11-05-14
BEWARE
I HAVE OVER A 1000 VOICE MIN. BUT HAVE TO BUY MORE VOICE MIN TO GET MORE TEXTS. QVC DOES NOT ADVERTISE THIS DRAWBACK. TEXTS AND VOICE SHOULD BE TIED IN LIKE REGULAR PHONE OR AT LEAST YOU SHOULD BE ABLE TO BUY TEXT MESSAGING SEPERATELY. WILL NEVER BUY TRAC ANDROID AGAIN UNLESS THEY CHANGE TEXT MSG PURCHASE METHOD.
11-01-14
Going back
Had high hopes for this phone based on the presentation. Keeping this short, the phone froze on one of the set-up screens..didn't get past the "Language" setting. Kept hitting "next" or "back" and nothing happened. Turned off the power, restarted, and right back to the "language" screen. ("English" had already been entered). The phone would not revert to the main menu screen so I could complete the activation process. Called Tracfone customer service and was told there was a 45 min. wait time. Nope, sorry..going back!
11-01-14
Beware
The phone only worked for a little over a month. It was very difficult to plug the charger into the phone because of some resistance and then it broke, so it now can not be charged.
11-01-14
worst purchase ever
I had been a Tacfone customer for years...phones have always worked...but each time I upgraded phones was unable to keep the same telephone number per customer service with tracfone. After activating this new phone and transferring old phone over, I was given a new phone number and the phone never worked correctly. After a week dealing with TF customer service it was determined by TF the new phone was broken. Tf wanted me to send the new phone back to them? duh...ended up returning phone to QVC for a refund. TF was unable to activate and transfer info back to old phone and reactivate it without sending me a new sim number...6 months have passed and no sim number received...TF customer service really stinks.
10-30-14
The cheapest deal I've found
I purchased two LG Tracfones with the 1200 Min/Text/Data plans with the intention of giving them to my two sons. They both liked them a whole lot. The batteries last a lot longer than my son's iPod, so he's happy he can play his games and listen to his music on long trips. The phone automatically uses Wifi whenever it can, so they haven't been using the data plan which is nice. It comes with all the accessories you need except for a screen protector, and even has a car charger. It came with a notice that stated you could go to this web site and load up a bunch of apps that supposedly is worth like $500, but I looked it over and most of it was either a free trial membership or just some other app, so I threw that piece of paper away. But the phone, the car charger, the case, the 4GB memory card, and the one-year 1200 min/text/data plan is a good deal. I wish it had a bigger memory card and a screen protector, and there are higher-end phones out there but this is good for the money and the cheapest deal I've found - perfect for my kids.
10-07-14