KitchenAid Gourmet Cookie Press with 12 Cookie Discs
In Stock
Sold Out
We're sorry. This item is not available at this time.
Pre Order Possible .
Low Stock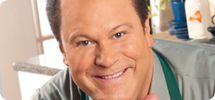 A Note from David
"Making multiple cookies has never been easier! Just load up the dough and choose one of the fun cookie discs and you're in business. I say, let the kids try this!"
—Program Host David Venable
Description
Cookie press success. Become a cookie connoisseur with this 13-piece cookie press set that includes twelve different shaping discs and a container to neatly store them all. From KitchenAid.
Includes cookie press, twelve cookie discs, storage container, and instruction booklet
Spring lever dispenser
Nonslip base
Stainless steel barrel with soft accents
Dishwasher-safe
With handle, measures approximately 2-1/2"Diam x 6-3/4"W x 11-1/4"H
1-year Limited Manufacturer's Warranty
Made in China
Reviews & Community QA
KitchenAid Gourmet Cookie Press with 12 Cookie Discs
21
21
Great Purchase
My Wife is always making cookies so I purchased this for her and she loves it it is easy to use and makes all kinds of different cookie shapes and sizes. now she says she can make the grandkids some special cookies for the holidays.
03-16-15
Horrible Product!!
I cannot believe Kitchen Aid made this product and better still I cannot believe QVC's quality control let it through. Poorly made breaks on first use. I have baked for years and this is the worst! Do not waste time and effort on it!
01-13-15
Does not work well
I love to make Spritz cookies during the holidays. I have tried several cookie presses in the past and they have all been a fail. I had high hopes for this one since it carries the "Kitchen Aide" name. It too is a fail. I used the recipe included with the press. I was able to press out about 9 cookies and then the pushed the end of the press off. I cleaned everything off and tried 3 more times. It's being returned and my days of looking for a decent cookie press are done. I'm not trying anymore.
01-01-15
Defective Item
I ordered one of these. It broke within 10 minutes of using. Thought we did something wrong. Ordered another one. The first time we pressed down on it, it broke in the same place. This is a defective item. Do not order.
12-31-14
Needs work
I purchased the cookie press a few months ago in anticipation of making spritz cookies at Christmas. I was very excited as my old one was worn out ( the metal legs were breaking off).. Well we made our dough and then cooled it as recipe calls for . we then worked the coloring in and went to press it but the pressure from the handle to move the dough through the press would force top to pop off the grooves that you screw it into....no matter how soft and warm the dough was the grooves were not deep enough to hold the top on... very disappointing...
12-30-14
Very Disappointed
I purchased this cookie press with high expectations. I have had it since the fall but did not use it until a few days before Christmas. I made the dough recipe in the book and very excitedly began to TRY and make the cookies. The top kept popping off. I spent several minutes taking the top off putting it on trying to press the dough out- the top would pop I would again put the top back on. After many many attempts I threw out the dough and tossed the cookie press to the side. I would send it back but because I had been so confident in it I had thrown out all the packaging. So now I am out of money and cookies.
12-26-14
Huge Diappointment
I bought this product as a gift for my wife and after we opened it we're really disappointed. First, all the cookie templates are stocked in the container and it wasted our time taking that thing out of that container. Second, the internal wall of the canister is rusted, the metal they've used is not even food grade. Third, the quality of make underneath the handle were really bad while outside aesthetic is acceptable. Kitchen Aide should make an effort to at least cover the bottom part of handle. But I think the most important issue to address is the metal used in the canister to be at least food grade which does not rust! I will send this product to Kitchen Aid and get my money back. Such a waste of time and money for this worthless product. Sorry but I will never recommend this product to anyone.
12-06-14
Liked this cookie press
My sister ordered this and I got to use it. I had no problem and made some nice sugar cookies, but my sister did not do as well. I guess it takes a little practice. I make Christmas cookies every year so I ordered one for myself. Also ordered a second for my sister in law. It was easy to load and price was a bargain.
11-04-14
KA cookie press
My granddaughter likes making cookies and this us easier for her to use.
07-03-14
Don;t purchase
I bought this end of Oct and didn't use until Dec 23rd. My daughter loves spritz cookies. On the 3rd cookie the unit broke. I called Kitchen Aid in January, was on hold for 35 minutes, went to on line chat, there were 17 people ahead of me, waited until it said I was next, then said no one there to help me good bye. It has been so long I can't return to Q. Totally frustrated and this is kitchen aid.
01-13-14
WHAT A PIECE OF JUNK
I absolutely hate this cookie press! I can't believe it is made by kitchen aid! What a huge disappointment! Top would not stay on! Ended up with about six cookies and a MAJOR PANIC ATTACK! sent back and threw out the cookie dough! Thanks for the $$$$ for butter and other ingredients that went in the trash due to this piece of junk from kitchen aid!
01-13-14
Huge Disappointment
Years ago I had a Wearever aluminum cookie gun (not a press) that was very easy to use and produced consistently sized cookies with minimum effort. It was only used at Christmastime and as a result it lasted for many years. Unfortunately after it finally broke for good I tried MANY other versions of this product but none have lived up to that first purchase - and I have tried them all. This time I was sure that this gun would be the answer to my search - because it's a KitchenAid item. That was not the case. It was almost impossible to get any batter to come out of the gun (one tray after multiple tries by two of us)! My daughter and I are both avid bakers and since we were both trying to teach my granddaughter how to make Christmas cookies you can imagine we were not happy. We eventually decided to roll the rest of the batter into logs and cut and form our own cookies into different shapes. A very frustrating experience - the product is on the way back to QVC and hopefully they will pass on my dissatisfaction to KitchenAid. I've had my KitchenAid mixer for over 30 years and my KitchenAid food processor for over 10 years and they've never failed me - perhaps the company should stick to mixers and processors and leave the cookie press idea for someone else to figure out!
01-02-14