KitchenAid 6 qt 575 Watt Glass Bowl Lift Stand Mixer w/ Flex Edge & 3 Acces.
In Stock
Sold Out
We're sorry. This item is not available at this time.
Pre Order Possible .
Low Stock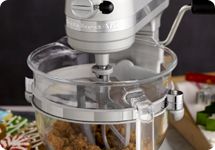 Description
Add a dash of baking power. Whether it's holiday cookies, cakes, breads, or airy whipped cream--now you can bake like a pro with this six-quart 575-watt Lift Stand Mixer from KitchenAid, the Number One name in stand mixers.
Pro-style performance on your countertop. Able to effectively mix up to 14 cups of flour at a time, this powerful six-quart mixer is built to last with all-steel gears and sturdy metal construction. The bowl-lift design provides support and stability, even when mixing your largest batch of wet or dry ingredients. The lever smoothly raises the mixing bowl into position for efficient beater-to-bowl contact--meaning better, quicker results.
Kitchen convenience. The robust 575-watt motor moves through thick batter and tough dough with ease, and the 10-speed control lets you choose a slow stir for delicate dishes up to a fast whip for preparing a light meringue. The narrow glass bowl is designed to handle large and small batches--and includes a convenient handle and pouring spout.
Tools of the trade. This versatile mixer comes with all the key accessories you need to get started--like a spiral dough hook that replaces hand kneading and a six-wire stainless steel pro whip that helps you easily craft creams and meringues. You also get a flat beater for general mixing and a newly designed Flex Edge beater for the Pro 600 design series mixer that scrapes the bowl sides.
This stand mixer is every baker's dream machine, and now's the time to treat yourself--or your favorite foodie--to the ultimate in culinary convenience.
Just choose the fashion color that matches your decor.
From KitchenAid.
Includes:
KitchenAid Pro 600 design series bowl lift stand mixer; model KF26M2X
Newly designed 6-qt glass bowl with spout and handle
Flat beater for general mixing
Six-wire stainless steel pro whip for creams and meringues
Dough hook for kneading thick dough
Flex Edge beater to scrape bowl sides; newly designed to work with Pro 600 design series mixer
575W motor
67-point planetary mixing action
Direct drive transmission
All-steel gears and metal construction
Sturdy bowl-lift feature
Soft Start feature helps cut down on splatter with gentle acceleration
10-speed control adjusts from slow stir to fast whip
Bowl, dough hook, flat beater, and flex edge beater are top-shelf dishwasher-safe
Hand wash wire whip
Mixer measures approximately 16"H x 14"L x 10"W, weighs 29 lbs, 4 oz with glass bowl, 46"L cord;
UL listed; 1-year Limited Manufacturer's Warranty
Reviews & Community QA
KitchenAid 6 qt 575 Watt Glass Bowl Lift Stand Mixer w/ Flex Edge & 3 Acces.
352
352
Loving Every Minute Of It
I have to say I love this incredibly powerful stand mixer with its large capacity bowl. My first experience with one was when my mother purchased her first one which had the tilt head when I was only 4 and that was 38 years ago. Im happy to say it is still going strong but has been passed down to others in the family and replaced with one that has a stainless bowl with a lift handle. So when I was looking for my first one I saw this one with the glass bowl and READ everything I was getting for the great price. There was no surprise as to what size the mixer was when I received it. It fits nicely in the corner of my counter with 3 inches to spare above the mixer. But if you look at the dimension and weight of both mixers there isn't that big of a difference that makes it a deal killer for me. The biggest difference is in the weight of the glass bowl but it is well balanced making something of this size much easier to handle when its full. My wife is only 5' and 116 pounds in weight and has no issue with handling the glass bowl when full. 16"H x 14"L x 10"W, weighs 29 lbs, 4 oz with glass bowl 13"L x 13-3/4"H x 8"W; weighs 20 lbs, 6 oz with stainless bowl (tilt head) We have had no difficulty as some have mentioned when adding ingredients to the mixing bowl. I will say its different than the tilt head mixer. On the tilt head you have the mixing paddle in an awkward position having to occasionally remove it or you have the non tilt version with the bowl lift that has to be occasionally lowered. Its apples to oranges. It all depends on what you like or don't like. I used the mixer as soon as it was in the door. I had an issue where all the ingredients in the bowl were not getting completely mixed but was quickly fixed by stopping the mixer, lowering the bowl and adjusting the screw directly behind it. Problem solved. :) The user manual shows how to solve this problem. Any other issue can be easily solved by calling KitchenAid tech support. This stand mixer is very powerful and I have mixed dough with it that was stiff enough to bring other mixers to its knees. When you turn it on you can not only hear the power of the motor but the gears they selected to give this mixer the incredible power it has. If you use your mixer a great deal and like to make triple or quadruple batches this machine is for your you. We use ours at least 3 times a week and love the time it saves us by being able to make such large batches. Cook and be Happy!
06-10-15
GET ONE NOW!
I am in love with my Kitchen-Aid. As an avid baker, this is the best thing to ever get your hands on. It's easy cleanup and dishwasher safe. I don't have to worry about flying flour or powdered sugar anymore. It also sits nicely in the corner of my kitchen counter.
05-17-15
TOO LARGE
I purchased this because I gave my smaller one to my sister who doesn't have much space and couldn't afford to buy her own. But it's too large and heavy and I haven't ever used it. I wish I had realized it when I could still return it. Now I'm trying to sell it on several different on-line sites. But since it's relatively new, never-been-used and I paid $379 for it, I can't sell it for less than $250.
04-22-15
Very heavy duty!
I absolutely love this mixer. The bowl is heavy but I made a double batch of chocolate chip cookies and had room to spare. is a little heavy but still love it. My bowl from my other 6 quart mixer works with this also. I make a lot of dough and things so it has to be heavy duty. Would absolutely recommend getting this.
03-31-15
AWESOME!!!
I love my Kitchen Aid Stand Mixer. Its the first one i ever had and being im going to culinary school will help me out a great deal. I have put it to work making cookies,bread and pizza dough with my mixer. I am glad i purchased it and i love it. Great investment!!!!
03-19-15
Dreaming bout for years
I have been wanting/needing one these fabulous machines for over 10 +years. Was soo excited when I saw this package deal...the price was just the best and.the fact that QVC included all the mixing attachments was fantastic, and the HUGE 6qt bowl can make an obscene amounts of bread, cookie, soft taco shell dough and a whole boatload of other recipes. Very pleased.
03-18-15
Love It But It's Really Heavy
Just like owning a wonderful seasoned cast iron skillet, you need to concern yourself with not only on how it cooks, but if you can lift the darn thing! If you are thinking about this mixer, beware that this is one heavy bowl! And when it's full of batter or dough, it's obviously even heavier. I have two pro model mixers, one with the metal bowl and now this one with the larger glass bowl. The glass bowl is bigger and I bought it because I mix heavy batter breads, and when making bread I like working with glass bowls. I like to watch the dough to monitor the kneading process. Also, the glass (at least for me# seems easier to clean and I actually have less cleanup when making bread in because I proof and mix in the same bowl. The only downside is the weight of the bowl. It's extremely heavy to handle when emptying batter or bread into pans. Because it's glass, if you get it wet it is more easy to slip out of your hands. I have taken to putting on my rubber gloves when dumping the bowl and that solves a lot of the problem. If weight and unwieldlyness #not sure that's a word) are not a problem for you, this is the mixer to buy. I have never had a problem with any kitchenaid product I have ever purchased. It's a beautiful piece of equipment. I couldn't make bread without it. Well, I could, but it would take a lot longer and who wants that! :o)
03-17-15
Must read: Customer Issues Resolved by doing this.
Several reviews have commented on this machine NOT mixing the sides and bottom of the bowl. I contacted KitchenAid and the issue is resolved by doing the following: Read page 12 in the KitchenAid Instructions manual for setting "Beater to Bowl Clearance". The mixer is shipped with the manufacturers setting. Place a dime in the bottom of your bowl, when mixer is on "Stir" to 2nd setting, it should gently be bumped around the bottom of the bowl. If it does not move, continue turning the adjustment screw. You do not want the beaters actually touching the glass. Now your mixer is "mixing"! Be sure to use the flat beater. Next, this machine is ALL metal. It is a very powerful machine, and is a different kind of "motor noise". Give it time to "break itself in". QVC has a 30 day return policy, KitchenAid has a 12 month warranty. Customer service at KitchenAid is extremely informative and very pleasant. Don't hesitate to give them a call if you struggle with your new machine. Good news, a metal bowl is in production for this model. Can't wait : ) Will be nice to have an extra bowl. LOVE my KitchenAid mixer, so glad the issues commented on the reviews are easily solved~
02-18-15
Several problems
I write very few reviews, but I thought as the other reviews that didn't care for the mixer or aspects of it, I needed to give you my input. I have owned several over the years as a business owned professional caterer and bakery. I will reiterate what some of the other customers said. After just a few months the mixer rattled or thumped when the mixer was going, so I finally found the rubber around the bowl was coming apart where the mixing bowl snaps into the mixer for stabilization. the motor does hesitate when first turned on, and does make a higher pitched squealing during the motor or mixer running. The bowl is very heavy and when you fill it with buttercream icing even heavier to try and empty the bowl.. so ingredients are easier to spill when trying to scoop out and put in a storage bowl. I did buy it as a TSV, and had always had a 325 watt and worked so much better for me overall. I just wanted a larger bowl to work with, and higher wattage motor, and this is not it. Also doesn't mix all the way to the bottom as stated, so I just do buttercream icing in it, and it's ashamed to be limited when it is more expensive than my last kitchen aid mixers, and I do everything with them.
02-16-15
good mixer but ....lot of power
this mixer has amazing power . the bowl is extremely heavy to handle and work with . this model does not have a tilt feature which makes it very hard to get the ingredients into the bowl with out spilling some of them . . I have been looking every where to purchase a stainless steel bowl but no one sells one to fit this mixer .
02-15-15
Awesome mixer
I love mine. I got it as a gift 2 years ago from my mom and husband when it was a TSV. I love that I can get another ingredient ready while the mixer is turned on. I do wish that a pouring shield was available as an accessory for this machine. I have seen it on other KitchenAid mixers so I am sure it wouldn't be hard to make one for this bowl. KitchenAid, please think about it.
02-15-15
Bad Designed Glass Bowl
I was looking so forward to getting this. The mixer seems great. But as soon as you use it for mixing, you find out that anything that was in the middle is not mixed through. It leaves the middle dry and untouched. It doesn't matter which attachment you use. The problem is the design of the glass bowl. In the middle of the glass bowl, it has a small round indention and that whatever you are mixing gets into it and no attachment can reach it in order to mix all of the ingredients up. This happens every time. I had to finish mixing it using a hand mixer. So, I had to return it. I am hoping the stain less steel bowl is designed differently. However, QVC is wonderful and makes sure the customer is happy. Thanks, QVC
02-09-15