KitchenAid 4.5qt. 300 Watt 10 Speed Tilt-head Stand Mixer
In Stock
Sold Out
We're sorry. This item is not available at this time.
Pre Order Possible .
Low Stock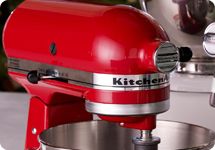 A Dash of Baking Power

Learn more about this KitchenAid 4.5-quart 300-watt Stand Mixer:
Description
Bake with the best. KitchenAid, the Number One name in stand mixers, offers QVC--and you--a unique opportunity. QVC has bought all the available units of this 300-watt tilt-head stand mixer with 4.5-qt bowl and four attachments. Don't miss this exciting opportunity to bring home a KitchenAid mixer at an amazing price.
The efficient 300-watt motor moves through batters and doughs with ease, and the 10-speed control lets you choose a slow stir for delicate dishes up to a fast whip for preparing a light meringue. An electronic speed sensor maintains your selected speed even as ingredients are added and weight and density change. The stainless steel bowl is sizeable enough for a crowd, yet small enough for a single batch of treats.
Awesome accessories. The versatile mixer includes the key tools you need to get started right away--like a spiral dough hook that replaces hand kneading and a wire whip that helps you easily make creams and meringues. You also get a flat beater for general mixing and a Flex Edge beater that scrapes the bowl sides. Plus, the manual includes over 25 delicious recipes, from entrees to desserts.
Choose from the huge range of fashionable colors to complement your decor, and enjoy the ease and convenience of this amazing mixer.
Now's the time! With holiday baking and entertaining just around the corner, treat yourself--or your favorite foodie--to the ultimate kitchen tool.
From KitchenAid.
Includes:
Tilt-head stand mixer
4.5-quart stainless steel bowl with handle
Burnished flat beater for general mixing
Wire whip for creams and meringues
Dough hook for kneading thick doughs
Flex Edge beater to scrape bowl sides
Pouring shield makes adding ingredients easier and minimizes splatter
Manual, including over 25 recipes
Model: KitchenAid Ultra Plus
300W motor
10-speed control adjusts from a slow stir to a fast whip
Electronic speed sensor maintains mixing speed as ingredients are added
59-point planetary mixing action allows for quicker, more thorough mixing
Soft start feature helps cut down on splatter with gentle acceleration
Bowl clamping plate holds bowl in place
Bowl, pour shield, and Flex Edge beater are dishwasher-safe
Handwash flat beater, dough hook and wire whip
Measures 14"L x 8-3/4"W x 13-3/4"H; 4.5-qt bowl capacity
UL listed; 1-year Limited Manufacturer's Warranty
Reviews & Community QA
KitchenAid 4.5qt. 300 Watt 10 Speed Tilt-head Stand Mixer
365
365
Amazing Appliance!
This mixer is an essential tool for every kitchen. I have made many desserts and even a meatloaf with this mixer. Makes mixing an ease without the fuss. I would recommend this mixer to anyone. The only downfall I have is with one attachment and that is the spatula attachment. I may not be using it correctly but it made a mess when I tried using it.
03-22-15
We love our Kitchenaid!
This is our first Kitchenaid Stand mixer, and we love it! We like that it came with the extra attachment, and that its a great start-up size. Easy to use! Best feature is the tilt-back head which makes it super easy to get in and out and for cleaning. We loved it in Cinnamon Red :-)
02-04-15
Unbelievable! A Very Happy Customer!
I just ordered my KitchenAid on Sunday and received it on Tuesday!! Amazing, the estimated delivery date was 12/18/2014!! Thank you QVC, and my family thanks you for all of the cookies they are going to eat! I ordered the Grenadine and the color is just beautiful and I love the glass bowl. I have had my KitchenAid since 2000 and I cannot believe the advances. This one actually fits under my counter so I don't have to hide it in the pantry. The tilt head is another great feature, as will as planetary rotation. I could go on and on. The most amazing part of the entire purchase is the price! I paid $329 for mine when I bought it in 2000. To get this package for $279 is incredible.
12-10-14
Don't know how I lived without it
Beautiful color! This machine makes baking so much mor fun and easy! Pizza crust is made in a snap! Noodles turn out so much better! Creamy amazing mashed potatoes. Homemade whip cream! I like ve my kitchenaid! Cleans very easy as well!
12-07-14
GREAT PRODUCT!!!
I love my new mixer. It is everything and more of what I expected. Thanks to KitchenAid for the wonderful product and all the beautiful colors...I got the yellow. My favorite...
10-30-14
In The Mix
I never knew what I was missing until I got my KitchenAid Stand Mixer. Upon arrival there was a scratch on the bowl and both QVC and KitchenAid stood by their promise. I proudly display the gorgeous appliance (Stainless Steel) in my kitchen and use it regularly. My fave things to make in it are not baked items, but instead- Shredded Chicken Breasts, Meatloaf, & Mashed Potatoes! It's quiet, a powerhouse, and works like a charm. I LOVE IT AND SO WILL YOU! If you've been waiting to get one.... STOP- order now and I promise you will be next to write a 5 Star review!
08-24-14
Loving it!!!
I love my mixer!!!!! I can whip up cakes, cupcakes, dough, and even ice cream in no time...... I will never own another mixer if it's not a kitchen aid!!!!!!!!
08-23-14
GREAT PRODUCT
I AM SO HAPPY I FINALLY DECIDED TO TAKE THE PLUNGE AND PURCHASE THIS ITEM. I HAVE HAD SO MUCH FUN WITH THE CAKES AND CUPCAKES AND BREADS, MY GRANDCHILDREN LOVE TO HELP. THEIR FAVORITE IS THE COOKIES... LOTS OF COOKIES. I AM VERY PLEASED IT TAKES NO TIME AT ALL TO MAKE THE BEST DESSERTS AND MY FAMILY LOVES THEM ALL.. THANK YOU QVC FOR THE EASY PAY OPTION, MADE IT AFFORDABLE. AND THIS WAS THE CHEAPEST PRICE I FOUND AND I SEARCHED FOR 6 MONTHES BEFORE DECIDING TO MAKE THIS PURCHASE.
07-26-14
Love it!!!!
I would never regret buying this stand mixer. it makes baking so much easier and faster. I think the only reason i ever bake is so i can use my stand mixer. I love how i can just leave it on the counter add my ingredients and it will mix while i am doing something else. it really allows you to multitask while baking. it is also very easy to clean. Every household should own one of this stand mixers because they are the BOMB.
07-06-14
The Best !!
Every baker , every home should have this mixer. I am in love with it !. it make everything relatad with cake and mix easier . And the attachments are great ! But, the best thing is that you could buy more attachements . Nice !
06-14-14
Great
I have always wanted a kitchen aide but cud not afford one. With monthly payments I was able to finally purchase it. Thank you QVC...LOVE IT! BTW: I make approx 15-20 cakes a month, this makes my life so much easier!
05-26-14
KitchenAid 4.5 Mixer-the best!!!!!
I make my own cakes and icing from scratch. I just received this mixer and it is everything I had hoped it would be! It handles everything from my cake mixes to buttercream icing to royal icing. It is quiet, mixes thoroughly everything in the bowl and doesn't move while in use. The only problems I have with it is that I didn't order it sooner and I don't have two! I highly recommend this mixer to all those who bake. I have not made a pie crust in it but I am today. I can't wait to use this mixer over and over for many different things.
05-19-14