Kindle Fire HD 7" 32GB WiFi Tablet with Charger,Case & Tech Support
In Stock
Sold Out
We're sorry. This item is not available at this time.
Pre Order Possible .
Low Stock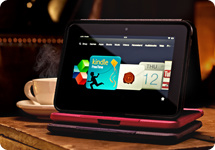 High Def & High Performance
Description
Curl up and unwind. The Kindle Fire HD tablet provides all you want, in a portable design that's easy on the eyes.
What makes the Kindle Fire HD special? Start with the 7" diagonal HD display, which offers a polarizing filter and anti-glare technology for truly vibrant color and gorgeous contrast from any angle. And when it comes to connectivity, the Kindle Fire HD is most definitely special. It uses dual-band, dual-antenna Wi-Fi for incredibly fast downloads and streaming, perfect for Web surfing and media playback.
What else can it do for me? The high-performance 1.2GHz dual-core processor teams with Imagination PowerVR 3D graphics to deliver super-fast performance. So, whether you're playing your favorite game, watching video, checking your Twitter or Facebook accounts, or making video calls with the front-facing camera, you'll do it quickly and seamlessly.
How about storage? There's 32GB of internal storage, plenty of room to save photos, music, documents, and other files. Plus, you have access to free unlimited Cloud storage for all your Amazon content!
What if I need help? With the included two-year Tech Support plan, you get all the assistance you need to set up your Kindle Fire HD for use--and you'll be able to turn to specially trained experts with any technical issues that arise.
What's in the box? Kindle Fire HD tablet, USB 2.0 cable, Kindle leather case, Kindle Powerfast charger, quick-start guide, a $50 Printer Pix offer, and two-year Premier Tech support plan (offer and information for Tech Support ship separately).
Wireless capability may require a network connection, additional accessories, and/or a service connection fee.
Access to and use of the Internet may require payment of a separate fee to an Internet Service Provider.
Use of Bluetooth technology may require Bluetooth software and compatible accessories.
Includes 32GB Kindle Fire HD tablet, USB 2.0 cable, Kindle leather case, Kindle Powerfast charger, quick-start guide, a $50 Printer Pix offer, and two-year Premier Tech support plan (offer and information for Tech Support ship separately)
1.2GHz dual-core processor
32GB internal storage, 26.9GB available for user
7" diag. 10-point capacitive touch, anti-glare HD color display with 1280x800 resolution, IPS technology, advanced polarizing filter
Dual-band, dual-antenna Wi-Fi; supports 802.11a/b/g/n
Bluetooth wireless
Front-facing camera
Imagination PowerVR 3D graphics
Supports Kindle AZW, KF8, TXT, PDF, unprotected MOBI, PRC natively, AAX, DOC, DOCX, JPEG, GIF, PNG, BMP, AC3, EAC3, non-DRM AAC, MP3, MIDI, PCM/WAVE, OGG, WAV, MP4, AAC LC/LTP, HE-AACv1/v2, AMR-NB, AMR-WB, HTML5, CSS3, 3GP, VP8 files
Dual-driver speakers with Dolby audio
Free Cloud storage for Amazon content
USB 2.0, micro HDMI ports
3.5mm stereo jack
Measures approx. 7-1/2"L x 5-1/2"W x 1/2"D; weighs 13.9 oz
UL listed; 1-year LMW
Reviews & Community QA
Kindle Fire HD 7" 32GB WiFi Tablet with Charger,Case & Tech Support
19
19
IPAD not needed!
Love it. Covers my needs and easy to use. Haven`t used the .music or Skype yet but I will. Fits in my purse too. Cannot say enough about it - LOVE it!
11-10-13
A Kindle and Tablet- Perfect for me !!
I could not decide between a tablet, laptop. Well I like to read and surf the net to shop, QVC, Ebay, go to MSN for the news etc. This is perfect !! If you watched the presentation you would realize it is not made by Apple. Therefore, if want a tablet by Apple then buy one, don't expect this Kindle Fire to do more than it was made to do. If like to read, look at email, shop-this is for you. Take some effort and do some research, write down what you need and then look at various tablets. I am not that great with all this computer technology and this works for me. Could not ask for a better product, extremely pleased with the Kindle Fire !!!
11-10-13
Won't Charge
I woul have rated atleast a 4, because it was exactly what I needed and wanted, but after purchasing the Kindle Fire HD 7" 32GB WiFi Tablet with Charger , Case and Earbudon 8-18-13 and using it and faithfully charging every nite, this Tablet will no longer charge. The charger is working fine. It's the Tablet. I purchased through QVC so wasn't sure if I should go to Amazon or QVC. I did research on Amazon and it appears that this has happened in the past and the tablet was replaced. I certainly hope that either QVD or Amazon honors that even though I have had the tablet for all of just shy of three months. QVC, PLEASE HELP.
11-09-13
Somewhat disappointed
I have been happy with the device itself, but very disappointed with the "Premier Tablet Support" line - Amazon customer service. The wait times are unacceptable, especially if you are calling with precious cell phone minutes. I also tried to make a number of purchases with their 1 click buy service and was charged for 4 of them without receiving the items. Perhaps QVC has just spoiled me with their excellent customer service : )
11-07-13
LOVED IT, BUT HAD TO RETURN, HERE'S WHY
This version of the Kindle Fire was too heavy for me to hold as an E-Reader. I am on waitlist for the Kindle Fire HDX which boasts to be 20% lighter. Please note: This is not an Apple I-Pad. If you're going to compare the Kindle Fire HD to an I-Pad, then you will be disappointed. However, this product is a device for downloading Amazon content. If you are a die-hard Amazon Prime Member like me, then you will love this device. I LOVED the screen clarity and the "X-ray" feature!!! Internet access was quick! It was very easy to set up and use (and I'm not techy)! Like I said, I found it too heavy for such a small device. Think of the Kindle Fire HD [primarily] as a glorified E-Reader with extra features to enjoy entertainment too! I'm most interested in using the device as an E-Reader and not at all interested in having a million apps to tinker with. BTW- QVC has this bundle at a great price - grab it!!!
11-06-13
Hi Tech is in The House!!!
I can`t begin to tell you all how impressed I am with my New Kindle Fire!!! I can do everything from email to surf the net not to mention read a book! I just love watching a movie or stream QVC live!! So if you are looking for a tablet that does it ALL , look No More because Kindle Fire is the only one to buy!!!
11-02-13
Better version of one I already had!
DON'T GET ME WRONG, I LOVE THIS KINDLE, BUT.... This was a great deal until I went to the Amazon site and found out they were offering a newer version the HDX, the one with the person who gives help. I kept this one anyway, but wish that QVC would have been able to get that upgrade for the one's that were built for them. I gave my old one to my son. I'm enjoying this one, but as any big kid I always want to have the latest greatest! I only gave it 4 stars because there's a newer version out there, but in the long run I AM A FAN OF THE KINDLE!
11-02-13
Average
Less than expected. I already have a Nook and have had for a couple of years now. I don't know why I thought I needed to try the Kindle. The Nook has everything I need and able to purchase ebooks from Barnes & Noble whereby one is locked into Amazon for their ebooks with the Kindle. Don't need it! Not a big wow for sure.
10-31-13
So Much Fun
I just love this Kindle, I have an older version that is just a e-reader. This one is easy to use, much smaller learning curve than my IPad 4. Setting up email on it was a breeze. It took a little bit of research to figure out how to load my music on to it, then that was easy too. Amazon gives you cloud space for up to 250 songs for free. If you have Amazon Prime there are lots of videos you can watch for free. So much fun and still learning more things I can do with it.
10-31-13
Wonderful for what it is meant to be!
I have never reviewed a product before. Wonderful for what it is meant to be! This is not an apple product, do your research to compare the two tablets so you get want you need and want. This is an amazing device for what it does. I have discovered reading again. So much easier than carrying a book around. Amazon has scored a grand slam with this product.
10-30-13
Disappointing of the way the way you have to take/
I love the Kindle but sent it back because how you have to take the pic...going to buy the next Kindle that will be out in Nov..front and back camera view..still a great product..just not what I wanted in this Kindle
10-29-13
love it so far.......
I love my kindle fire tablet so far. Its small and the case is a bright pink. I can take it anywhere to read my books......great for waiting at the doctors office. Fits in my purse without much weight. I have not had any problems with it as yet.
10-29-13