Keurig Vue V500 Single Serve Coffee Maker w/ 56 Vue Packs & Water Filter
In Stock
Sold Out
We're sorry. This item is not available at this time.
Pre Order Possible .
Low Stock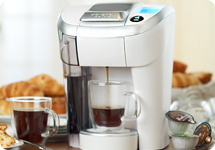 What a Vue!
Learn more about the Keurig Vue V500 brewer:
Description
Countertop cafe. Keurig has done it again with the revolutionary Vue V500 Coffee Maker that gives you more of the tasty beverages you love, exactly the way you want them! Thanks to Keurig's Custom Brew Technology, you decide how strong you want your coffee to taste and how hot--no matter big or small your cup. And it's not just for coffee. From creamy hot chocolate to delicious iced teas and frothy cafe beverages, the V500 delivers the size, strength, and consistency you love with every single serving. Best of all, it's offered at a price that's sure to perk you right up!
Choose. Brew. Enjoy. At just the touch of a button, the Keurig Vue V500 adjusts water pressure, timing, and airflow to deliver the perfect cup of coffee or tea every time. You'll love the Vue's quiet operation and shortened steep time as it whips up cafe-quality treats in a matter of minutes. Choose between seven different brew sizes, from four ounces all the way up to 16-oz cups. Plus, there's no grinding beans, measuring, or cleanup needed--just add water and enjoy!
It's the little things. More than just a morning wake-up call, a cup of coffee is a great way to gather family and friends for quality time, any time you like. Whether you're catching up with your best friend, enjoying tea time with your daughter or grandaughter, or sharing a few special moments over morning cappucinos, these are the moments you will cherish for years to come. And you can count on the V500 to be there with a delicious drink every time.
Brew with a Vue. With the Keurig Vue V500 system, you get the single-serve brewer with a fully programmable touchscreen display and a water filtration kit. You'll also get 56 Vue packs in a variety of flavors to help get you started right out of the box.
Here's to great coffee and the memories that come with it.
From Keurig.
Includes Keurig V500 Vue Brewer, two 8-ct Variety Vue packs, 16 Donut Shop Vue packs, 16 Bigelow English Breakfast Tea Vue packs, 8-ct Barista Prima 2-Step Cappucino pack, water filter kit, and $20 manufacturer's mail-in rebate offer
Variety pack includes Green Mountain Coffee Breakfast Blend, Green Mountain Coffee Nantucket Blend, Gloria Jean's Hazelnut, Celestial Seasonings Sleepy time Tea, Celestial Seasonings Unsweetened Black Perfect Iced Tea, Tully's French Roast, The Original Donut Shop Coffee, Cafe Escapes Milk Chocolate Hot Cocoa
Touchscreen
Seven brew sizes: 4 oz, 6 oz, 8 oz, 10 oz, 12 oz, 14 oz, and 16 oz
60-oz water reservoir
Brew coffee from 187F to 197F
Strength selection
Removable drip tray with adjustable plate
Vue packs are #5 recyclable plastic
Vue Packs are available in over 9500 retail stores
Measures 12-1/2"H x 8-3/4"W x 9-3/4"D; Cord 3'L; empty, weighs 8 lbs 4 oz
UL listed; 1-year LMW
Made in China
Reviews & Community QA
Keurig Vue V500 Single Serve Coffee Maker w/ 56 Vue Packs & Water Filter
293
293
Not enough product
I was so excited to receive my new Keurig. After a bit I realized it was a Vue and required only Vue-cups. So I found tons of the K-cups but very few of the Vue-cups. The machine works great but can't find them in our local stores. Have to order online and there it's very limited. We went ahead and ordered a K-cup like the one we have at work. Very expensive mistake indeed. We will now have two. Oh well..
12-04-13
DELICIOUS COFFEE MADE SIMPLE!
I love my Keurig Vue. It makes delicious, soothing coffee quickly and I have been able to find a good selection of Vue packs to choose from at Bed,Bath & Beyond. I also bought the adaptor there so now I can also use regular K cups in my Vue machine as well. Clean up is minimal after using the adaptor. I think the machine looks great (I got the red one) and it is not as noisy as another brand of coffee maker I had previously that did not work very long. Well I am off to enjoy a cup of French Roast. BUY THIS MACHINE AND ENJOY!
12-02-13
Love this Keurig
I love the features and the flavor I get from this machine, BUT am considering returning it due to the Vue cups not being widely available or easy to find. I have however been able to purchase them at STAPLES, BED BATH & BEYOND and on AMAZON, but would appreciate being able to purchase cups at my local grocer in a pinch. K Cups are everywhere, but where are the Vue cups? I thought this was the new big thing from Keurig.
12-01-13
Vue Packs ??
I have finished the Vue Packs sent with the coffee maker and I was under the assumption after the presentation that Vue Packs would be readily available at the store. I cannot find them anywhere. Even online at QVC the variety is not there and with shipping charges they are so expensive to order. I received two variety packs with the maker and no Starbucks or Kona included. I do not think the presentation was really fair and now I am stuck with a coffee maker and no coffee. I am very dissappointed with Keurig and QVC!
11-24-13
Love My Keurig!!!!!
I so love my Keurig. My only wish is that the coffee cups were easier to find. I see "k-cups" everywhere but the cups for the "View" are almost impossible unless u go to Bed,Bath,
11-23-13
Limited Beverage Selection
Keurig vcups have a limited selection compared to kcups. I assumed Keurig would continue to add to the selection once this model became more established in the marketplace. The Christmas season is here and there are no festive holiday flavors to purchase. If you like variety, I suggest that you chose a model that uses kcups and don't make the same mistake I did.
11-17-13
Disappointed
Not impressed at all. It requires water tank to be 3/4 full at all times. It also is difficult to find the vue cups. They are not available in local grocery stores. Going back to my older version.
11-17-13
Disappointed
My niece had been wanting a Keurig for years and when I saw this as a TSV, I thought ithis would be a great surprise. Unfortunately, this did not turn out to be the gift I was hoping for. The machine is pretty noisy, you have to constantly fill the water container, and the variety of Vue cups is slim. Sadly she asked if I would return this item. She decided on the Keurig75 instead. A much better choice.
11-17-13
Disappointed in Vue cup availability
I love the machine itself - it makes great coffee - I haven't been back to Starbucks since purchasing it. However, you cannot find Vue cups anywhere!!! Bed, Bath, and Beyond have a small selection but it appears that they are phasing those out. They suggested I buy the converter so I can use K-cups ($20), but then I should have saved all the money and good qualities and bought a regular Keurig!!! Not what I wanted in the first place!!
11-16-13
One Cup or Many Meets all Requests
The Keurig Vue V500 was an excellent purchase for me. Whether I need 1 cup of coffee in the morning or several individual cups for guests and family. The Keurig Vue meets every guests' requests. After researching the Keurig I felt the V500 was the best choice for me. I would have given this product 5 stars but without a K-Cup the Keurig Vue is not quite complete. During the "on-air" presentation it was not mentioned that the Vue did not come with a K-Cup. This model of Keurig's Coffee Maker comes with many great features: the large water reservoir,the water filter, the ability to adjust the number of ounces in the cup and the temperature of the beverage. Neglecting to mention the lack of an individual K-Cup with this model is worth a star. I am also disappointed that buying Vue Packs is not as easy as advertised, they are not readily available at local stores as advertised. Buying large quantities of Vue Packs at QVC is not always affordable. When trying a new flavor one may not want 32 packs in the event the new flavor is not enjoyable. Buy a Keurig Vue you will love it despite the 2 minor flaws. I am very pleased I did!
11-15-13
Where are the Vue packs!
Don't buy unless you live in a big city. I can't find Vue packs anywhere except online and they are not cheap. The day that I watched QVC for this they talked about how over 5k new stores carry the Vue packs. So getting the Vue paks should be easy. I have yet to find any close to me. They all have K cups! I got this a wk before the Christmas extended returns began. I now have a machine I can't get product for. They should really have to say that getting the Vue pks may be difficult. I would have waited for the bigger K cup brewer to go on sale.
11-14-13
Good single-brew choice with a caution
This was my 2nd try at single-cup brewers and I've decided to keep this one even though I prefer traditional brewed coffee. I put it through its paces and was happy with the results especially since I can set a brew temp that is almost equal to the recommended water temp for traditional brewing (for best flavor). But, the max temp of 197 degrees isn't quite hot enough for instant soup or oatmeal; needed to zap both in the microwave to finish preparation. It is very good for brewing tea if you're an occasional drinker; it will seems hot enough. If you drink 2 coups of coffee a day you need to refill the reservoir every 2 days, which may help reduce chance of contamination of bigger amounts of water that are not used right away. Control panel easy to use and good written instructions with it. Haven't had trouble finding Vue packs especially since there are online sources with free shipping. Variety is much more limited and it's unclear if Keurig will improve that since they've invested so heavily in so many different Keurig brewers that take K-cups. And, that's probably my biggest complaint (Keurig/QVC) - Keurig is being very slow to release an adapter for this machine that at least allows me to use my favorite private coffee brands AND allows me to take advantage of the wide selection of other brands within the K-cup family!!! Here's my caution - yes, there is an adapter available that accepts K-cups (even at QVC - which is more expensive than buying it direct from the manufacturer who doesn't charge shipping!). The adapter seems to work well but Keurig (customer service) is very specific and clear that they do not endorse this product and that if the Vue should not work properly when using the adapter it may void the warranty!!! Consumers (and QVC) should be aware. Given the volume that QVC handles I'd like to see them get Keurig to address the obvious consumer demand for an adapter!
11-14-13