Keurig Platinum Series Quiet Brewer w/ 66 K-Cups & Water Filter
In Stock
Sold Out
We're sorry. This item is not available at this time.
Pre Order Possible .
Low Stock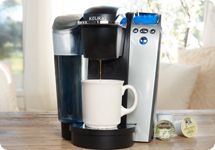 Enjoy Your Favorite Flavors, One Cup at a Time!
Learn more about Keurig's single-brewing sensation:
Description
Choose, brew, and enjoy with this incredible offer from Keurig, the brand name behind the single-cup coffee brewing revolution. This valuable collection includes Keurig's Platinum Series brewer, a water filter kit for added freshness, and an impressive 66 K-Cups--in a variety of flavors to let you and your family discover new favorites!
It's carpe diem in a cup. Perfect for busy mornings, this virtually silent brewer whips up single servings in under a minute so you can seize the day. There's no grinding beans, measuring coffee, or cleanup needed. Just add water and enjoy! And with 66 K-Cups included, there's something for every family member and guest, including various coffee flavors, plus a single tea flavor.
Simply delicious. With the Keurig Platinum Series Quiet Brewer, you'll enjoy cup after cup of delicious gourmet coffee or tea at just the touch of a button. So, do yourself a flavor and let this single-server prepare your favorite beverage each day. And consider it for a loved one, too. Starting every day with a smile--could there be a better gift?
From Keurig.
Includes Keurig Platinum Series brewer, removable drip tray, water filter kit, and 66 K-Cups
K-Cups include 18 Green Mountain Breakfast Blend K-Cups, 18 Green Mountain Nantucket Blend K-Cups, 18 Van Houtte's French Vanilla K-Cups, and a 12 K-Cup variety pack
Variety pack includes one each of Green Mountain Nantucket Blend, Green Mountain Breakfast Blend, Newman's Special Blend, Gloria Jean's Hazelnut, Coffee People Donut Shop, Timothy's Colombian Decaf, Emeril's Big Easy Bold, Van Houtte French Vanilla, Celestial Sleepytime Tea, Barista Prima Italian, Tully's French Roast, and Caribou's Caribou Blend
Heats and brews in under two minutes; if already heated, brews in under one minute
Five brew sizes: 4 oz, 6 oz, 8 oz, 10 oz, and 12 oz
Extra-large 72-oz water reservoir
Heats water and brews beverages 187F to 192F
Quiet brew technology
Plastic/metal construction
Measures approximately 9-3/4"W x 13"H x 13-1/2"D
ETL listed; 1-year Limited Manufacturer's Warranty
Brewer made in China; coffee made in USA
Reviews & Community QA
K37811 - Keurig Platinum Series Quiet Brewer w/66 K-Cups& Water Filter
348
348
About Water Filter
This is my second Kuerig... Love it ! Mine came with the water filter ... Kept leaking. Nothing big. Just leaking. So I removed the filter... NO LEAKING!!! I think with the water filter there's not enough pressure on the valve in the tank... Should be improved! Fresh brewed coffee whenever is AWESOME!!
03-12-13
LOVE my Keurig!
Such a great invention, this had performed beautifully for months now. There is nothing better than waking up to a perfect cup first thing every morning :-)
12-27-12
Nice Product
Love the Keurig! It is very convenient and also very attractive on the kitchen counter but I wish it came with a My K Cup
09-07-12
Great coffee maker
I like that it holds the water and I don't have to put it in cup by cup. It does what it's supposed to do - make a cup of coffee. I have tried several different kinds which is fun. I didn't really like the coffee when I used my own ground and used the replacement filter. It can get pretty expensive for single cups of coffee if you drink a lot. My one complaint (outside of the expense for the coffee) is that it doesn't seem as hot as I like it sometimes, and I turned it to the highest temperature.
08-27-12
Did Well For Several Years.. But
Why,why,why does this thing backup and dump water back into the reservoir? I can never get a hold of them to figure it out and I am deleting the vinegar supply.... I hear keurig will replace it, but if you can't get a hold of them, what good is that?
08-05-12
Very Good
I bought this for my parents they love it. My only complaint is where I live the k-cups are kinda high.
08-03-12
LOVE THIS COFEE MAKER
WOW! I use this all the time and can't believe how much I love having the ease and variety of this little machine. I like not having to ad water all the time. I was on the fence with this a long time and glad I got it before it was gone. I also love being able to choose cup size.
07-31-12
A Piece of Junk
I have unfortuately purchased two of these coffee makers. They only last for less than a year and then stop working. No matter if you clean it all the time, it still will stop brewing and water pours back into the water reservoir. Please do not waste your money on these brewers. Two other family members and I have purchased these and they too had to throw theirs away too because the company DOES NOT stand behind their product. I only hope QVC reads these reviews and refuses to sell them until they can get their product fixed.
07-30-12
Short life span
Great coffee machine if it would only last for more than a year or two. I purchased my very first Keurig back in 2009 and it died exactly a year later. Contacted costumer service and they were just terrible, transferring us from one department to the other and we never got anywhere with them. I loved the convenience and the quality as well as the variety of the products offered so much that I decided to just let it go and purchased another one. This time I bought the upper model, thinking that maybe it was advanced in features as well as quality. Well, that just got me an extra year of enjoyment. My Keurig died today, two years exactly from the moment I bought it back in 2010. Yes I cleaned it periodically with the vinegar and I also purchased and replaced the filters often. I've had it with Keurig, I think I may try that Cuisinart version and hopefully it will last longer. That way I don't have to give up on the variety of products available from Caffe Express. I loved both of my Keurig while I had them, I just wish they would last longer. Oddly enough, out little travel size one still kicking and is three years old. Maybe it has do with the fact that is only use occasionally versus daily like the other ones. something Keurig needs to improve.
07-23-12
EXCELLENT
This is a really great product i would recommend it to anyone.Great easy pay options on it was great.
07-16-12
Customer Service
For those that may have a problem with their machine, don't hesitate to call Keurig customer service. After trying to fix my problem over the phone unsuccessfully, they volunteered to send out a new one - I even could change colors if I wished! They were great!
07-05-12
Love My Keurig!
I was a little apprehensive about buying a Keurig because of bad reviews I had read on other websites, but I am so glad I finally bought one! I have had no problems at all with mine. (I do use the water filter that came with it and have since bought replacement filters.) It allows me to make a cup of coffee quickly and whenever I want it; plus, is a great way to personalize coffee for guests by using various k-cups. Great buy, too! (I shopped around for quite a while, and this was the best deal I found!)
06-13-12