Keurig Platinum Plus Series Brewer w/ 62 K-Cups & My K-Cup
In Stock
Sold Out
We're sorry. This item is not available at this time.
Pre Order Possible .
Low Stock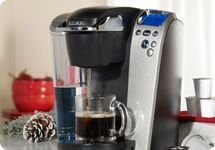 Enjoy Fave Flavors, One Cup at a Time
Click below for more about Keurig's single-brewing sensation.
Description
Single--and loving it! The feature-packed Platinum Plus brewer from Keurig takes single-serve beverage brewing to the next level of ease and convenience. Updated with a separate hot water function and a rinse cycle, it delivers the ultimate in fast, fresh brewing.
If you ever wished you could get hot water at a moment's notice--no boiling or kettle cleaning involved--you're in luck. This brewer's new hot water dispenser gives you hot water on demand, perfect for brewing tea, making instant oatmeal, and more. Additionally, this innovative unit keeps your cup as tasty as possible with a rinse cycle--hot water is dispensed between brew cycles for a super-quick clean-up to help prevent flavor contamination. And, a water filter kit is included so you don't just get a fast brew--you get the freshest brew possible.
A small shot...or a cup of joe to go. This brewer lets you choose from five serving sizes from 4 oz (for an intense brew) to 12 oz (to fill your travel mug). Plus, it's easy to clean: there are no coffee grinds to sweep up, no soggy filters to throw away. Just simple coffee--or tea, cider, hot chocolate, you name it--made to order.
It's the singular sensation--for a value that will really perk you up. 62 K-Cups in a variety of flavors and beverage types are included to get you started. And, a reusable My K-Cup filter is included for use with any ground coffee. Ready to see for yourself what all the brew-ha-ha's about? Treat yourself to this single-serving brewer, and discover how it simplifies and energizes your morning routine. From Keurig.
Includes Platinum Plus Series brewer; My K-Cup filter; water filter starter kit with two filters; and 62 K-Cups
K-Cups include 18 Green Mountain Nantucket K-Cups, 16 Cafe Escape Milk Chocolate K-Cups, 16 Green Mountain Apple Cider K-Cups, and a 12-count variety pack
Variety pack: Barista Prima Italian Roast; Newman's Own Special Blend; Coffee People Donut Shop; Green Mountain Coffee Nantucket Blend; Emeril's Big Easy Bold; Green Mountain Coffee Breakfast Blend; Caribou Coffee Caribou Blend; Tully's French Roast; Timothy's Colombian Decaf; Van Houtte French Vanilla; Gloria Jean's Hazelnut; Celestial Seasonings Sleepytime Herbal Tea
Brews/heats water in approx. two minutes
Five brew sizes: 4-oz, 6-oz, 8-oz, 10-oz, and 12-oz
Rinse feature dispenses 4-oz of water between brew cycles
Hot water on demand
Quiet brew technology
Heats from 187-192 degrees F
60-oz water reservoir
Black and Cinnamon exclusive to QVC until 1/1/12
Measures approx 12"L x 8-1/2"W x 12-1/2"H
UL listed; 1-year LMW
Made in China
Reviews & Community QA
K34707 - Keurig Platinum Plus Series Brewer w/ 62 K-Cups& My K-Cup
119
119
Quit working after 13 months
Sorry to say that my Keurig bit the dust! I truly loved this great convenience in the kitchen... I guess if you are willing to pay over a hundred dollars for something that only lasts 13 months then that is your choice but I won't be replacing mine. I hope QVC listens to their customers and addresses this issue and that future Keurig models have fixed this. Too expensive for the convenience.
03-26-13
Still going strong!
I have had this for over a year now...my first Keurig....I LOVE LOVE LOVE it! I have used it every day and it is worth every penny I paid for it! I now also have the small one for when I travel.
03-13-13
heart broken by coffee
I bought this as TSV almost exactly a year ago. Several days ago went to make some apple cider and the machine said it was brewing but nothing came out. Tried to lift handle and reset, again same thing happened. Aftergoing through the trouble shooting guide and trying to fix this expensive machine, I found after attempting several brews the hot water came out of the vent back into the water resevoir. I must say even the customer service lady I talked to had never heard of that happening. So disappointed in the machine, but the qvc customer service is beyond compare. They are accepting this defective machine back and I'm so glad because I dont have 150 bucks to throw away. Qvc you rock, keurig not so much.
11-25-12
Love It
I love my Keurig. I like where you can have your choice of a different coffee every day.
11-04-12
Love this coffee maker
This is great! Really does save coffee and it is so fresh tasting. Before the Keurig, I was not really a coffee drinker, but my husband was. He was skeptical at first about the cost, but after trying it a few days admitted to saving coffee grinds, the better taste and just loves the My Cup feature. I now have joined my husband as a Keurig fan...hot chocolate, apple cider and the lighter brews of coffee. Also love the rinse and hot water features that not many other coffee makers have. Did have a problem with the unit after a few months, but Keurig a Customer Service Department was right there with a replacement and a new one year warranty...no hassles.
10-29-12
Burned Again
Twice I have ordered the Keurig Today's Special Value and twice they have lasted less than a year. This one lasted nine months.I am only one person and brew two to three cups a day. In both cases the pump went. This time it spilled water all over my wood floor and I didn't know it for several hours. Yes a lot of damage. I will not be taken again.
08-12-12
I LOVE THIS!
I love this coffee brewer. I bought my mom and myself one each for Christmas. I just ordered 2 more, one as a wedding gift to my brother and one for my sister, because she's my sister. It's a great value, makes a great gift and is easy to use.
08-08-12
My Keurig - Best Coffee Maker Ever!
This makes getting up every morning a much more pleasant experience! Just sit a cup on it, insert a K-cup and push start. 3 seconds later, you have a cup of coffee. No worrying about the coffee maker cutting off and leaving a pot of cold coffee. Return 3 hours later, 6 hours, later or 30 minutes, push the button again and within seconds another cup. Life is is much easier in the mornings now. No messy clean up, no grounds spilt or to be dumped out; just lift your k-cup and toss. Love, love, love my last year's Christmas present to myself!
08-08-12
Do not need this Platinum, cheaper is SAME!
Dont get me wrong love the coffee but you dont need a hot water button,you just dont put a k-cup in and you get hot water...and how hard is it to fill with water not hard...the sizes not a big deal at all...I bought this same deal in Nov. of 2011 and seen the smaller ones sooooo much cheaper and not to mention K cups sooo expensive they need to lower the prices!
08-08-12
Better Than Advertised
I bought this for my wife and I have to admit, I use it much more then she does. She loves the slick look and fast action and great taste of the coffee. Whenever we want we can also make some of our own. I recommend this to anyone. From the house wife to the fast pace workaholic. Get your favorite keurig coffee or use your own. You'll be satisfied with the taste and cool styles.
08-04-12
BRING IT BACK IN STOCK ----PLZ......
Ordered this product for a gift last Christmas. Would love to order another one just like it but cant find it even in the stores. Are you EVERRRR going to bring this particular model back in stock? Please.....
07-12-12
Awesome
2 fold happy! First, Great product! We LOVE LOVE LOVE our Keurig! Easy to use, easy to clean, and lots of options. Second, first purchase with QVC and THANK YOU THANK YOU THANK YOU! Great experience and just made purchase number 2! The ninja kitchen system.... will let you know how it works out! Thanks again QVC!
06-12-12