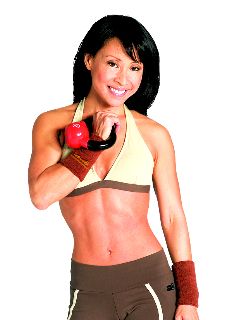 About Michelle Khai
A multi-dimensional movement specialist, Michelle Khai has had a life-long love of movement. In addition to being a professional dancer and inspiring educator, she's also the creative pioneer of an innovative new form of exercise called Kettlenetics. Her ultimate goal is to optimize the human body, brain, and spirit through the art and science of movement.
Michelle received her professional dance training at the world-renowned Alvin Ailey American Dance Center in NYC. Her specialty is in performance enhancement/injury prevention for dancers. After personally suffering significant injuries, Michelle recognized the need for fast-paced mind/body conditioning that would also maintain the long, lean, litheness of a dancer's body. This inspired her to create Kettlenetics.
Kettlenetics is a ground-breaking kettlebell dance program brought to direct response television status by Gaiam, the leading company in mind/body fitness. Described by Michelle as "Pilates on speed", Kettlenetics is the first to fuse the lightening fast power and cardiovascular benefits of kettlebell training with the core strength of dance and Pilates. On these instructional DVDs, Michelle displays the same down-to-earth approach and warm, encouraging personality that she shares with all of her clients — including top professional dancers, supermodels, and beauty queens.
In addition to her Kettlenetics DVDs, Michelle is also the Chief Science Officer and Master Instructor of Kettlebell Concepts, the leading fitness education company that has trained over 2,500 professionals. As one of the foremost fitness authorities on kettlebell training, Michelle is the lead researcher of the first English-originated clinical study on kettlebells, which she presented at the National Strength and Conditioning Association (NSCA) National Conference, '04.
Miami City Ballet Principal Jennifer Kronenberg and New York City Ballet Principal Jock Soto have both gained such benefits from Michelle's coaching that they now serve as spokespersons for her program. She can be seen training Jock in his documentary Water Flowing Together, a PBS feature film. Currently, Michelle serves as the Miami City Ballet's strength and conditioning coach, helping to prepare dancers for the extreme rigors of the dance season. In addition, she a professional member and contributor to the International Association for Dance Medicine and Science, a non-profit organization dedicated to the better care for dancers.
Michelle continues to work with private clientele at her training center, Soma Fitness & Performance in South Beach. Set in the beautiful Standard Spa, it's a part of Andre Balaz's uniquely-chic hotel collection. Her clients include: top-level athletes, Olympians, actress Liv Tyler, American Idol Ruben Studdard, heavyweight champion Shannon Briggs, Victoria Secret supermodel Karolina Kurková, Cincinnati Bengals' Willie Anderson, Miss Florida Jenna Edwards, and Cirque Du Soleil.
Information supplied by Kettlenetics.