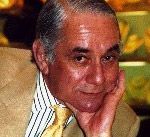 "Women of all ages love costume jewelry because it's fun, it's fashionable, and it makes a woman feel younger." — Kenneth Jay Lane
Kenneth Jay Lane is widely recognized as one of the most innovative fashion jewelry designers. His clientele list reads like a Who's Who in Hollywood and glitters with first ladies, royalty, and movie stars. Born in Detroit, Lane attended the University of Michigan, majoring in architecture. It's still one of his loves, but he confessed he "couldn't do the math". He then transferred to the renowned Rhode Island School of Design where he got his bachelor of arts.
After graduation, Lane moved to New York, first working on the art staff of Vogue and then as an assistant designer at Delman Shoes. He studied in Paris with the great Roger Vivier and then moved back to New York to head up the Christian Dior shoe division. Lane's breakthrough idea of putting rhinestones on shoes — deemed silly at the time — resulted in creating earrings to match for an Arnold Scassi collection. After being featured in The New York Times, Lane began selling earrings in stores on Fifth Avenue within a month. As Elle magazine puts it, "Kenneth Jay Lane is the hottest costume jewelry designer around." His chic designs are always "just right" for any occasion.