KIND Bars (18) 1.4 oz. "Plus" Snack Bars and (6) Bonus Bars
Buy More & Save $4 - See Details
In Stock
Sold Out
We're sorry. This item is not available at this time.
Pre Order Possible .
Low Stock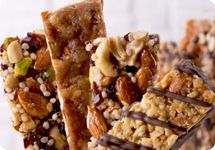 All-natural & All Delicious!
Description
Do the KIND thing! Made with all-natural ingredients, these snack bars are a smart, tasty treat you'll feel good about sharing with the whole family.
Tired of all those sugary snacks with a list of ingredients you can't even pronounce? Made with real nuts, fruits, and other natural ingredients, KIND bars are the perfect feel-good treat for people on the go.
This collection includes an assortment of satisfying flavors, each with an added nutritional boost: six bars of Pomegranate Blueberry Pistachio + Antioxidants; six bars of Blueberry Pecan + Fiber; and six bars of Almond Cashew with Flax + Omega 3.
As a bonus, you also receive six Peanut Butter Dark Chocolate + Protein bars! That's a grand total of 24 KIND bars, for one low price.
The resolution solution. This convenient offer is an inexpensive--and delicious--way to support a more nutritious diet and a healthier lifestyle.
From KIND.
Includes 24 1.4-oz bars, six each of Pomegranate Blueberry Pistachio + Antioxidants; Blueberry Pecan + Fiber; Almond Cashew with Flax + Omega 3; and Peanut Butter Dark Chocolate + Protein
Total net weight 33.6 oz
Ships ground during winter months only
Made in USA
Reviews & Community QA
M29080 - KIND Bars (18) 1.4 oz. "Plus" Snack Bars & (6) Bonus Bars
119
119
THE BEST YET!!
Of all the Kind Bar varities, these are the BEST. I have a bar every afternoon for my mid day pick-me-up. They have the perfect balance of being a little sweet and just a little bit salty. I hope you bring them back sson and offer on auto delivery.
03-07-13
Perfect combination of bars
Some of these I am unable to find by me. Please oh please bring them back. Perhaps you could offer individual choices, although it would be difficult to choose now that we have so many new favs!
03-05-13
Kind nailed it! Do this MORE often!
This was our best assortment and value yet from Kind. The PLUS bars are perfect. I was disappointed that these are no longer available in this configuration as I was going to send 2 packages to my daughter who also tasted them while visiting here--and took many with her back to the east coast. Do this deal again!
02-26-13
too many almoonds
This is my first experience in buying KIND bars. We love the fruits and nuts-I especially purchased for the PECAN and PISTACHIO nuts that were included in the title of 2 of the bars. I was on wait list from when this was a Today's special. Although these bars are expensive, I decided to try since it seemed they would contain nut types we like. Well, needless to say these nuts were not main ingredients. Almonds were!! Had I known this I would not have ordered. Although these taste ok, I am very dissappointed that so many almonds are in these bars. I guess, for the product we did get a 'good' price but to me I'd rather just purchase more inexpensive brands if the label doesn't match the product. I am REALLY surprised that companies (this is not my first experience with this type of label issue) are even allowed to to this. An example is with juices. Many say for example cranberry-grape with the main juice being apple and no where in the pictures on the label or in the title. Only in small print in the ingredients. Same experience with these KIND bars. Sorry but I won't buy again at the price they cost.
02-20-13
very well received,said she loves them, thank you
I ordered these during the holidays and had to place them on waitlist, they shipped right before Valentine's Day. I recieved a thank you saying she really loves them. I noticed you have a new configuration of 9 dark chocolate cherry and 9 peanut butter chocolate KIND bars. I highly recommend them and would buy them if I didn't already have some on hand.These are very good. I put some of the different KIND bars in a bowl on the kitchen counter. My sons will grab one on the run to school and when they are hungry. They are a pretty good healthy snack & can hold you over at meal time. lots of different variety but these two are my favorite, the cherry dark chocolate and the peanut butter chocolate. I would try them all & find your favorites. I've also tried & enjoy the mango, blueberry pomegranate, apple cinnamon, and nut varieties.
02-19-13
SO Disappointing!
I really wanted to love the KIND Bars because every time they come on air everyone RAVES about them....and I just don't understand WHY?!?!? The taste of the Peanut & Chocolate bars was awful, the blueberry pecan bars had very few pecans & I can't even remember the flavor of the other 2. What a waste of money! I'd give it 0 stars, but it's not possible.
02-10-13
Love Love Love
This was the first time I've tried Kind bars. Love them!! No GMO's and an all round healthy snack. Please keep them coming... auto ship would be wonderful!!
02-08-13
First Time Purchase
This is the first time I ever tried KIND bars and I have to admit that I am hooked. They are a great bar to have in your bag for when you haven't had a meal or are hours away from dinner and just too hungry to wait. My favorite is the bonus peanut butter flavor. I have a long commute to work and often from the time I leave the office after 6pm and get home after 8pm I get hunger pangs. These bars are the best solution for those annoying pangs. Glad I took the plunge and bought these as a TSV.
02-07-13
More great Kind bars at a great price
I eat Kind bars all the time. Nice to have some new varieties. Really like the Cashew Almond ones. All good. Excellent price
02-05-13
great on-the-go snacks
I have tried Kind bars before and love them. I was a bit leary about trying new flavors that nobody has given reviews about yet but I did purchase 2 boxes as a TSV anyway. I love all the flavors, though I do some more than the others. I have a couple in my purse all the time for quick grab bites if I have no time to sit and eat a full meal. For the ones who commented on them being high in fat, well, these have nuts and that's where the fats are coming from. Some say high in calories for a snack but these are not empty calories like many junk foods around. For others who are overly concerned and overly scrutinizing each and every calorie and each and every gram of this and that, I'd say don't eat this on top of what your recommended diet allowance is. Make this as a substitution for a few items in your diet plan. When it comes to dieting, my principle is this: if I am so overly concerned about the extra 50 more calories or the extra 2 more grams of fat in what I eat, then I probably should be out there exercising more instead anyway. One of these days, I plan to get a box and leave it in the breakroom at work so everyone can try it.
02-01-13
AMAZING!
They are all wonderful! I love them all! A great meal replace. And you are satisfied! Fresh and tasty! Keep them coming!
01-31-13
Super Snack Bars
I had never tried them before and I love them. My husband does too. This 18 + 6 = 24 bars is a great deal. Hope they come back so I can purchase more. I have recommended them, but I really don't want to share them .Lol My bad! Great Gift for Anyone!
01-31-13