Joel Harper Firming After 50 Fitness DVD Workout w/Slim Belt
In Stock
Sold Out
We're sorry. This item is not available at this time.
Pre Order Possible .
Low Stock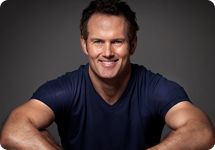 "Balance deteriorates as we age, so we need to practice simple and safe user-friendly exercises to help our bodies develop lifesaving balance."
—Joel Harper
Click on the links below to learn more about this workout collection.
Description
Make 50 look fabulous! Joel Harper shows you how you can firm up after age 50 with stretching and cardio routines for all fitness levels. His Fit Pack Chair Workout is an effective exercise and stretch routine that can easily done at a desk, in an airplane, or even on a sofa. And, the waist slimmer belt is designed to retain therapeutic body heat and provide additional support during your workout.
As always, please consult your personal physician before beginning any diet or exercise program.
Take a realistic approach: If you work consistently and follow the program, you maximize your results.
Includes Firming After 50 DVD, Fit Pack Chair Workout DVD, and waist slimmer belt
Approximate run times: Firming After 50 60 minutes; Fit Pack Chair Workout 16 minutes
Belt measures approximately 39"L x 8"W
Made in Taiwan
Reviews & Community QA
Joel Harper Firming After 50 Fitness DVD Workout w/Slim Belt
14
14
Stretch not firm
Dont see how these exercises will firm you. Stretching yes but that is all. The abd. workout is just crunches, nothing much else. Sorry, it will be going back.
04-04-13
Gets Me Moving
I've been following this workout for about three weeks now. I like that it is geared for those over 50. I'm in pretty good shape but need some toning up in preparation for my daughter's wedding. The upper and lower body workouts are easy to follow and some of the movements are challenging - in a good way. I like that there are three levels of difficulty to follow. The ab workout is very hard and all of the exercises seem to be at least intermediate level. The "belt" that comes with the DVD is not very useful. I am short and thin and it doesn't really fit well. I also don't like the feature of the "pop-up doc" who interrupts the workouts with sayings like " exercise helps you feel sexy". It's very annoying. But even with those criticisms, it is a good workout regimen. It's not crazy and it is very easy to follow. Joel is calm and so is the music. The price is very reasonable.
03-18-13
They don't show you the hard stuff.
I watched the on air presentation and came and watched the video again before ordering this. They show only a few easy things. You have to be able to hang with your head down a lot and do total squats holding a long time. Lots of up on toes. I have bad knees and a fused foot I can never be on toes. Wish they had shown how hard it really is. Now I have to return it . Feel like it was not represented as it really is. Beware.
03-04-13
So glad I found this
Was searchin QVC one day, and this DVD showed up on the right hand side - I checked it out, read the reviews, and ordered it. Wow, this is a great fast workout! I'm 58 - was using Leslie Sansone videos, needed something else, and this is it. Great stretching. Great for working on balancing. Wonderful! Don't hesitate.
01-28-13
BELT SEPARATES
Enjoyed workout but belt is separating where the Velcro should adhere. Have used it about a week and really love it, very comfortable and certainly not because it is too tight, have lots of room. Maybe just a fluke in the quality control. Would love to buy the belt separately. Perhaps they will come out with replacements. Certainly a great idea.
08-18-12
GIVE THIS A TRY!
I have recently, re- started the Leslie Sansone walking dvd's ( highly recommend them), I was channel surfing and saw this on the Q, thought why not try it. I love following the program, sometime I follow Joel, and sometime his assistant, BUT the biggest benefit I get from these is the stretching, I am not someone who will stretch after exercising. There is also a BONUS chair exercise dvd which is great. I will put that on if I am achy or feel tight, it is great for stretching all the kinks out of your upper body. I have been using the walk DVD's and Joel's for the last 2 weeks. I really feel much better. I had My DH (couch potato) try the chair workout, He said it was a great stretching activity
08-17-12
wish i had started sooner
I ordered this in January when I started my annual resolutions to eat right and start exercising. But I just recently starting exercising regularly with these. You get a nice workout in a fairly short period of time. Some sections I follow the mom and some sections I follow Joel. It just depends on your strong areas. Perfect for us over 50 gals.
05-24-12
love this exercise routine
I ordered this workout on Mary beth Roe's on air recommendation. I have been a follower of leslie Sansone walk at home tapes which I love, but wanted to try something different. I was not disappointed. I think Joel was brilliant to have his Mom and an intermediate level as well. I'm proud to say I did keep up with his Mom! I look forward to working out with these very often.
05-03-12
WONDERFUL JOEL, LOVE THIS!!!!
I HAVE HAD 14 MAJOR SURGERY'S ON MY KNEE'S ALONE! AFTER EACH SURGERY, HEAL UP THEN~ PSYCHICAL REHAB AFTER EACH KNEE... HOSPITAL REHAB, THEN I WOULD WORK OUT MORE AT HOME THEN SWIM FOR 20 - 30 MIN. MONDAY THROUGH FRIDAY. I WOULD REWARD MYSELF IN MY HOT TUB.... I REALLY WISH I HAD YOUR CD's., AND SOFT BELT BACK THEN!! THE BELT WORKS AS SUPPORT AND HEAT.....LOVE IT!!!! I WILL USE YOUR CD's AND BELT WITH MY OTHER ROUTINES..... I WOULD RECOMMEND OTHERS TO USE THIS PROGRAM TO STAY STRONG.....TO HELP PREVENT INJURIES......THANK YOU, MAGII
03-21-12
Great DVD's
I debated on whether or not to order this fitness DVD because I have many others. What is this one going to give me that the others do not? I use Leslie Sansone's Walk Slim DVD's each morning. I am 64 years old and have had back surgery many years ago, and I am always careful with my back when doing exercises. I know from experience I must be active, so exercise is a big part of my life. Well after doing the upper body, lower body and chair exercises I can tell that this fitness DVD workout will become a staple of mine. I love the fact that there are three choices for each exercise depending on your capabilities. You can watch Joel for the way to do the exercise if you are in excellent shape, his friend if you are in good shape, and his mother if you aren't able to do the exercise the way the other two people are demonstrating it on the screen. Her movements are less intense, but she's still moving....which is great. So no matter what stage of fitness you're in, you'll benefit from using this fitness DVD workout. I did the exercises by switching among all three demonstrators depending on the exercise and my capabilities. And the chair workout is great for simple stretches, which everyone needs. I used to work at a desk pretty much all day before I retired and wish I had this DVD while I was still working. But the abs part of the fitness DVD seems to be the hardest part of the entire workout. I probably will not be able to do those exercises, but I have not attempted them yet. By just looking at these exercises I know from experience that this workout will be a real challenge for me. The Slim Belt was very comfortable, but I don't know how well it will last. Seems like after wearing it once or twice that the bottom of the belt seems to be coming apart from itself when I pulled the velcro apart to take it off this morning. Don't know if it can be glued or not, but if that's the only thing wrong with it, you could still use it. All in all, I think this was money well spent and my body will be thanking me.
03-06-12
Great workout
I ordered it to see what it was for my mom. Wow what things you do not realize can make you feel better if you are at a desk all day. I agree with the other review about the belt kind of not needed if you are trying to loose weight and are round. I love the DVD workout.
01-28-12
ab workout is from another video
basic workout was good. his mom showed how she would do it, little tips from dr.roizen great. however! the ab workout from another video i think. no mom. no dr.roizen. it was sooo hard!
01-14-12