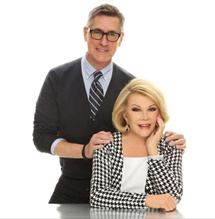 As a fashion authority, entertainment icon, and one of America's best-dressed women, Joan Rivers left an indelible mark on the fashion world. Created especially for QVC since 1990, the Joan Rivers Classics Collection® continues to celebrate Joan's incomparable legacy of style.
David Dangle, CEO of Joan Rivers Worldwide, was Joan's close friend and collaborator for over 25 years. As a three-time Emmy Award-winner, David has an extensive background in fashion, theater, and television design. Based in New York City, he knows the people in the industry who set the trends—the fashion insiders, stylists, designers, magazine editors, photographers, and celebrities.
Today, David continues to bring us up-to-the-minute trends and timeless, classic designs– everything from jackets, scarves, and trench coats to sunglasses, watches, and, of course, fabulous fashion jewelry. These modern classics are all inspired by Joan's impeccable taste and commitment to quality.