Joan Rivers Lavish Luxury Sequin Scarf
In Stock
Sold Out
We're sorry. This item is not available at this time.
Pre Order Possible .
Low Stock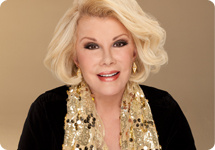 Standout Shine for Every Occasion
Description
As Joan Rivers says, "Every woman needs some sparkle in her life!"
The easiest way to get that sparkle is with Joan's luxury sequin scarf--it's literally designed to dazzle. So, get wrapped up in the glitz and glam, and prepare to find yourself on the best-dressed list with the season's must-have accessory.
So many ways to wear it. With over 34,000 sequins, scalloped edges, and extraordinary attention to detail, this beautifully made scarf is the perfect way to add a touch of glamour to any outfit. Pair with a little black dress for a holiday party, tie in a European knot for a casual look, or even set underneath a winter coat to add a pop of seasonal shimmer. However you choose to wear it, this lavish sequin scarf is the ultimate must-have accessory. It's sure to turn any ensemble into the highlight of the evening!
And, with seven colors to choose from, you're sure to find the hue that's right for you, and all the fashionistas among your friends and family. At this price, you can pick up yours and hers--and hers and hers! It's a great holiday gift for women of any age, and can be worn and enjoyed for seasons and seasons to come.
From the Joan Rivers Classics Collection(TM).
Over 34,000 total sequins; soft, fine netting fabric with small and large sequins; reinforced scalloped edge; small sequins are sewn down to create a chevron pattern and trim the edge; larger sequin paillettes produce movement create a shimmering effect.
Measures approximately 22"W x 72"L
Wearability: Shawl, wrap, scarf, mantilla
100% polyester, exclusive of decoration
Hand wash, dry flat
Made in China
Reviews & Community QA
Joan Rivers Lavish Luxury Sequin Scarf
306
306
nice scarf for the price
This scarf is nice enough quality to wear in the evening out to dinner to add some sparkle, but the polyester fabrication keeps the luxury factor down. The sequins are sewn on solidly and did not get stuck together when the scarf is tied. One reviewer said the sequins were large, and i liked the idea of that... so many times the tiny sequins are so " middle school art project" looking....... however the sequins on this scarf are about 1/4 inch in diameter. It's fun and cute for a cocktail party with the girls, not your next special event. I see wearing this scarf more on a warm weather evening
02-05-15
BEAUTIFUL
This scarf was beautiful and such a value at this price. I did send it back because it was much bigger than I needed but if you need a awesome wrap then don't pass this one up.
01-31-15
Sooo Pretty...
I love a good scarf and this scarf is soooo pretty.....I love it.........cannot wait to wear it!!!
01-19-15
Best Purchase Ever
Can be used to dress up a plain black dress or basic black coat for a night on the town
01-01-15
BEAUTIFUL, SPARKLY SCARF!
Love my Joan Rivers Lavish Luxury Sequin Scarf! It's so pretty and sparkly....perfect for special occasions. I wore it to dinner on Christmas Eve and felt very special wearing it.
01-01-15
Just right!
I think this scarf is just beautiful. I made sure I purchased a crisp white shirt/blouse just so I can wear this "played down". It's not too much glitz unless you spread it out and then watch it shine!
12-30-14
I WAS THE BELLE OF THE BALL
In the past whenever I attend hubby's company event, I always blended in with the crowd. This time I was so happy to be noticed...unlike the other years of attending these parties incognito. Last night I wore a simple, long Susan Graver Black Liquid Knit skirt and top. Then I had the good sense to top it off with this Joan Rivers Black Sequin Scarf. NEVER before did strangers and friends alike compliment me on my beautiful 'dress'. From the concierge to the president of the company's wife to the valet, I received WOW compliments. While I was in the main ballroom preparing for the party to begin, a hospitality server came up to me telling me that I had on the most beautiful outfit she has ever seen in her many years of hosting these events. I began to tell her where I purchased my scarf. When she found out I bought it at QVC and it was a Joan Rivers AND it was on clearance, she immediately said she was going to log in and purchase one for herself. What a magical evening...I felt like Cinderella! Thank you Joan! I know you're looking down on all of us who purchase your gorgeous clothing and you are smiling.
12-14-14
Glamourous Fun & Gorgeous!
Ordered this when my musical director told us we could wear black sequins at our Christmas concert performance. Just 4 days before showtime! Brick and mortar stores just don't carry reasonably priced items like QVC has. I searched high and low. Then I remembered dear, hysterically funny Joan. I paid extra to get it here on time and it was worth it! Sparkly in that subtle way. Plenty of my fellow performers couldn't keep their hands off it. Wore it over a sheer black chiffon tuxedo style shirt, with it draped simply over my neck. Felt glamourous and comfortable thru our 9 numbers. Will be enjoying this treasure for years to come! I miss JR. Hope the line continues to have same quality.
12-08-14
Love!
I love this scarf it is super cool and sassy! I can't wait for winter so I can wear it every day!
11-06-14
Fabulous bling scarf! MY Joan Rivers memory scarf
My scarf arrived this morning and I am blown away with it! It is a perfect match for my black Linea dress with sequin hem trip and the matching jacket (big splurges for me a couple years ago) I will wear Joan's scarf with pride and fond memories of her. I miss her so much on QVC and her other TV appearances!
10-29-14
Elegant and classy! So pretty!!
This is a beautiful and stunning scarf! I am very happy that I ordered it because I initially hesitated due to some of the negative reviews. I did not find it scratchy because there is a smooth side to it so it is not a problem. It sparkles and is so pretty. It will dress up any outfit and is going to be great for the holidays. I like the size of the sequins and the delicate embroidery pattern. It looks delicate and adds glamour. This is stunning in black and a keeper!
10-24-14
LOVELY AND SO "JOAN"
Ordered this for my daughter. It's lovely and she can wear it many ways to many different functions that she attends. It appeared to be well made and classy looking without being overdone and gaudy. I'm happy that I got it, even though it's not something I would normally order. I feel like this was one of those items that Joan truly had a hand in designing or at least, giving the final approval on. Things from here on out won't be coming from Joan, so my daughter enjoyed receiving an "original" so to speak.
10-18-14