Jim Shore Heartwood Creek St. Francis Solar Garden Statue
In Stock
Sold Out
We're sorry. This item is not available at this time.
Pre Order Possible .
Low Stock
Description
Known for finely made figurines that glow with charm, renowned sculptor and folk artist Jim Shore brings you his first-ever piece that literally glows. Created especially for QVC and offered in your choice of designs, this whimsical indoor/outdoor statue features a solar-powered diorama sculpted into its body that actually radiates light.
Use outdoors. Crafted in resin to look like carved wood and beautifully handpainted in soft, subtle colors, this sculpture adds a warm and welcoming touch to any garden, walkway, or front porch. By day, you can enjoy the statue in its full glory as it charges in the sun. By night, the main figure recedes into the darkness as the diorama emerges, backlit to dramatic effect. If you prefer to position the piece in the shade, just be sure to put the cord-attached solar panel in a bright, sunny spot.
Use indoors. A stunning example of Americana craftsmanship, this statue can also be used as an accent by the fireplace or in the kitchen. If you want to enjoy its cozy glimmer in the dark, just remember to place the solar pack near a light or window to recharge. From the Heartwood Creek Collection by Jim Shore.
Includes statue and 1 AA rechargeable battery
Dressed in green, holds animals
Forest diorama with animals inside robe
Four LED lights; fully charged, lights last up to five hours
Approximate measurements: Statue 19-1/2"H x 9-1/2"Diam; Solar panel cord 12"L; weighs approximately 13-1/2 lbs
Crafted in resin with fade-resistant paint and UV protectant for outdoor durability
Bring inside during harsh weather
Made in China
Important Details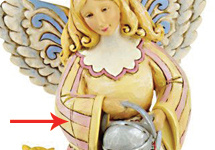 Why are there cracks on my Jim Shore figurine?
The cracks are part of the molding process and design of each Jim Shore piece. They're included to resemble the look and feel of real hand-carved wood.
Reviews & Community QA
C210776 - Jim Shore Heartwood Creek St. Francis Solar Garden Statue
6
6
STILL GLOWING STRONG
I purchased two of these when they were first introduced. My cat angel has been on our covered porch ever since, at least 2 years now. She still lights up every night at dust and can be seen from our street glowing beautifully!! Well worth the investment. Thanks Jim!!
10-08-10
Does not light
I had a similar experience with this purchase. While I love the workmenship, I noticed that the light got lower and lower even with the solar out and charged. Is there a fix for this. I would love to get it working again.
07-03-10
love the workmanship
I ove this statue, however, the first night it lit up beautifully but by night 2 it was barely visible. The only way to keep it shining brightly everynight, seems to be if you pull the drawer out everyday so the battery can recharge. The first one I sent back because of this, the second one had the same problem. I kept it because I liked the statue, but I don't know if I would get another one until this problem was resolved. Also, I don't know where you are supposed to find the replacement battery packs.
06-22-10
"STUNNING STATUE"
I purchased this statue several years ago. I simply adore it because St. Francis is the patron saint of animals and I help rescue animals in need of homes. Words cannot express the workmanship on this piece. Truly a work of art!
06-14-10
Wonderful garden statue
Purchased this a few years ago and love it!! Has held up very well and is a nice accent to my front porch!
04-22-10
LOVE THIS SET
I brought this last year and have Enjoyed it every sence . I love how it lights up on the inside and have loved it on my patio table When I have guest over . I would recommend this to everyone who loves Jim Shore products and to those who don,t know of his work . GREAT ,GREAT, GREAT ,!!!!!
03-25-10