Jim Shore Heartwood Creek Set of 10 Mini Nativity Set
In Stock
Sold Out
We're sorry. This item is not available at this time.
Pre Order Possible .
Low Stock
Description
Re-enact that blessed, holy night with this exquisite nativity set. The stable and figurines are decorated with intricate multicolored quilt-like patterns and rosemaling details sure to complement your holiday decor. From the Heartwood Creek Collection by Jim Shore.
Includes:
Mary figurine
Joseph figurine
Baby Jesus figurine
Three kings figurines
Shepherd figurine
Lamb figurine
Donkey figurine
Stable
Made of stone resin to resemble handcarved wood
Approximate measurements: Mary 3"H; Joseph 4-1/2"H; Baby Jesus 1-1/2"H; Kings 4-1/2"H; Shepherd 4"H; Lamb 1-1/4"H; Donkey 2"H; Stable 8"H x 8-1/2"W x 3-3/4"D
Made in China
Important Details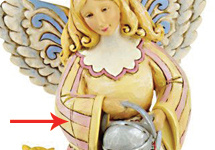 Why are there cracks on my Jim Shore figurine?
The cracks are part of the molding process and design of each Jim Shore piece. They're included to resemble the look and feel of real hand-carved wood.
Reviews & Community QA
H18791 - Jim Shore Heartwood Creek Set of 10 Mini Nativity Set
9
9
love, Love, LOVE this!!!!!
I am a huge fan of Jim Shore and have wanted a few of his nativity's in the past, but usually can not afford them. This mini set is just lovely! I love that none of his typical creativity and design was sacrificed in the smaller size! I am quite pleased!!!!!
01-12-10
special to me
Lovely and perfect in small spaces where you want a touch of Christmas.
12-16-09
10 STARS !!!!!
Jim Shore's work is absolutely beautiful. I started collecting pieces of his work many years ago at a Hallmark store but I am thrilled QVC is now offering them. My first purchase was this same nativity but in the larger version. When I saw this one on QVC I had to have it and I also sent one to my son and his new family. The pieces are just as exquisite as the larger version. I would have preferred an angel figurine rather than an angel carved into one of the figurines so I purchased an angel ornament that looks beautiful with this nativity. For those who already own a nativity this one is still a must have. It is the perfect size for a mantel, coffee table, etc.
12-12-09
Outstanding!!!!!
I just received this today....Jim Shore has out done himself on this set....the serene look on the baby's face is outstanding! It is just the perfect size for my small four feet tree...I think this set will be left out all year long! Beautiful...absolutely beautiful. Jim thank you for doing this smaller set. I love it!!!
12-04-09
Out did himself!
Jim Shore has out did himself! I ordered this earlier and just opened it today. It is all I wanted and more!! It is so pretty!! I am so glad I ordered it. I wasn't going to get it and then decided I needed to buy it for "myself"! And I am so glad I did! This will be something that will be handed down generation after generation! It is the perfect size to sit underneath my Christmas tree! You will not be disappointed if you order this!! I love it!
11-28-09
Absolutely beautiful
I wanted this nativity set from the first time i saw it and my daughter surprised me with it as a christmas gift. I put it out last christmas and it was so pretty. I set mine by a lighted two foot christmas tree with pine boughs around it and it was so pretty with the lights shining on it. Buy this you will not be disappointed.
11-08-09
Fantastic !
I have been looking at this nativity for some time and finally decided to get it. Am I soo glad that I did. It is soo beautiful. The detail on the figures are so detailed. The photos you have on the webpage don't do the nativity justice. it is soo much better in person. Thanks again Mr. Shore for another great item.
11-05-09
LOVELY!!
I AM THRILLED I FINALLY GOT THIS SET!! THE DETAIL, AS WITH ALL JIM SHORE ART WORK IS EXCELLENT! THE SIZE IS PERFECT FOR MY MANTEL! I CANT WAIT TO SET IT UP FOR CHRISTMAS! I LIKE THE FIRST REVIEWERS IDEA OF ADDING AN ANGEL. I AM GOING TO DO THAT TOO! I HEARD MR. SHORE SPEAK ABOUT NOT ADDING AN ANGEL TO THE SET BECAUSE HE PUT THEM IN THE DESIGNS OF THE OTHERS COSTUMES BUT I REALLY WANT AN ANGEL IN THE SET!
11-05-09
LOVELY NATIVITY
3 years ago, this set was offered as a OTO and it came in and went out in the snap of your fingers. I was so happy as I was one of the blessed ones that got this at that time. The figures are a wonderful size to put on an end table or on your mantle or maybe in the middle of your dining room table. I added some trees and a small Jim Shore angel (sized to hang on a Christmas tree) as there is not one included in the set, and she seemed like an important piece, in my mind. The detail and the love put into Mr Shore's work always overwhelms me and this set is important in what it represents besides. Check out the beautiful but simple halo on Baby Jesus's head and you'll understand what I mean... One thing that I did, and you may not need to, but I marked in the styrofoam where each piece goes, as I could not, for the life of me, figure it out when I went to put the pieces away. This could be a lovely gift or maybe a treasure to pass on down to your own children someday, it's that special...
10-26-09