Jim Shore Heartwood Creek Mary & Joseph with Donkey Figurine
In Stock
Sold Out
We're sorry. This item is not available at this time.
Pre Order Possible .
Low Stock
Description
Honor the true reason for the season. Entitled, "The Journey that Changed the World," this enchanting figurine shows Mary riding on the back of a donkey that's being led by Joseph. She wears a red dress with tan and red rosemaling trim, while Joseph is dressed in a light blue robe with blue rosemaling. From the Heartwood Creek Collection by Jim Shore.
Donkey decorated in light blue rosemaling
Base resembles a sandy path
Made of stone resin to resemble handcarved wood
Measures 9"L x 3"W x 8"H
Made in China
Important Details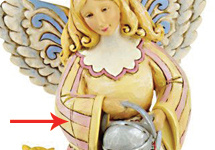 Why are there cracks on my Jim Shore figurine?
The cracks are part of the molding process and design of each Jim Shore piece. They're included to resemble the look and feel of real hand-carved wood.
Reviews & Community QA
H06877 - Jim Shore Heartwood Creek Mary & Joseph w/ Donkey Figurine
12
12
Love it!!!
I bought this last year for myself. I just fell in love with it when I saw it. It was my first Jim Shore purchase. I really never paid attention to his items til I saw this. I thought, thanks goodness, somebody finally gave the donkey a little credit. I can't wait to put it out this holiday season again.
10-14-08
Charming
I already have it on display. Would think that mothers, especially new mothers and grandmothers, might really appreciate it. [My father (now deceased) would have loved it - had great respect for both pregnancy and the Blessed Mother.] It helps you think about what the Holy Family had to endure. Could also be useful to explain the Nativity to small children.
10-01-08
Beautiful!
This figurine is beautiful. Very hard to find anything, in the marketplace, that represents this side of Christmas. I cannot wait to display this piece.
09-15-08
Heirloom Quality
I was thrilled to receive this Journey figurine. It is a beautiful, meaningful piece that I intend to leave on display year round in my home. Jim Shore has given us another heirloom piece of art. Thank you, Jim!
09-07-08
Awe inspiring
When I opened the box and looked at the figurine, it brought tears to my eyes. It is beautiful and such a wonderful representation of the trip Mary and Joseph made to Bethlehem. I love the way Mary is holding her hands over her belly were she was carrying Jesus.
08-31-08
Beautiful!
There are many figurines of Joseph, Mary and Jesus but I have never seen one like this that recreates the journey to Bethlehem by a then pregnant Mary and her husband, Joseph. I love the statement at the bottom of the figurine also, "The Journey that Changed the World." All in all, for a person of faith, this is a beautiful reminder. I have ordered additional copies to give as gifts this Christmas.
08-29-08
Takes Your Breath Away
I was wait listed and holding my breath in hopes that I would receive this! I received it yesterday and, omg, as my kids say, the beauty captured in this piece brings a tear to your eye . Everything about it is just beautiful! From the colors, to the way Mary is looking at her tummy in awe of the gift she holds inside. You can't go wrong. This Jim Shore piece left me breathless. Love it and will cherish it forever!
10-20-07
So Very Special
I was thrilled to receive my Wait List order for the exquisite piece. It tells such a simple story in a very dignified way. Mary's head down, Joseph looking ahead - you can almost hear the hoofbeats of the donkey. The colors are beautifully done - good color but not garish - totally in keeping with the theme. Even the donkey is beautifully done with a nice design. Thank you Jim for bringing such feeling and caring to these pieces - they really are special. I can't wait to display this since I know everyone will be attracted to it. It is one of the most unique Heartwood Creek pieces I've even seen. Thanks QVC and Jim for a very special piece. Anyone considering it will absolutely not regret it.
10-19-07
unique work of art
This is a beautiful piece by Jim Shore. I have not seen too many figurines of Mary as a pregnant woman so I purchased this as soon as I saw it and I am happy I did. I will keep this statue out year round. I like to think Mary has the motherly expression of a woman who has felt her child move within her and Joseph looks determined to guide her safely. It is very detailed from their faces right down to their sandaled feet, even the carvings on the donkey. You will not be disappointed with this work of art.
10-19-07
This is BEAUTIFUL
I was so excited and pleased to get this beautiful piece. You will NOT be disappointed. It is so different and stately. It is just gorgeous. I put it on display as soon as I got it and I am leaving it out all year.
10-15-07
very beautiful and heart warming piece of art
this piece that jim has done just touches my heart. it is sooooo well done. the expressions on mary and joseph's face are so intricate and real and the colors on the figurine are very vivid and bright!!!! if you are sad or had a bad day just look at this wonderful piece of art and i guarantee it will put a huge smile on your face. very dramatic piece of art jim.... thank you qvc for having such a wonderful artist such as jim shore on your program. qvc has made it so easy for their customers to buy beautiful art such as this and many more collectibles!!!!!!
10-13-07
Exceptional
It is beautiful and so unique. Do not hestitate you won't be sorry. The detail is outstanding. Great job Jim as usual. Pattylyn
10-13-07