Jim Shore Heartwood Creek Dachshund Dog Figurine
Customer Top Rated
In Stock
Sold Out
We're sorry. This item is not available at this time.
Pre Order Possible .
Low Stock
Description
Hot dog! This long fellow is adorned with handpainted details in Jim Shore's colorful style. The darling dachshund is made of stone resin to resemble handcarved wood. From the Heartwood Creek Collection.
Measures 5"L x 2-1/4"D x 4"H.
Made in China.
Important Details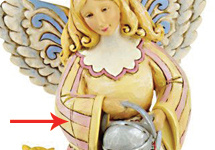 Why are there cracks on my Jim Shore figurine?
The cracks are part of the molding process and design of each Jim Shore piece. They're included to resemble the look and feel of real hand-carved wood.
Reviews & Community QA
H139175 - Jim Shore Heartwood Creek Dachshund Dog Figurine
13
13
Puts a smile on my face!!!!
I received this as a gift and have it in my curio cabinet for everyone to enjoy. I have a miniature dachshund and this piece is so cute and adorable...just like the breed itself. If you are a dachsund owner or even just a dog lover, you will love this piece! I have many dachshund items in my home but this is one of my favorites! Great detailing. Thanks!
03-27-11
Longfellow is awesome
His name is Longfellow - or so it says on the bottom. That was my dogs nickname. he was part Coonhound and part beagle. he was as shortl as a beagle but looooonnnnggg body!!!!!! This was perfect
08-11-10
Great Dachshund Figurine
I love this Dachshund!! He makes me smile just like my own Dachshunds do. I have one now and have owned many in the past. This one looks just like one that I had that lived for 15 years and it brings back memories of her. I have many of Jim Shores pieces & they are all beautiful.
07-07-10
This was a winner!
I gave this to my parents last year for christmas and they loved it and thought is was to cute, I knew they would consiering they have a real Dachshund and own alot of things with dachshund on then (shirts, magnets) I own a few figures from him shore my self.
10-15-09
beautiful piece!
I bought this little guy last year and after reading the negative review, I had to put in my comments. This is a very typical Jim Shore piece. How Jim captures such beautiful expressions on his pieces is a wonder to me. It totally captures the essence of dachshunds and the colors are as beautiful as I have come to expect in a Jim Shore piece. The only request I might have for Jim is to make a long haired version as well if he hasn't already.
10-14-09
So Beautiful!!!
I am amazed by the wonderful work of Jim Shore. I am from Norway, but have now lived in the US for over a year. The first time I watched Jim Shore on QVC, I was so amazed by the intricate and beautiful work, I got completely overwhelmed by his work. In Norway, folkart, and rosemaling is very very common, it is a very big part of our culture. So needless to say, when I saw Jim Shores work, I totally fell in love with it, and it brought Norway into my home! I have bought some pieces, and will continue doing so. When I was browsing through some of his work here on QVC, I found this little guy, and I was totally amazed!!! I own a dachshund myself, a longhaired one, and when I received this little guy, and looked at the expression on its face, it truly shows the dachsie spirit. I love all the pieces I have purchased from Jim, but this little guy has a special place in my heart. I also purchased a smaller version of this one, an ornament, and for Christmas the ornament was hanging on our tree. They are now both sitting on top of a shelf, looking like a momma dachsie and her baby :) Thank you Jim for you wonderful work and for bringing so much joy and fun into peoples homes. You are truly a very talented and wonderful artist.
02-13-08
Disappointed
I was disappointed in the colors and application of them. Looked like I bought it on the boardwalk.
02-13-08
Unconditional Love
What a sweet face on this doxi! He is smiling, just like my dachshund! Thank you Jim Shore...great piece! This one shows the personality of the breed, lots of love on 4 feet with floppy ears.
02-07-08
doxie lover delight
I am a proud doxie mom so this item was a must have for me. I was not disappointed when I opened the box. I love his item . I have it displayed with my other dachshund figures and it fits in perfectly. It makes me smile almost as much as my Frankie does.
01-13-08
Top Weiner!
I believe this is my favorite Jim Shore piece. Of course,I have a wonderful dachshund that is as cute as Jim's 'HotDog'. It brings a smile to my face everyday.Thanks Jim and QVC!
11-30-07
Just adorable!
If you love dachshunds, then this is a must have. The figurine on top of the decorative base is substantial. It is adorable and the checkered pattern on the dog's body makes this statue unique to your collection as the doxie is to the hound breed.
10-27-07
TOO cute for WORDS!!
My husband & I have 3 dachshunds, thus, this was only natural for us to get this! The workmanship is great! If you are a doxie lover, you will LOVE this piece!
09-10-07