Jim Shore Heartwood Creek 23" Halloween Witch Statue w/ Hat,Cape, &Cane
In Stock
Sold Out
We're sorry. This item is not available at this time.
Pre Order Possible .
Low Stock
Description
Make it a boo-tiful Halloween. This witch statue is dressed in a traditional black hat, a cape designed with a multicolored rosemaling pattern, and a dress with a quilt-like and black vine pattern. She's ready to spook trick-or-treaters with a skull cane in her right hand. From the Jim Shore Heartwood Creek Collection.
Base decorated with an orange rosemaling pattern
Key around witch's waist on chain
Made of stone resin to resemble handcarved wood
Measures 23"H
Made in China
Important Details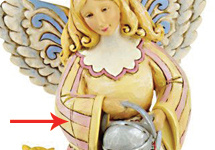 Why are there cracks on my Jim Shore figurine?
The cracks are part of the molding process and design of each Jim Shore piece. They're included to resemble the look and feel of real hand-carved wood.
Reviews & Community QA
H18688 - Jim Shore Heartwood Creek Large Witch Statue
7
7
I AM BEWITCHED WITH THIS JIM SHORE PIECE!
OH WOW! THIS JIM SHORE WITCH IS REALLY WONDERFUL! GREAT DETAIL, BEAUTIFUL COLORING AND EVERYTHING ONE WOULD EXPECT IS FEATURED ON THIS FANTASTIC WITCH! I ABSOLUTELY LOVE JIM'S WORK AND HAVE SEVERAL PIECES..........ESPECIALLY THE HALLOWEEN FIGURINES. I ALSO LIKE THE IDEA OF NO COLLECTOR BOX. I COLLECT QUITE A BIT AND ALL THE ORIGINAL BOXES ARE A REAL PAIN> NEED A SPECIAL ROOM JUST FOR BOXES........IN WHICH I LIKE MOST COLLECTORS DON'T HAVE THE ROOM FOR EMPTY BOXES. I LOVE JIM SHORE'S WORK AND I AM AMAZED AT HOW HE JUST KEEPS OUT-DOING HIMSELF! WAY TO GO JIM!
11-12-09
BOO-TIFUL WITCH!
I just received this witch as a Birthday gift from my husband. I have collected several Jim Shore witches over the years, so I had to have her. She is a beautifully detailed piece! She comes nicely packed, and although it's not a collectors box, you just keep the box it comes in for storage. I have collected many of Jim Shore's large pieces, and this is the way they are packaged. As always, Jim Shore has amazed me with his talent! Thank you Jim Shore and QVC!
10-27-09
Awesome!!!
This witch is do detailed & amazing. I collect witches, and I was thrilled when I received this. She is on my front porch with pumpkins & flowers, looks great!
10-26-09
Jim's Best Witch!
This beauty is even more astonishing in person. Every detail amazes me. She's got a Woodwick candle burning at her base that casts the perfect glow. I have tried to collect every Jim Shore witch available. This is certainly my favorite. Her size really makes a statement and is a bargain for the workmanship. Too many small witches clutter up the house (not that it would stop me), but she's got her own table and is quite the mood setter. Dare I say it? She's elegant! Wise. Crafty. I hope for more oversized witches in the future Jim!
10-11-09
GREAT!!!!!!
This piece is so detailed and very well done.I just love it. I collect witches so I was very happy to see this big piece.I hope to collect many more of Jim's witches.Keep them coming!!!!!!
10-07-09
best purchase
AWSOME WITCH, NICE SIZE, A BOX WOULD OF BEEN NICE. LOVE IT
09-29-09
Wow, What a Wonderful WitchThis Is!!!!
This statue is remarkable. The workmanship is astounding and the detail is incredible. Yes, she is huge and every inch of her is full of detail. This is Jim at his very best. I have her on the top of a dresser with a candle impressions candle glowing beneath her at night. She looks dramatic and evil! My only comments back to Jim is that she was not packed very well and the entire vertical piece of tape was gone/broken when she was placed at my door. Fortunately the packing material held her in tightly. Another comment about the shipping was that the contents of the box was printed on the box saying "Large Witch Statue". I really didn't like it that everyone who touched the box in the shipping of it knew the contents. Last comment is that there was no collector box to keep and store her in. Withought it I think the value goes down from a collector's perspective. I think I will reach out to Jim to see if he can get me a box.
09-20-09