Jazzercise Dance Fitness 3 DVD Set with Leopard Print Tote Bag
Customer Top Rated
In Stock
Sold Out
We're sorry. This item is not available at this time.
Pre Order Possible .
Low Stock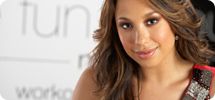 "Why do I love Jazzercise? It feels more like a girls' night out than a workout."
—Cheryl Burke
Description
Dance, dance, dance--and get fit doing it! A fun way to get into shape, these newly released fitness DVDs feature motivating music and moves. Latin Live stars Judi Sheppard Missett and Dancing with the Stars Cheryl Burke; Burlesque combines sassy dance movements with ballet basics; and Ballet Body includes basic ballet movements to strengthen and lengthen muscles. And a chic leopard-print tote bag comes with the set!
As always, please consult your personal physician before beginning any diet or exercise program.
Take a realistic approach: If you work consistently and follow the program, you maximize your results.
Includes three DVDs and a leopard print tote bag
Latin Live by Jazzercise: run time approximately 45 minutes
Burlesque by Jazzercise: run time approximately 48 minutes
Ballet Body by Jazzercise: run time approximately 40 minutes
Tote measures 15"L x 13-1/4"H x 4-1/4"W with a 9-1/2" shoulder drop
100% nylon with faux-leather trim
Wipe clean
Tote made in China; DVDs made in USA
Reviews & Community QA
Jazzercise Dance Fitness 3 DVD Set with Leopard Print Tote Bag
49
49
Latin Live Disc Defective - The Rest Are A Blast!
The Ballet Body and Burlesque DVDs are great workouts and fun! The Latin Live DVD is defective and won't play. Disappointing, as I'll have to return all three discs and wait for replacements. Rating a 4 because I really like the first two DVDs. Would have received a 5 if all DVDs worked.
05-08-13
Kept returning because Latin DVDs didn't work
I bought the first one - Latin didn't work and sent back. Bought a second one - Latin didn't work and sent back. Bought a third one - Latin didn't work. Called QVC and asked them to contact Jazzercise directly to replace the Latin DVD because three out of three didn't work and I believe these were a bad shipment. Within a few days, I received a Latin DVD in the mail and it worked. If you are having problems with the Latin DVD or any of them, just contact QVC and they will have one sent to you. This is a great value, bag is cute; however, I was disappointed that I had three that didn't work and it seems as though others are having a similar problem, thus the four-star rating.
04-22-13
Good price for these DVD's
Although the Latin DVD skips and does not play, this is still a good price for this set of GREAT exercise videos! I opted to keep my set instead of returning it because I really wanted to start exercising and didn't want to wait for shipping. Interesting enough, I read other reviews that mentioned the same problem with the same DVD. I would recommend Jazzercise videos as a gift...just be wary of the faulty CD that is appearing in these sets sold by QVC.
03-18-13
Jazzercise combo
I am very pleased with my Jazzercise fitness combo. The Leopard tote is excellent!! The tote itself is worth the value of the whole package. My favorite DVD is the Burlesque. I enjoy that the video has music that one can get moving with keeping my attention to the video and keeping it FUN!! The videos are a good fun workout to get you moving in the morning. Having a variety allows a better fitness plan for the week.
03-12-13
LOVVVVE IT
I NEVER WRITE REVIEWS, HOWEVER I COULD NOT RESIST. THESE ARE THE BEST EXERCISE DVDS EVER!! THE MUSIC IS GREAT THE INSTRUCTERS ARE VERY GOOD AND THE WORKOUT IS TERRIFIC. MY FAVORITES ARE THE BURLESQUE AND BALLET. I ALSO LOVE THE 20 MINUTE WORKOUTS. I AM 52 YEARS YOUNG AND HAVE WORKED OUT ALL MY LIFE THESE ARE GREAT FOR ANYONE BEGINNER TO ADVANCED. I ALSO LOVE THE 10 MINUTE BALLET WORKOUTS!! ALSO THE BAG IS VERY NICE AND A NICE BONUS. THIS SET IS A GREAT BANG FOR THE BUCK!
02-08-13
Great Jazzercise DVD Set!
I really like my Slim in 6 workout DVDs but wanted something different to mix it up. I used to do Jazzercise years ago and loved it. Some reviewers said these were nothing like a real Jazzercise class but I have to disagree. I thought there were very similar. I loved the music and great cueing on the dance moves. I especially like the Latin and Burlesque work-outs. This is such a great price for the set of DVDs and tote bag. If you are at all considering it, don't hesitate!
02-08-13
Good Value
I was skeptical about getting 3 dvds and a tote bag for this price but it was definitely worth it! Jazzercise is a fun way to exercise. I switch the dvds up and it makes me look forward to exercising when I can't be outside walking.
01-30-13
Great value
I love Jazzercise!! This is a great way to supplement my workout or be my workout when I'm away from classes. Nothing can take the place of the real Jazzercise class, but these are a close second! Burlesque is my fave. All are great fun, and an amazing value!
01-25-13
Great set of DVD's
This is such a great value. To get all 3 DVD's and the bag at this price is a steal! The bag is the perfect size for shoes, weights, towel etc. and the DVD's are fun, well cued and perfect for when you can't get to class. I personally like the 'Ballet Body' the best for strength training and 'Burlesque' for cardio. I am not a fan of the 'Latin Dance' and gave it away but still feel I got a bargain even with the two DVD's and the bag.
01-18-13
Jazzercize DVD Trio
This is a great way to Jazzerise if you don't have a current membership or can't get to class. I am moving away to a desolate location without Jazzercise, so it's perfect for me. I have enjoyed the Ballet workout, but haven't tried the other two yet. Forget about the figures of the gals on the DVD - there will always be someone better and worse than you. It's for YOUR benefit, so enjoy it and do it for yourself. I have loved Jazzercise for fifteen years and don't want to be without it - ever! It's the best 1 hour workout around, and I have tried many. The new condensed workouts and 10-minute segments are a life saver for those lazy days that you just think you want to do a little. Get started and you'll want to do more!!
12-31-12
Beats paying for classes every month
I used to take classes right in town and loved them! Between the Grandkids and my age there isn't enough time or energy some days to make it to the class. So, this works out very well for me.
10-28-12
Not great
I am an avid exerciser and use exercise DVDs all the time(not jazzericse). I didn't like these. The burlesque and latin are very repetitive (boring) in my opinion and the cueing is not great. I likes the ballet a bit better.
09-03-12