Jacqueline Kennedy Worry Bead Tassel Necklace
Retiring Style!
In Stock
Sold Out
We're sorry. This item is not available at this time.
Pre Order Possible .
Low Stock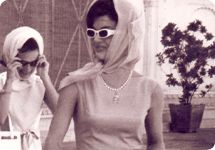 The Inside Story
On July 28, 1969, Onassis' sister, Calirio, gave Jackie the original version of these "worry beads" for her birthday. Designed to relieve stress, keep hands and fingers occupied, and generally pass the time, worry beads are considered a symbol of Greek culture. They were an extremely appropriate gift for Jackie, whom Calirio wished to welcome to the Greek Onassis family. Later on, even when her relationships with Onassis and other members of his family were strained, Jackie continued a warm relationship with Calirio.
Information provided by Phil Katz.
Description
A unique addition to your collection, this necklace features a colorful mix of round gemstone beads along the twisted chain, including rose quartz, aventurine, hematite, carnelian, obsidian, coral, and lapis lazuli. You'll love the special engraving on the dangling tassel pendant, which reads "To Jackie". From the Jacqueline Kennedy Collection.
Goldtone
Gemstone weight is not given for beads
Dangling tassel pendant engraved with "To Jackie"; round gemstone beads along the twisted chain, including rose quartz, aventurine, hematite, carnelian, obsidian, coral, and lapis lazuli
Lobster claw clasp
Approximate measurements: Pendant 3-1/4"L x 3/8"W; Chain 28-1/4"L x 1/4"W plus 3"L extender
Box, Manufacturer's Certificate of Authenticity
Important Details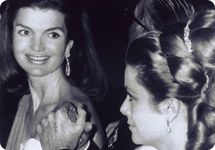 End of an Era
For the past 10 years, we've had the honor & privilege of sharing Jacqueline Kennedy's story with you through the romance of her jewelry & accessories collection. From the start, we always knew that the pieces would be limited in availability & duration. Due to your amazing support & loyalty, we've enjoyed extending the timeline far beyond our original intentions. Now we feel it's time to bring this fabulous chapter to a close. We've rendered all the pieces in her collection that are currently available to us, and we'll continue to offer the line only as long as inventory exists.
Information provided by On-Air Guest Phil Katz.
Reviews & Community QA
Jacqueline Kennedy Worry Bead Tassel Necklace
11
11
SPECTACULAR!!!!
This will become one of my favorites - not only because it represents the woman I admire, but also it's beauty and elegance. Don't hesitate!!
02-24-14
Liked it, didn't love it.
It's ok. Don't hate it, but for the price I really need to love it. The gold-tone on this piece just screams costume jewelry to me. Beads are pretty, and I like the concept - just think the gold-tone looks too faux. And as another reviewer said, I really don't care for the "To Jackie" writing on the box. Cheapens it. I like this line of jewelry - have several others and have been very happy with those. I think the price is too high for what it is.
02-12-14
NAME WAS DEAL BREAKER
The video currently showing is NOT for this necklace. And nowhere in the description does it say that the little square box on the necklace has the writing "To Jackie". Yes I know - this is a copy of JBK's necklace; however, I am a grown lady and to have a name - anyone's name - that is not mine on a necklace I will be wearing is not something I care to do. Maybe it would not bother others but it bothers me enough to return. For those of you who wouldn't be bothered by the name being displayed, the chain is beautiful and so are the beads.
01-08-14
I returned it but now I want it back!!!
I bought this and just loved it''s unique look. The story is that each bead is for a different Onassis family member the last bead being Jackie. I just loved it and thought it would go with many outfits that I never considered wearing with jewelry believe it or not. I kept thinking about the bead representation and thought I need to make one for my family but I would never find the chain or beads or the tassel. Then I purchased some other JBK items and thought maybe I should return it and spend the money on something I didn't have second thoughts about. I bought the other pieces and returned this one and now, each time I see it on QVC, I regret sending it back. It is casual but so unique. So, next time I have a little extra money, I'm going to buy it again. Maybe it will be lower in price. Now there isn't an answer that I like for recommendations but you would have to know what style whomever you want to buy this for to recommend it. I have a few friends that would like this and I think that my daughter and mom would. But to be honest, I think it's more for a bit of Bohemian type people and not for people that like classic design only. I think teachers and people in art would like this gift.
07-17-13
LOVELY
Got it today and I immediately fell in love with it as I knew I would. The only thing I found to be odd is that there are 12 beads on one side and 13 beads on the other making it look a bit crooked. I love it anyway. :)
04-19-13
My Favorite
I own quite a few pieces of JBK Jewelry and they are all beautiful. This is my new favorite because it is not too dressy, Sadly, few of us are invited to Inaugural Balls. This is a necklace that can be worn with jeans.
01-01-13
Love this Necklace!!
Beautiful, eye catching, easy to wear, casual chic. It goes with many things. It is well made. I find people stare at it and quite don't know what to say. This is my second piece from Jackie's collection. I have my eye on a few more pieces I intend to purchase.
06-28-12
Stunning
Thank you Phil & QVC for bringing these beautiful reproductions of Jacqueline Kennedy's jewelry. I own several pieces from the collection, and this one did not disappoint! The gold looks rich and the stones are lusterous. After I heard the story and presentation on TV, I was hooked. I'm part Greek and the fact that this piece from Ari's sister meant so much to Jackie made it meaningful to me. I've bought jewelry in the past with tassles, and usually they look a little shabby. Not this one. It looks very finished and even. Love it!
05-18-12
Sentimental favorite
What a wonderful, sentimental piece. So pretty and easy to wear with anything. This will be one of my go to pieces. Love it!!!
03-07-12
Truly Magnificant!
This is a beautiful necklace and I love the history behind it. The quality is superior and I'm going into NYC today and will wear it proudly. It comes beautifully packaged and would make a great gift for anyone. The longer necklaces with tassels are in vogue, so what's better than to wear something stylish and different.
03-03-12
LOVE IT!
I really like layering necklaces, so this piece works very well for that. Also it goes with everything because of all the different colored stones. I layered it with the agate cross/necklace and really like together. The chain is fine wheat or snake so will have to see how durable (won't be cleaning house in it). I plan on wearing it with pearls, always loved the look of gold and pearls. The tassel is not too long, which I like. The only thing I would change if I had designed would have been to make the gold bead above the tassel a brushed gold. LOVE IT, highly recommend.
03-02-12