Jacqueline Kennedy Timeless Hobo Leather Handbag
In Stock
Sold Out
We're sorry. This item is not available at this time.
Pre Order Possible .
Low Stock
Description
Carry a classic and you're always in style. Fashioned of deep blue leather, this rectangular-shaped hobo bag transitions seamlessly between seasons, year after year. Silvertone buckle and ring details enhance the adjustable shoulder strap. From the Jacqueline Kennedy Collection.
Zipped top, lobster claw closure with loop, white contrast stitching
Lined interior, zip pocket, two open pockets
Measures approximately 17-1/2"W x 13"H with a 13" to 15" strap drop
Leather shell; canvas lining
Made in China
Important Details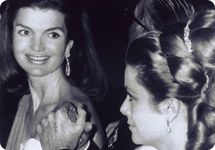 End of an Era
For the past 10 years, we've had the honor & privilege of sharing Jacqueline Kennedy's story with you through the romance of her jewelry & accessories collection. From the start, we always knew that the pieces would be limited in availability & duration. Due to your amazing support & loyalty, we've enjoyed extending the timeline far beyond our original intentions. Now we feel it's time to bring this fabulous chapter to a close. We've rendered all the pieces in her collection that are currently available to us, and we'll continue to offer the line only as long as inventory exists.
Information provided by On-Air Guest Phil Katz.
Reviews & Community QA
A86919 - Jacqueline Kennedy Timeless Hobo Leather Handbag
18
18
Terrible
An utterly hideous and cheap copy of Gucci's iconic Jackie bag. Low-quality, stiff leather. Ladies, you're deluding yourselves if you think this piece is "good enough for Jackie."
07-14-10
I like it...alot!
I have been using the purse for the past week and have gotten at least 3 compliments on it so far. It is a big purse, very durable and the color is great. It goes well with casual clothes and office attire, too. The hook on the outside of the bag is a little clumsy, but that is the only negative that I have found.
07-08-10
I SIMPLY LOVE THIS BAG, EVEN THOUGH...
As per the other reviews this bag does have a problem with zipping; however, it's a great bag in that I love the size and the color. If you don't overload it, then it's quite fashionable and lays flat on your side. Simply be elegant like Jacqueline Kennedy and limit what you carry, hehehe. For the "Baby Boomers" ... remember the advice of your Moms ... "You can't always be fashionable and comfortable at the same time," e.g., sometimes you want to wear a dress or a sweater and you know your tummy is not flat and you've got to suck it in while wearing it, hehehe. Well, that's what you have to do with this bag. Fiddle with the opening and zipper ... and wait for the compliments you'll receive when you wear this bag with a crisp white blouse, indigo jeans, small pearl necklace, small pearl bracelet and a simple pearl earring and ring. Yeah, you got it .... I looked pretty cute wearing that outfit and carrying this bag. Now, I'm going to see if I can get the Black Bag before it's retired.
06-06-10
Beautiful Bag
My new favorite handbag. Was a bit stiff at first, however, as with most leather goods, softened with use. Adore the simple but classic hardware. The adjustable strap allows the bag to rest comfortably against me and under my arm for security. I always receive compliments when using this bag.
04-16-10
Gave it away
This bag is a beautiful blue no problem there. The leather is very stiff, and bag is very......ok I will say it UGLY. It is just a low to medium grade basic purse, nothing special at all and as others have said it doesn't hold a candle to the Jackie repo jewelry. If you want to compare it to a Hermes you will be sorely disappointed, because face it the bag Jackie carried was probably at the very least around $10,000.00 a far cry from this one. So, If it's good enough for Jackie, it's good enough for me, just doesn't cut it here. What we should be saying is if it's good enough for Jackie, I could never afford it and would never find it on QVC to begin with. I never carried this bag but kept it too long to send it back so I gave it to my best friends college age daughter and she loved it.
02-04-10
poor leather
I expected quality. I'm suprised this leather escaped quality control. The style, color and design was wasted on this leather. On the front of the bag I recieved, the leather was paper thin and looked as tho some kind of backing to bolster the leather had pulled apart, like some kind of iron on facing. I wish this bag would return, with a good quality, pebble grain leather instead of what arrived for me. Again, this item surely must have not been thru quality control, I know this is not a QVC standard.
12-30-09
Big but I love it
I was surprised with the size. But love the bag. It is the perfect bag for school. It has style and function. The blue is so pretty. I feel that like the other comment, I'm very glad to have something Jacqueline Kennedy picked out her self and used in all areas of her life. I have recieved several like your bag comments everywhere I've taken it. Again love this bag. I will be ordering the brown when it comes out.
11-21-09
Not the quality I would have expected.
Simply stated, this handbag is not the same quality as the jewely found in the Jacqueline Kennedy line. For that reason, I will be returning.
11-16-09
I should have read the reviews!
The shape is nice, the color is a deep blue, but the leather is so cheap looking. The strap handle is thin. I really wanted to love this bag but the quality is just not there for the price. I don't think this would have been good enough for Jackie either!
10-27-09
Plain, Simple, Sophisticated, Refined!
This is my very first time ever writing a review but I felt I needed to defend this bag. I love it! The color blue is lovely and at 5' 51/2" tall, the size, for my height, is perfect; especially for over the shoulder as it was designed. Most important, the leather although not soft, is substantial for holding the shape of the bag, as I'm sure it will soften with wear. Being the owner of many pieces from the Jacqueline Kennedy Collection, the bag is no less than what I had expected; beautifu! I can't wait to get the other one. I too want to say, if it's good enough for Jackie, its good enough for me!
10-24-09
Disappointed
Quality not there in leather, lining, zipper, finishing. Hard to zip. Of course when a woman loves Dooneys, everything else is not okay.
10-21-09
Not worth the price
Returned this bag. For the price, the quality of leather should have been better. Jackie Kennedy would not have worn the bag I received.
03-03-09