Jacqueline Kennedy Simulated Pearl & Bead 2-Strand Necklace
In Stock
Sold Out
We're sorry. This item is not available at this time.
Pre Order Possible .
Low Stock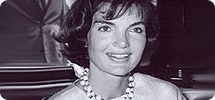 The Inside Story
The original pearl necklace from Jacqueline Kennedy's personal collection was an heirloom gift from Jackie's mother, Janet Auchincloss.
Description
Model your style after one of the most fashionable females of our time--Jacqueline Kennedy. This dual-stranded necklace--based on a piece in her private collection--features round, white simulated pearls alternated with round, ribbed goldtone beads. It secures with a large goldtone ribbed bead clasp, with a fancy goldtone plaque dangling near it. From the Jacqueline Kennedy Collection.
Goldtone
Simulated pearls measures approximately 8.0mm and 10.0mm
Ribbed bead clasp
Measures approximately 18"L x 3/4"W
Box, romance card, Manufacturer's Certificate of Authenticity
Important Details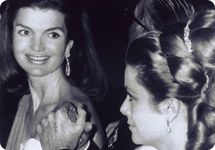 End of an Era
For the past 10 years, we've had the honor & privilege of sharing Jacqueline Kennedy's story with you through the romance of her jewelry & accessories collection. From the start, we always knew that the pieces would be limited in availability & duration. Due to your amazing support & loyalty, we've enjoyed extending the timeline far beyond our original intentions. Now we feel it's time to bring this fabulous chapter to a close. We've rendered all the pieces in her collection that are currently available to us, and we'll continue to offer the line only as long as inventory exists.
Information provided by On-Air Guest Phil Katz.
Reviews & Community QA
Jacqueline Kennedy Simulated Pearl & Bead 2-Strand Necklace
31
31
Stunning!
These pearls,however completely different than JBK's other pearls, really catch the eye! I was not sure how I'd like them, but upon first glance, I was in love! Much more formal to me! I love them! Better get some, because at these prices, they will not be here very long!
04-15-15
Junk jewerly
I have to admit this is the first time ever I returned a JBK piece. The pearls looked like plastic, the clasp was junk. I would never keep this pearl necklace. It reminds me of junk jewerly sold at garage sales. At least at a garage sale you would pay 5.00 even still I would pass this piece up, the gold looks so cheap and fragile. Good luck to those that had in the past purchased this item.
06-30-14
The clasp was unreliable and.....
the metal had a very strong smell of tarnished silver. It wasn't tarnished, but the smell was awful. I wore this necklace to church and had to leave early because the smell was so strong and nauseating. I tried wiping with jewelry polishing cloth, but the smell remained. Also, the clasp was hard to fasten and didn't fit together properly. Came undone a couple of times during my short attempt to wear it. The look of the necklace was exquisite. Broke my heart to have to return it.
04-23-14
Exquisite pearls
I'm glad I purchased these pearls. I had been thinking about buying them for a while. I hesitated as I own a double strand white Akoya set and didn't want to take the "specialness" out of them. These do not and I'm glad I took the plunge. I now have Jackie pearls in silver tone and gold tone and have many pairs of earrings that will go along with these perfectly. Out of all of the Jackie white pearl necklaces (I have 6 sets), this is my favorite. I want to take the time to thank QVC and Camrose and Kross, especially Phil Katz and Jackie's family for bringing this line of jewelry to the general public. This was a high quality line of jewelry, and as a historian I truly appreciated Mr. Katz' research on the pieces, the people and the events that shape our nation and the world today. It was fun while it lasted, and I wish Mr. Katz the best of luck in the future!
04-10-14
Simply beautiful!
I've had and worn this set of pearls for SEVERAL years!! The clasp is fine! It is similar to many I have on my other "real" Pearls. Most strands of nice pearls have a similar clasp..never a lobster claw or spring ring! Anyway the pearls look beautiful... still... and the gold looks like 18kt ! Again..I wear these often and don't give them any special treatment and they have held up very well.
03-23-13
Beautiful
I love this piece..wore it for my son's wedding...........never overdone elegance......beautiful................
03-14-13
So Disappointed
I really like the way the strand looks and collect most of the Jacqueline Kennedy Collection pearls so, of course, I purchased this necklace. When it arrived, it felt...cheap. I'm not sure if these are strung on a wire instead of cording like the other JBK pearls, but they felt stiff and like plastic. The pearls themselves didn't have that rich, heavy feeling that they usually do. I tried the necklace on anyway, figuring maybe it would just take some getting used to, but the clasp would not stay closed. I quite often read reviews from people, complaining about the clasps on the JBK pieces but I have never had a problem with them before (honestly, I feel most of the time it is operator-error or people not understanding how the clasps work), but in this case, it was definitely the clasp that was the problem. I have worn necklaces in the past, that use a similar clasp (they were vintage pieces) so it isn't the design of the clasp that was the problem, it was the execution/manufacturing. Perhaps I received a defective one, but on the necklace I had, the "tongue" would not stay inserted when pushed into the hole for it. Ordinarily the necklaces I've worn in the past would sort of snap into place when the tongue was inserted, locking in a way, this one didn't. Unfortunately, I was very disappointed in this piece and it had to go back.
12-14-11
overrated necklace
the clasp on this necklace is not reliable. it won't close securely and it comes loose. it is very very fragile!!
11-30-11
I love these pearls!
After reading the negative reviews of the others I had to write my own review. I have had these pearls for a while now and really enjoy them. I like that they have the gold balls in between each of the white balls, they have a rippling on them that make them interesting. I find the pearls themselves to be of the same quality of the other pearls, I own the one strand, two strand and the 18" - 3 strand necklace as well as the 20" - 3 strand necklace. Although the clasp is different, it's something that you can get quite use to with practice.
10-26-11
Luxurious
I have lots of the JBK pearls and love them all! This one can be worn with all types of outfits from casual to very dressy! Nice quality! I get lots of compliments on this!
07-27-11
Why This Clasp?
I like the necklace, but the clasp is difficult to maneuver, and not very well made. I am not sure it will hold up for the long haul. Not sure why this clasp was chosen. I have numerous other JBK collection pieces, and was so disappointed when I saw the clasp on this piece.
06-28-11
BEAUTIFUL!!!
These pearls are like JK's other pearls, GORGEOUS!! All her pearls deserve 10 stars. The hues all match, they look great and work well worn together. I would not take anything for my pearls. I have multiple sets and I adore them. Thank you for bringing this line to QVC.
06-17-11