Jacqueline Kennedy Simulated Kunzite Ring
Retiring Style!
In Stock
Sold Out
We're sorry. This item is not available at this time.
Pre Order Possible .
Low Stock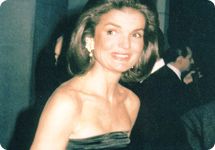 The Inside Story
In August 1963, John and Jackie lost their child, Patrick. By all accounts, the experience drew the couple closer, and they spent more time with one another and their children. It was during this time that John wanted to give Jackie a special gift for the upcoming Christmas holidays. In October, during a visit to New York, he stopped in Van Cleef & Arpels (where he had bought Jackie's engagement ring) and ordered a large kunzite and diamond ring. He knew Jackie loved pink, and this would be her first pink-stone ring. This was to be their 10th Christmas together, and he had 20 diamonds designed into the ring to represent the next 10 years of their life together.
Information provided by Phil Katz.
Description
Final offering. Styled after the last gift that John F. Kennedy purchased for Jackie, this goldtone-plated sterling silver ring glistens with a large, oval simulated kunzite in the center, surrounded by a row of simulated diamonds. From the Jacqueline Kennedy Collection.
Goldtone-plated sterling silver
Sizes 5, 6, 7, 8, 9, 10, 11, 12
Measures approximately 3/4"L x 5/8"W
Box, romance card, Manufacturer's Certificate of Authenticity
Made in Thailand
Important Details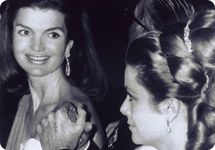 End of an Era
For the past 10 years, we've had the honor & privilege of sharing Jacqueline Kennedy's story with you through the romance of her jewelry & accessories collection. From the start, we always knew that the pieces would be limited in availability & duration. Due to your amazing support & loyalty, we've enjoyed extending the timeline far beyond our original intentions. Now we feel it's time to bring this fabulous chapter to a close. We've rendered all the pieces in her collection that are currently available to us, and we'll continue to offer the line only as long as inventory exists.
Information provided by On-Air Guest Phil Katz.
Reviews & Community QA
Jacqueline Kennedy Simulated Kunzite Ring
320
320
Awesome!
Beautiful ring and so elegant! All Jacqueline Kennedy jewelry is elegant, but this ring is one of my favorites from her line. Try it before it's all gone, you will never be sorry.
05-22-14
Everything I expected, but there is a caveat
This ring was as pretty and sparkly and hefty as it appeared on the teevee. I ordered true to size and it fit. The only problem was that it was too big of a ring for my ring-finger. I am a 5'7" gal, so I don't have puny hands. This ring, while very pretty, was just too much. It would look great on my middle finger, but alas, size 8 was sold out. The only reason I am sending it back is because of that reason. Had I bought a size 8 I would be keeping it. But you should definitely try this for yourself and determine if it looks too big on you. No complaints at all, just my preference.
05-10-14
Love this Ring
I wish I were able to have this ring in the proper size that I take (8). I bought it in a 12 and it is huge, but i can wear it with putty on my middle finger. It is too pretty to return. This picture doesn't do it justice.
04-22-14
Beautiful Ring!!
The picture does not even do justice for just how beautiful this ring is in person. The Pink Kunzite is stunning and I love how the diamonds wrap around this ring!! I fell in love with the Love Story that also went along with this ring, the very last ring John had made for Jackie!! If you are an October baby it serves as a birthstone ring as well. Very Pretty, very delicate, very Jackie!!
04-15-14
Beautiful
This ring is gorgeous. Love the pink CZ. I gave five stars because it is an exquisite ring, but mine had some bent prongs and settings--didn't return because no longer available in my size.
04-14-14
Gorgeous but sizing off
I loved this ring the moment I saw it on TV and then to get it in person was breathtaking.This is the second time this year I have had a problem with ring sizing. I am a true 6 on my left hand and a true 7 on my right hand(ring fingers)Well I ordered 6 for the left hand and it was too large and fir my 7 finger.this happened earlier this yr as well different vendor.I have had rings in the past from QVC that were fine.
04-04-14
Prettty!
Very pretty ring. Love the pink color. Is my birthstone color for October. Glad that I could get a piece of jewelry that has special meaning being the last piece that was designed by JFK for Jackie. Don't know if I will wear it much as I don't want to have anything happen to it. Too bad it is no longer available because this one is one to own.
04-03-14
a lovely big ring
I agree with the other reviews that it has a lovely setting, nice pink color that changes in the light and tasteful 'diamonds' on the side. It pains me to send it back but I found the stone too large for my petite hand. If anyone is looking for a size 9, watch it going back in to stock. If it was just a bit smaller in scale, it would have been a keeper for me.
03-30-14
Stunning!
This ring is a showstopper! I had been eying it for a while and finally purchased it when it went on clearance. I love how the color changes with the lighting. I will be buying the earrings to match.
03-29-14
Prettiest ring I've ordered from QVC
I love rings! This one is very pretty and I have worn it several times since I received it. I have not had it but just a few weeks. I know I will enjoy wearing it especially this spring and summer. I have ordered a number of jewelry items from QVC in the past, and all of them have been pretty and I have enjoyed wearing them. I bought a heart pendant from y'all a long time ago and I thought it was the prettiest one that I had ever seen. Someone stole it from me and I have not seen you present it again. It was diamonique.
11-13-13
Beautiful!!!
This 3rd ring I have purchased....Bought two few years back and gave to two children...I was so impressed how they looked and held up, I decided to get one for myself....Love it and have purchased other of Jackie's collection...Never sent one piece back....
11-12-13
Look at the Reviews!
I wear mostly silver, but, this is stunning! Just look at the numerous 'thumbs up' reviews. Looks, "Real".
10-28-13