Jacqueline Kennedy Simulated Gemstone Bib Necklace
Retiring Style!
In Stock
Sold Out
We're sorry. This item is not available at this time.
Pre Order Possible .
Low Stock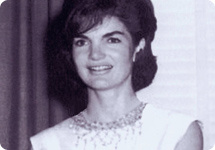 About the Design
Emeralds were JFK's favorite gemstone to give Jackie. As he saw it, emeralds were part of his family's heritage from the "Emerald Isle" of Ireland. Here, we see Jackie wearing the necklace at a formal dinner at the Japanese Embassy on June 21, 1961. JFK and Jackie attended the reception, as did former President Eisenhour and his wife, Mamie.
Information provided by Phil Katz.
Description
It's a wow! This beautiful bib necklace, fashioned after a piece worn by Jackie Kennedy, turns heads with its statement style--round simulated diamonds and simulated emeralds sparkle in an ornate openwork design. Drape it over your favorite ensemble to impress at any special event. From the Jacqueline Kennedy Collection.
Goldtone
Openwork tapered bib design
Round simulated diamonds and round simulated emeralds are prong set
Lobster claw clasp
Approximate measurements: overall 18"L plus 5"L extender; bib design 2-3/4"L x 8"W
Box, romance card, Manufacturer's Certificate of Authenticity
Made in China
Important Details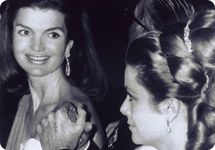 End of an Era
For the past 10 years, we've had the honor & privilege of sharing Jacqueline Kennedy's story with you through the romance of her jewelry & accessories collection. From the start, we always knew that the pieces would be limited in availability & duration. Due to your amazing support & loyalty, we've enjoyed extending the timeline far beyond our original intentions. Now we feel it's time to bring this fabulous chapter to a close. We've rendered all the pieces in her collection that are currently available to us, and we'll continue to offer the line only as long as inventory exists.
Information provided by On-Air Guest Phil Katz.
Reviews & Community QA
Jacqueline Kennedy Simulated Gemstone Bib Necklace
39
39
Not the normal quality
Most of the Jacqueline Kennedy collection pieces are very high quality costume jewelry that can be passed down from generation to generation. This one is not of that caliber and two of the links on the front broke the first time I wore it. Very disappointed, it was too late to return once I wore it.
04-01-15
Knock out
As other reviewers have written, my box was off center but my necklace is gorgeous. This is so sparkly I feel like a queen just having it on my jewelry cabinet. The discontinuation of the Jackie Kennedy Collection is a minor tragedy in my life. There are several pieces I had yet to buy, the sun broach, the scarecrow pin and the bypass sapphire ring. But I am grateful for the beautiful things I am fortunate to have.
12-16-14
FIT FOR A FRIST LADY
I have 25 pieces of this collection, this tops them all, Yes it is very dressy, and I live in Tennessee, but you bet your bottom dollar I WILL WEAR IT, It is much prettier than tv but it makes my collection sparkle, who knows I am 80 and I might be buried in it. I will be ready for gates of pearl and streets of gold.
09-06-14
Great classic necklace
I bought this necklace last year and thought it was too fancy to wear. I sent it back and regreted it ever since. I just reordered and this time its for keeps. Bibs seem to come and go but they are so in now that this will do the job and for years to come because its reversable to soild gold tone.
08-28-14
Pretty, Very Poor Construction
The hard shell box this necklace arrived in looked as though it had been in a war...perhaps I received a returned item? When I was finally able to pry the jammed box open, imagine my dismay to see a loose simulated diamond twinkling up at me from the crevice on the side of the box? I scrutinized the necklace until I found the spot missing a stone, but was unsuccessful making the repair myself. I decided its stones were disproportionately small compared to my real emerald and diamond earrings and ring, so it was a no-brainer to send it back. All of that having been said, if the construction were better, it would have looked lovely on a young lady wearing a cocktail or prom dress...light and feminine and sparkly!
08-13-14
Awesome Elegance
I just received this beautiful bib necklace. The tv did not do this piece justice! I was enchanted by this bib necklace's gold tone color, beautiful sparkle of the simulated emeralds, and awesome elegance this piece presents itself! I can't wait to wear it with a crisp white shirt and blue jeans or a stunning black dress for a special event! Jacqueline Kennedy's poise and sense of impeccable style still shines through with this bib necklace! Thank you QVC and Camrose and Kross!
07-02-14
Broken again!
I first bought this necklace about a year ago. It arrived broken. I sent it back and decided not to re-order since the quality was dubious. Since the line is being discontinued, I ordered it again. The necklace arrived yesterday, and it is BROKEN again! Unbelievable. I am very upset. There is something about the construction of this necklace which makes is break easily.
07-02-14
GORGEOUS! BEAUTIFUL!
I absolutely love, love, love this necklace. It is so gorgeous and elegant and the reverse side is just as beautiful. It is far more sparkly and lovely in person. I am so pleased that I was able to purchase this item. I highly recommend this to anyone.
06-28-14
Most Beautiful necklace
When I opened the pretty box I gasp . I have never in my 59 years have seen a more beautiful necklace. And I've seen many . If you go to places that are high dress, this is for you! Haven't been anywhere that I could wear this since my wedding and high school prom. I really hated to return it, due to knowing I go no where it would be worn in my outings. And if I had excess $$$ I would have just kept it to open and look at beauty of those green and diamond like stones,
04-25-14
GORGEOUS!!!
This necklace is beautiful!! I love that it's reversible too. It's one of those pieces that you want to have in your jewelry box, you don't know when or where you'll wear it, but you'll be glad you have it when the time arises. It's absolutely beautiful!! I'm so glad that I ordered it before it sold out. I have several Jacqueline Kennedy pieces from many years back that have since sold out and I love all of them. All are great quality and style.
04-08-14
Magnificent!
This necklace is a stunner, even though it is not at all gaudy. It is pure elegance, fit for a princess - and you will feel like one when you wear it! If you love beautiful statement jewelry, hurry to get yours while they last!
04-05-14
Understated and lovely
If the origional had such small stones it must have been lovely too. Real diamonds would give an all over shimmer , and the emerald accents would be lovely. I think I will enjoy this and know folks will notice it. There are no stamped i.d marks on the reverse side to ruin the all over look. Nice piece.
04-03-14