Jacqueline Kennedy Simulated Emerald Necklace
In Stock
Sold Out
We're sorry. This item is not available at this time.
Pre Order Possible .
Low Stock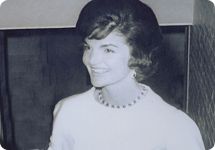 The Inside Story
As pictured here — Jacqueline Kennedy at the D.C. Armory the night before John F. Kennedy's inauguration. That evening, Frank Sinatra put on a special show featuring so many stars that almost all of the Broadway shows had to be cancelled for the night. Jackie is holding Frank's hand as she goes up the steps. She's wearing the emerald necklace John gave her for becoming the First Lady.
Information provided by Phil Katz.
Description
Showing his gratitude for all of her help in his presidential campaign, JFK presented his wife with the captivating necklace from which this reproduction is based. The front of the two-toned design features prong-set, pear-shaped simulated emeralds and brilliant clusters of simulated diamonds. From the Jacqueline Kennedy Collection.
Silvertone, goldtone
Box clasp with figure-eight safety catch
Measures approximately 17-5/8"L x 1/4"W
Box, romance card, Manufacturer's Certificate of Authenticity
Made in USA
Important Details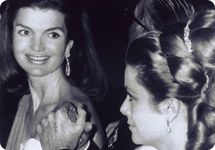 End of an Era
For the past 10 years, we've had the honor & privilege of sharing Jacqueline Kennedy's story with you through the romance of her jewelry & accessories collection. From the start, we always knew that the pieces would be limited in availability & duration. Due to your amazing support & loyalty, we've enjoyed extending the timeline far beyond our original intentions. Now we feel it's time to bring this fabulous chapter to a close. We've rendered all the pieces in her collection that are currently available to us, and we'll continue to offer the line only as long as inventory exists.
Information provided by On-Air Guest Phil Katz.
Reviews & Community QA
Jacqueline Kennedy Simulated Emerald Necklace
22
22
Not my favorite in this line
I have many pieces in this line and love emeralds. So when this necklace and the matching bracelet went on clearance and easy pay, I ordered them. Very disappointed. The gold looks brassy and the stones don't even look close to my real emeralds. Its pretty but very fake looking. And even worse, the necklace keeps flipping over and doesn't lie flat. The necklace is definitely going back. I am still on the fence about the bracelet.
06-23-13
Wonderful piece of history in my collection
I'm glad I purchased this before it sold out. This will look great during the holidays. Telling the story to others will also be a lot of fun, as it always is!
04-07-13
my husband's pick!
I needed something different from what I already own for a black-tie event...I chose this on a whim, thinking I wouldn't like it well enough to spend $100 for a piece I can't exactly wear just anywhere. When I showed my husband, he said he "Wow!", and likes this better than anything I had ever worn in years past, including the DMQ tennis necklace! I purchased the bracelet, as well, and paired it with a beautiful pair of simulated emerald drop earrings I found, and could give 2 hoots about the dress! I can't wait to wear the jewelry! Simply stunning.
10-24-12
luv it
just received a few days ago I have quite a few of JBK pieces but this is one my favorites can't wait to wear with my Joan River's Emerald green suit
09-21-11
Disappointed
First of all this is my tenth piece of J. K. jewelry. I love everything I have received from the J.K. collection until today. This necklace arrived with the metal box all pushed crocked. I had to bend it back in shape... I have an average neck. When I put this necklace on it rolls back and forth as I move or turn my head. One minute you can see all the stones, I move and half of them turn over... I have the bracelet to this necklace. It is beautiful...This necklace does not look like a $100.00 dollar necklace... In fact it feels cheap. Unhappy in Reno.
08-28-11
Perfect Wedding Jewelry
I wore this entire suite to my wedding, as my engagement ring has emeralds in it. It looks beautiful in person and came out amazing in all my pictures! Gorgeous set!
06-18-11
Stunning Emerald Necklace
I ordered this emerald necklace and the bracelet to match. Both of them are prettier than the picture. They make a lovely set. I love the JBK emerald jewelry and can't stop buying it.
06-01-11
Very pretty. No surprise there!
Very pretty necklace. As others stated, the gold looks fake, and the gems look fake too, but in a very pretty costume-way. I bought it for a child, so it'll be fun for dress-up.
02-03-11
superb necklace
an absolutely beautiful necklace.I have the matching bracelet and earrings and it is matched perfectly.The only thing wrong was the condition of the steel box.The inside was a mess,so much so I wondered if it was a return item,but the necklace is what matters and it stays here at its new home.
01-28-11
Stones & gold look cheep.. necklace keeps twisting
I bought the complete set .. but, in the end sent it all back! This piece kept twisting on my neck and the stones looked like glass .. the gold looked cheep around the "diamonds" .. I have many Kennedy pieces and really loved the story behind this set but, knew I would never (or very seldom) wear it!
01-06-11
Lovely
Okay, I rarely give anything from this line 4 stars, but I like the bracelet and earrings better. I have the suite, and wear the pieces together, but the necklace pales in comparrison to the other pieces. I do wear the others more often than the necklace, but when you need the matching necklace, it's the one that works. If you can afford the suite get this too, if you have to choose, go for the other pieces first and come back later for this.
12-22-10
On Waitlist For A Long Time... Finally!
I have been waiting for this necklace to arrive for sooooo long. I'm thrilled to finally have received it. It is stunningly beautiful. Now I have the entire suite. I think it is made well and it rests on my decolette perfectly. It does not roll or turn. I have no problem with the clasp. The yellow gold-tone matches my real gold and the stones sparkle. Even if they do not look like real diamonds, they are beautiful rhinestones. The simulated emeralds are gorgeous. I will enjoy wearing this for the holidays.
10-25-10