Jacqueline Kennedy Simulated Emerald Bracelet
In Stock
Sold Out
We're sorry. This item is not available at this time.
Pre Order Possible .
Low Stock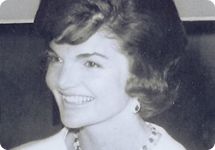 About the Design
Matching the necklace and earrings she had worn to the inaugural ball, Jackie surely held a special love for this bracelet. In this piece, Camrose & Kross present emerald-green Swarovski crystals that are prong-set in a delicately patterned chain, plated in 24K gold.
Information provided by Phil Katz.
Description
As magnificent as Jackie Kennedy herself, this reproduction bracelet glints with timeless goldtone and silvertone links. The glorious design alternates prong-set simulated emeralds with sparkling clusters of round simulated diamonds. From the Jacqueline Kennedy Collection.
7"L or 8"L.
Goldtone, silvertone
Box clasp with double figure-eight safety catches
Measures approximately 3/8"W
Box, romance card, Manufacturer's Certificate of Authenticity
Made in USA
Important Details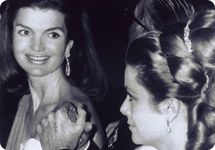 End of an Era
For the past 10 years, we've had the honor & privilege of sharing Jacqueline Kennedy's story with you through the romance of her jewelry & accessories collection. From the start, we always knew that the pieces would be limited in availability & duration. Due to your amazing support & loyalty, we've enjoyed extending the timeline far beyond our original intentions. Now we feel it's time to bring this fabulous chapter to a close. We've rendered all the pieces in her collection that are currently available to us, and we'll continue to offer the line only as long as inventory exists.
Information provided by On-Air Guest Phil Katz.
Reviews & Community QA
Jacqueline Kennedy Simulated Emerald Bracelet
47
47
Love the Green
I normally wear a 7 1/4 - 7 1/2 inch bracelet, I purchased the 8 inch and it fits with enough movement to be comfortable. I took a chance on the 8 inch because I simply cannot wear a 7 inch bracelet. It has too much "sparkle" to wear everyday, however with "dress up" clothes it is beautiful. Overall, I'm happy with the purchase. I have the necklace and would love to have the earrings.
08-19-13
Beauty meets Beautiful
Bought this bracelet for our daughter. "she love this bracelet ". The size 7" is perfect. She is our Beautiful daughter wearing a JBK Beauty! Thanks QVC:-).
07-11-13
Not exactly a natural emerald but still pretty
I have to say, I am totally on the fence about whether or not I am keeping this. Yes it is very pretty but yes, it is also very fake looking and I am not sure I want to spend the money on something that is so obviously not real. I held this next to my real emeralds and the look is not even close. I purchased this with the matching necklace on clearance. I own many of the pieces in this line. Most I love, but I have sent a few pieces back. This may be one of them.
06-22-13
Just Right!
Green is my favorite color, so I had to go for it. I am not disappointed at all with this purchase. The stones are just the right size. I love looking at it on my wrist. I don't work and dress casually everyday, but I am just fine wearing this with shorts and a tee shirt. Love it!
06-06-13
DISAPPOINTING
I purchased this bracelet as a gift for my sister's 60th birthday. The bracelet looks cheap and ridiculously fake. Very disappointing.
05-04-13
UNDERSTATED BEAUTY
Of course, it had to be a Jaqueline Kennedy to be so beautiful. I saw it and had to have it because it's my birthstone. I will wear it proudly this month with the green Swarovski crystals that look like emeralds and the clear crystals that appear to be diamonds...no one will know. I just love it. I watch and listen to all the "Jackie" history....it brings back memories.....sooo good.
05-03-13
Too Lovely for Words Alone
I agree with the reviews that this is a very beautiful bracelet. This bracelet is understated elegance. I never even considered this item until it went on sale but now I wish that I have purchased the matching suite. I have yet to be disappointed with any of JBK line of jewelry, Camrose & Kross and QVC stand behind this product even if you loose a stone, they have wonderful customer service. Don't let this bracelet get past you, order it before it's too late, I promise that you will not be sorry.
04-11-13
Beautiful
I love this bracelet. I was on the fence about this one based on some of the reviews. I purchased it since they were discontinuing it. I am so glad I did. The emerald colored stones are gorgeous. The fit is perfect. It has a really pretty gold color, although it looks like it has white gold in it due to the amount of clear swarovski crystals in it. I can't say enough good things about it. Very pleased with this purchase.
04-08-13
Lovely Piece
I agree with the reviews. This is a very nice bracelet. The stones are not too large that are gaudy and the links are attractive. I inherited a green stone ring and this compliments it nicely. Being on sale made this purchase even better. I have yet to be disappointed with a JBK bracelet and if you have the chance to pick this one, highly recommend it.
04-06-13
I love history and this piece is perfect!
The only question that is going through my head is why I waited so long and how glad I was to be watching the show so I could get them before they were gone. This will be so pretty during Christmas!
04-03-13
Very pretty
Beautiful piece of costume jewelry with wonderful history attached to it. Will enjoy wearing it.
04-02-13
Best bracelet ever!
I bought this because I love emeralds. My husband bought a genuine emerald and diamond pendant and ring for me which I love. I wanted a bracelet, but all I have seen are too small, poor quality opaque stones or too expensive. I didn't expect this bracelet to fool anyone, but it has! I love it; it's gorgeous. I wore it with my emerald pieces all around St. Kitt's in jewelry after jewelry store. More than a few times the jewelers complimented me on the bracelet. In one store I asked to see some emerald bracelets in a case and the salesperson said, "Why when you have a better one already?" The gold color is believable and the green is the same shade as my genuine emeralds. It's a winner and I am so happy I bought it.
02-20-13