Jacqueline Kennedy Simulated Emerald Bow- Tie Bracelet
Retiring Style!
In Stock
Sold Out
We're sorry. This item is not available at this time.
Pre Order Possible .
Low Stock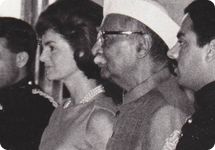 The Inside Story
Jackie was extremely shy, yet comfortable in small groups. In fact, she never wanted to be First Lady and told a friend that she intended to spend the next four years pregnant so she wouldn't have to go out in public. When invited to India, Jackie didn't want to go, but JFK encouraged her as she seemed to have a better relationship with Nehru of India than he did. It was on that trip that Jackie wore the bow-tie bracelet. When Nehru came to the United States, he spent more time with Jackie than with JFK, as they had a lot in common.
Description
Debonair design. Highly polished bow-tie links lend this bracelet a uniquely fashionable look. The bow-ties are dotted with an oval simulated emerald at the center and alternate with elongated bar stations sparkling with round simulated diamonds. From the Jacqueline Kennedy Collection.
Goldtone
Twisted-rope motif along links and stations
Removable link
Foldover clasp
Measures approximately 7"L to 8"L x 1"W
Box, romance card, Manufacturer's Certificate of Authenticity
Made in China
Important Details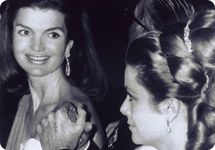 End of an Era
For the past 10 years, we've had the honor & privilege of sharing Jacqueline Kennedy's story with you through the romance of her jewelry & accessories collection. From the start, we always knew that the pieces would be limited in availability & duration. Due to your amazing support & loyalty, we've enjoyed extending the timeline far beyond our original intentions. Now we feel it's time to bring this fabulous chapter to a close. We've rendered all the pieces in her collection that are currently available to us, and we'll continue to offer the line only as long as inventory exists.
Information provided by On-Air Guest Phil Katz.
Reviews & Community QA
Jacqueline Kennedy Simulated Emerald Bow- Tie Bracelet
10
10
Very pretty if it fit
With the extra piece added, it's too big. Without it, it's too snug to clasp comfortably
05-09-14
Pretty Bracelet
I received this in the mail today and it is very pretty. The craftsmanship is good and the bracelet will match the emerald cross well. Too bad the JBK line is retiring. So sad. :(
04-03-14
Large and Beautiful
This is a wonderful intricately detailed large bracelet. The stones are beautifully clear and sparkly. The clasp is easy to use and secure. Although I think you can wear this with a dressy blouse and jeans, it is something that you would normally wear to a special occasion. It is a bracelet that you don't stack up with others since it is large, but it is a statement piece that people will definitely notice! The interesting thing, is that I have had more men comment on my jewelry than women. LOL
10-27-11
LOOKS FAKE AND CHEAP:-(
I'm an avid JBK Collector and admire Phillip Katz but when I opened the box I secretly knew I hated this bracelet. I'm trying to collect all Emerald JBK pieces. I then pulled out my Emerald Collection to compare this bracelet to others. I tried it on and it fit perfectly after taking out one (1) extender. However, this was probably exquisite in the "Real Version" but it looked like a dime store piece in the copy. It was well made but the weight was so light it felt like a childs jewelry piece. Also, the "Bow Tie" design which one could certainly identify in the "online presentation" did not come to my mind when I looked at the bracelet. In fact I had forgotten that's what it was supposed to be untll I read the receipt. This bracelet is too fancy for the average person and, is not believeable unless you're Opra. This is no reflection on the Mr. Katz or the designer's in that I love the JBK Collection and try to watch plus order every time he's on. I don't wear the jewelry in that I'm just "Collecting It." Unfortunately, I returned it this morning. Whether you order this bracelet is truly a matter of "Personal Taste." It was just too much for me. See you in October, Mr. Katz ... I placed several orders today and am sure these new pieces will be beautiful.
08-21-11
Fit for a Queen
Having purchased the majority of my 14k/18k jewelry in the last 10-15 years and with the price gold is now, this exquisite bracelet from the Jacqueline Kennedy collection can stand with them and hold its head high! There is nothing inferior about this beautiful piece of courture jewelry. Stunningly gorgeous and securely packaged in the steel box. Fits like a dream without the extention on my 6" wrist. What a wonderful way to add "gold" to my jewelry wardrobe without sending one to the poor house!!! It is the color of 18k to my eye...it is that believeable!!! The colored crystals are clear,bright and sparkle intensely. To have this, as Jackie did, in actual gemstone and metal must have been a treasure. I'm sure she adored it! Very special piece...a joy to own and a sensational piece to wear.
06-29-11
Absolutely Gorgeous!
Just received this bracelet yesterday and I am absolutely thrilled with it! It is wider than the other JBK bracelets and very substantial weight. The color of the goldtone is great and the simulated emeralds are gorgeous. The style of the bracelet is unique. I have an 8" wrist and the fit is perfect with the extender. It is not an everyday bracelet but I will save it for a special occaision when I want a "wow"statement . For this price there is nothing to compare to this peice!
06-29-11
DROP DEAD EMERALD BRACELET...
i HAVE SEVERAL EMERALD/GOLD JK BRACELETS - AND THOUGHT, DO i NEED ANOTHER? wHEN i SAW THIS, i SAID YES!! It is extra wide and has a presence that you cannot feel or see on line or on TV. In real life, it is a standout piece and I know I will wear it a lot....green is my favorite color, so it will work well for me. I cannot wait to wear it. Another standout piece - after 4-5 misses the last time they brought out half a dozen news pieces, they really hit for me this time! Get it - you will be thrilled!
06-29-11
Emerald stunner
This is a stunning piece. This is the only piece of jewelry you wear,aside from perhaps a diamond studs and your wedding rings, and walk out the door. You do not need anything else. This is a STATEMENT piece.
06-28-11
Georgeous and Unique
I was hesitant when I ordered this bracelet, and was not at all sure that I was going to like it when it arrived. I was really thrilled when I opened the box. This bracelet is beautiful, unique, and well made. It is unlike anything I have seen. I was pleased to see that it was securely anchored in the box for safety in the shipping process. My wrist is small so I do not need the extender, but it is there if needed. Another beautiful piece for my collection.
06-28-11
LOVELY AND UNIQUE
This bracelet is so different from many of the others in this collection. The shapes are lovely and feminine, the emeralds that elusive shade of green and boy does this sparkle! Get out the sunglasses girls!
06-24-11