Jacqueline Kennedy Simulated Aquamarine & Diamond Ring
Retiring Style!
In Stock
Sold Out
We're sorry. This item is not available at this time.
Pre Order Possible .
Low Stock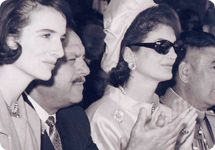 The Inside Story
In 1962, Jackie made an official visit to Pakistan with her sister, Princess Lee Radziwill. India was newly independent and had the largest democratic population in the world. During the Cold War, Pakistan was important to both the Soviet Union and the United States, and both countries made overtures. During Pakistani leader Ayub Khan's visit to the United States, he and Kennedy didn't see eye to eye on most issues. Jackie, on the other hand, was able to charm international dignitaries. JFK trusted Jackie implicitly and she was sent off, along with the U.S. Information Agency, to improve ties between the two democracies. The U.S. Information Agency later became the CIA. Matching pieces such as the Aquamarine Ballerina Ring and earrings were only worn in Pakistan.
Description
The look of luxury. This goldtone ring offers a million-dollar appearance, but with a rectangular simulated aquamarine surrounded by clear, tapered baguette simulated diamonds, it doesn't come with the price tag. From the Jacqueline Kennedy Collection.
For more details on this ring's fit, please refer to the Ring Size Guide above.
Goldtone
Rectangular, prong-set simulated aquamarine surrounded by clear, tapered baguette simulated diamonds; openwork gallery with split shank
Standard fit; sizes 5, 6, 7, 8, 9, 10, 11
Measures approximately 5/8"L x 3/4"W
Box, romance card, Manufacturer's Certificate of Authenticity
Made in China/Thailand
Important Details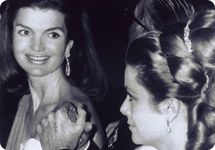 End of an Era
For the past 10 years, we've had the honor & privilege of sharing Jacqueline Kennedy's story with you through the romance of her jewelry & accessories collection. From the start, we always knew that the pieces would be limited in availability & duration. Due to your amazing support & loyalty, we've enjoyed extending the timeline far beyond our original intentions. Now we feel it's time to bring this fabulous chapter to a close. We've rendered all the pieces in her collection that are currently available to us, and we'll continue to offer the line only as long as inventory exists.
Information provided by On-Air Guest Phil Katz.
Reviews & Community QA
Jacqueline Kennedy Simulated Aquamarine & Diamond Ring
13
13
Bummer - color way off!
WANTED SOOO BAD! No dice. Must have gotten a bad stone. Weird blue/yellow color. Not green, not blue - totally different than pictured on TV. Not a wearable color for me. Setting was lovely, but had to send back. Dang it.
04-14-14
Very Pretty
I have seen true aquamarines, very beautiful & also very expensive. As with most simulated stones, impossible to capture the true beauty & depth of color. My ring does not look like a true aquamarine but it is definitely blue & very pretty. Like most, I have too much jewelry & feel guilty wearing costume instead of the real. This ring is so pretty, looks so pretty on my hand, I will wear it often. Perhaps this review is late because this line is being discontinued....boo hoo.....but if any left & you are considering...buy it!!
04-05-14
Beautiful Ring!
I received this ring today and it is one of my favorite costume rings. It is not as blue as shown, but it is still pretty. I love the cut of the ring. I ordered it in a size larger than I usually take because the size I take is on waitlist, but the larger size isn't a burden to keep on my finger. I hope that the size I actually take arrives. I really hate that the JBK line is retiring.
04-02-14
Beyond beautiful,,,
Oh Lordy,,, this is my birth stone & I must say finally after 50 years,, I've finally found my "perfect" aquamarine ring !!! It is so very pretty & lady like,,as Jacqueline Kennedy was. Big thank you to QVC & Philip ,,,,,,,
01-22-14
J262296
I or any women would be proud to ware this ring. Beautiful
09-17-13
LOVELY RING
Received this ring and was very pleased with it. Love the color of the ring - the color of my birthstone which is March. True to size and looks very feminine on the hand.
06-26-13
Pretty Ring with a Blue Stone
I just received this ring a couple of days ago. The stone is definetly blue, just not aquamarine blue, more sky-swiss topaz blue. I have seen good aquamarine, this stone just doesn't have the right underbody color as an aquamarine, but pretty non the less. The setting is very princess like and the colorless crystals do sparkle. It is a very pretty ring and fits true to size.
04-05-13
Dissappointed
I must agree with the others about the blue stone. There is definitely something wrong with it as it has very little blue in it. I had waited a long time to order this ring. It looks like if you got your ring in 2012 the stone was blue, but if ordered in 2013, the blue color was largely missing from it. I had so wanted this ring because it was my birthstone. Guess I waited too long. I did send it back.
03-28-13
BEAUTIFUL RING BUT...
This is the second time I have ordered this ring and both times I was dissapointed. I sent the first ring back for a refund and ordered another to replace it. However they both had the same problem. The setting was beautiful but the stone had alot of brown color in it with a little blue showing around the sides of the stone. I will be sending this one back also and will not reorder this ring again. I can only recommend this ring if you are willing to take a chance that you will get a blue stone. I realize that this is a simulated aquamarine stone and will not look like true aquamarine, but it should at least be a beautiful shade of blue. I gave it 4 stars because it has a beautiful setting and if you're lucky enough to get a blue center stone, the ring will be gorgeous.
03-17-13
Wonderful design, but center stone was not blue...
I'd waited several months to order this so I was disappointed to see that the blue stone was more brownish/clear (strange shade) than it was blue. The only blue I could see was when looking directly through the side of the stone...not a viewpoint I'd do very often. I kept it about 3 days before deciding to return it to QVC, putting it in different light, etc., but it just didn't have blue color! The clear stones were gorgeous and really sparkled. The mounting was beautifully made, regal looking, just as the photos show. My birthstone is Aquamarine and I have many of them so I have good examples of what they should look like (all price ranges too), but I wanted this one because it is a JBK ring. I still marked positive comments in the the boxes about recommendations because there might still be some blue stones available, but one was not in my order.
02-01-13
simply beautiful
Another wonderful addition to my Jacqueline Kennedy collection. This ring looks perfect with everything-I receive compliments everytime I wear it. The shade of blue is beautiful.
06-18-12
STUNNING!!!
This ring is simply stunning! I was afraid I might not like it because I don't think I have the prettiest of hands. But I must say, it looks beautiful on. It is a eye catcher and feminine at the same time. HIGHLY recommend!
02-24-12