Jacqueline Kennedy Russian Sash Brooch
Retiring Style!
In Stock
Sold Out
We're sorry. This item is not available at this time.
Pre Order Possible .
Low Stock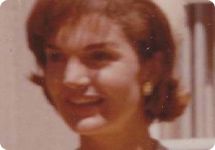 About the Design
After Aristotle Onassis passed away, Jackie was eager to be a woman on her own. Her lifetime friend, Tish Baldrige, suggested she follow her love of books and work for a publisher. She eventually conceived and edited major books on her own. The first major book she edited was about clothing of Russian royalty, and as a result, the book, In the Russian Style, was born.
Information provided by Phil Katz.
Description
Pinned to a blazer, cardigan, or dress, this polished goldtone brooch is a regal wardrobe accent. A cluster of clear, round, faceted crystals radiates at the center of the openwork floral design. Scroll-style stations--which have clear crystal and simulated emerald accents--radiate outward, alternating with clear crystal-accented, openwork, textured petal stations. From the Jacqueline Kennedy Collection.
Goldtone
Standard bar pin closure
Measures approximately 2-1/2"L x 2-1/2"W
Box, romance card, Manufacturer's Certificate of Authenticity
Made in China
Important Details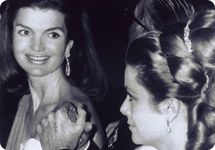 End of an Era
For the past 10 years, we've had the honor & privilege of sharing Jacqueline Kennedy's story with you through the romance of her jewelry & accessories collection. From the start, we always knew that the pieces would be limited in availability & duration. Due to your amazing support & loyalty, we've enjoyed extending the timeline far beyond our original intentions. Now we feel it's time to bring this fabulous chapter to a close. We've rendered all the pieces in her collection that are currently available to us, and we'll continue to offer the line only as long as inventory exists.
Information provided by On-Air Guest Phil Katz.
Reviews & Community QA
Jacqueline Kennedy Russian Sash Brooch
13
13
Worth the wait!!
I love broaches and this is at the top of my collection. Stately, prominent, and elegant. So glad I got it. Of my Jackie pieces, this is my favorite. Can't wait to wear it with my winter business and evening attire. It will look so lovely. Thanks QVC for bringing such an amazing collection to us!
09-02-14
the best
this pln is owesome can't say enough when I wear it people stop me and say its just beautiful!!!!!!!!!!!!!!
04-12-14
another winner
I love pins and this one is very different. It is lovely to look at and wear. I wear this on coats, suit jackets and even on a hat once in a while. Very sorry that the JBK line is done.
04-09-14
Exquisite
This pin is so lovely and the workmanship is excellent. This one will be worn more often than my other pins because it is so elegant without being in your face.
04-07-14
A stunning pin!
I have been admiring this pin and kept putting off buying it because I haven't really used pins that much but I like them. With this style, the detail is what I thought would look so pretty against color since it's pierced. Upon opening the box, under my kitchen ceiling light, the pin began sparkling from the light and the detail was so pretty and unusual. This is why I've been buying JBK jewelry. It is truly is pretty. The styles that are being sold from JBK are of course old, and yet, every time I turn the corner in a jewelry store or of department store that sells jewelry, there's a copy or a version of the jewelry that JBK wore, no matter where or how she obtained the jewelry, the pictures we see of her wearing the jewelry are old and it proves those styles are for a lifetime. Great work QVC and I hope that with this being the 50th year celebration from the end of the Camelot period, that QVC will produce some kind of beautiful tribute to this extraordinary woman. I'd still love to see a set of scrapbooks that look like the ones she would use to make and present as gifts to Jack or whomever. But an extra special jewelry piece would be great too! Not sure what's left of hers to make but I hope that it's pretty. I've only just began buying her jewelry, maybe 6 years ago and it's amazing just how much jewelry she had. There are pieces which I never saw before and I think that QVC has been selling it for 15 years now. I'm hoping more of her purses, scarves, belts???, and other things become available and of course, through QVC as I believe they have very well made items, for the money. Oh, Mr. Katz, I do hope there's a way that we can find out the names of the pieces, and if their suite pieces are included in that amount as well, of the ones made in pewter. These are the pieces which were the special pieces the family liked and they asked that they be made in pewter. I have bought a suite of jewelry and you named one of the pieces as being made out of pewter and I was thinking that the entire suite was made out of it too. Thereby those pieces would be included in the total number of pewter items. The amount would jump in number after you presented the next pewter piece and I couldn't figure out how I missed in the count as I watch all of the JBK shows. Also, what is the appropriate way to clean the jewelry so that it remains as clean and shiny as the day we received it? A jeweler once say that he used a mixture of water and Mr. Clean to clean jewelry but that was for gold, and other precious but strong metals. How do we clean these fashion pieces. Thank you again.
03-08-14
SimplyStunning
Bought this for my Mother in law's birthday. She only wears pins and thus is very particular about the look of them. She received it yesterday and called me screaming about how much she loved it. She said it is extremely well made and looks very expensive she should know as she has pins/brooches that are very expensive. The fact that she could read up on the inspiration for this brooch added extra value for her. The gems she said are nothing short of spectacular. It is now one of her more treasured pieces. I have yet to see the brooch but knowing her it is exactly what she says it is!
03-07-14
Absolutely Beautiful!!!
This was my first purchase from the Jackie Kennedy line of jewelry; I bought it for my mom who loves brooches! I was not sure what to expect, but when I got it home to see it before sending to my mom...I was struck by its beauty! Truly! a beautiful piece. My mom was so excited to tell me when she saw it....has worn it many times and has gotten lots of compliments. This line of jewelry is a wonderful representation of Jackie; thank you QVC, Caroline and Mr. Katz.
03-03-14
STUNNING!
ORDERED THIS BROOCH FOR MY SISTERINLAW FOR HER 80TH BIRTHDAY. SHE IS IN PRAGUE AND WANTED A BROOCH WHICH IS QUITE POPULAR THERE. WAIT TILL SHE SEES THAT IT IS A REPRODUCTION OF JACKIE'S JEWLERY. LOVE THE PIECE ESPECIALLY THE CUT OUTS SO YOU CAN SEE THE COLORS WORN UNDERNEATH AND THE STYLE IS STUNNING!
07-28-13
Very Beautiful Brooch
I Love this Brooch. It has alot of Class (as JBK did). I like to wear a Brooch better than a neclace because it draws attention to the outfit that you're wearing. I know I will wear this for a long time. They also never go out of style.
11-21-12
Stunningly Beautiful
This brooch is absolutely beautiful. Not only is the quality and workmanship suburb, the style and beauty of this piece will take your breath away. Everything about this brooch has exceeded my expectations and then some.
10-30-12
Pretty Pin
I love this pin, very striking design. Can't wait to wear it on one of my coats when the weather gets cooler.
06-27-12
Just Beautiful
I wanted to write a comment because when I an deciding on a purchase, they are so helpful. This piece is very stunning, in the type it is, a replica, not real gold, or stones. but it is very very lovely. I am going to use it as a gift for the purpose of attaching a tartan shawl at the shoulder to control the drape. and set off the significance of the wearing of a tartan piece, or a longer wrap of any kind. Of course the brooch can be worn in many ways. I have been so silly in my life not to see how versatile they are. I am so thankful for the offering of the purchases and the wonderful stories that make a stupid person realize the value of good pieces. Pins are so much in style now more than ever, it will be even more meaningful with it attached to Jackie and the history she brings to each one.
01-06-12