Jacqueline Kennedy Red Wildflower Earrings
Retiring Style!
In Stock
Sold Out
We're sorry. This item is not available at this time.
Pre Order Possible .
Low Stock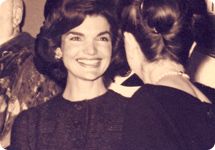 The Inside Story
On Valentine's Day 1962, Jackie gave a televised tour of the newly restored White House. The broadcast drew the largest viewing audience in history — 88 million people. Jackie won an Emmy(R) and is only the First Lady to ever do so. Plus, she recorded the entire program without any notes. Jackie often wore these earrings during the restoration efforts in 1961. She stands before a Roman-style bust in the corridor by the main entrance receiving guests.
Description
An everlasting bouquet. In these uniquely gorgeous goldtone earrings, eight red enamel wildflowers glisten with clear, round crystals at the centers. The leaves and stem are also accented with clear crystals to add even more dazzle. From the Jacqueline Kennedy Collection.
Pierced or Clip.
Includes earrings and extra pair of clutches or comfort pads
Goldtone
Eight red enamel wildflowers with clear, round crystals on center of flowers; leaves and stem accented with clear crystals
Left and right design
Pierced: post and clutch
Clip: clip-ons with omega backs
Measures approximately 1-3/8"L x 7/8"W
Box, romance card, Manufacturer's Certificate of Authenticity
Made in China
Important Details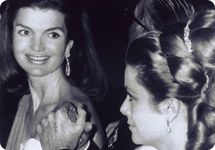 End of an Era
For the past 10 years, we've had the honor & privilege of sharing Jacqueline Kennedy's story with you through the romance of her jewelry & accessories collection. From the start, we always knew that the pieces would be limited in availability & duration. Due to your amazing support & loyalty, we've enjoyed extending the timeline far beyond our original intentions. Now we feel it's time to bring this fabulous chapter to a close. We've rendered all the pieces in her collection that are currently available to us, and we'll continue to offer the line only as long as inventory exists.
Information provided by On-Air Guest Phil Katz.
Reviews & Community QA
Jacqueline Kennedy Red Wildflower Earrings
15
15
Not worth it
I was really disappointed with these earrings. They looked pretty off the ear but not so "on" the ear. I usually wear pierced, these were clip on, maybe that's was my problem. So sorry...sent them back.
04-10-14
My Most Admired Earrings
I wear these fairly often and nearly always have multiple people stopping me to compliment me on these lovely earrings. Ladies, the men are asking where they can find them for their gals! They love them too! I was hesitant to buy such a positive color statement, but the red is truly a year-round color (great for Christmas to Valentines to Independence Day and also works with fall colors!) It is a can't miss buy...unless you really want to fade into the woodwork...
01-23-14
Not for ears that lay flat against one's head
These are beautiful earrings. They look very pretty and feminine. However, if your ears lay flat against your head the way mine do, you can only see how they look from a side mirror. They looked really nice on, ,from a side view, they are not typical looking for today but they very flattering. Because they lay flat against my ears, you don't see much of them unless I turn my head slightly. They look just like the side views that QVC has under the enlargement of the item. Otherwise, these are a five star jewelry for those whose ears are turned a little forward. I hope this makes sense. I have many pieces of JBK jewelry and love each one, and those stories are what sell the jewelry. However, I didn't hear this story and liked them just the same. With regret, I'm sending them back. I know that Philip Katz, Jackie Kennedy Historian, has stated that the family of JBK is not allowing him to write down the stories that he tells. As I purchase my JBK pieces, I'm watching the videos again and writing a list of the JBK pieces as well as writing down the stories that Philip tells. I include the QVC number, the QVC title and then underneath each piece, I write down the story that Philip tells. It's nice to go back and see the various stories that tell a more personal side of Jackie.
05-25-13
Unique
These earrings are not too big and not too small. The earrings are just right in size and are very attractive and frames the face nicely.
02-26-13
Gorgeous & Beautifully Crafted but . . . .
Ladies, if you like these then you will LOVE them. The enameling is so beautiful, the crystals are very sparkly, the rasberry red is alluring -- truly beautiful quality and a most unusual piece of jewelry. The history of the earrings (very old, having belonged to Jackie's mother -- truly a family heirloom) is also delightful. But be careful to take note of the full size of these earrings: both the length AND the width. Given the enormous size and the very particular style of these earrings I could not figure out what I would ever wear them with. After going back and forth I had to be honest with myself and say they would just sit in my jewelry armoire. As beautiful as they are, they had to go back.
02-17-13
Frames face beautifully
Very light so pierced is not a problem...and the pierced version probably hangs best. Classy earrings for work...cute with navy or black dress. Wonderful earrings!
05-19-12
classy
Classy, sexy and extremely feminine buy and enjoy these worth every cent.
04-27-12
Stunning!
These earrings look so much better than they do even on TV! They are absolutely gorgeous and you don't know you have them on, they are so light. I feel transported in time when I wear them. You will not be disappointed. They are so pretty and I get a lot of compliments on them!
03-14-12
Very light weight
For me these earring aren't large enough. If your conservative they are. I thought they would sparkle more but are pretty and light weight and quite colorful. I will enjoy them.
03-03-12
Classy, Elegant, Very flattering
These earrings are fabulous! The flowers are a gorgeous cherry red. Any shape face can wear these earrings . They are graceful and elegant. A big plus is that the gold tone matches many other JBK pieces. Wear them alone as your only fashion statement!
03-02-12
Unusual and wearable
I would never had purchased these, primiarly because of size, however I liked the on tv description of the french enamel design. When I received them I was suprised. They are large but very beautiful and colorful. I feel they could be worn alone or with a simple pearl or gold necklace. With these earrings all other jewerly should be toned down, they speak for themselves. As always I pick my jewerly very carefully and 99 percent of the time I am never disappointed.
03-02-12
Big but pretty
I bought this earring to go with Jackie Cameo bracelet. The earring are bigger than I usually wear but they look great on. They would go well with almost all of Jackie's other jewelry that have red in them. Glad that I got them. Wish that they had more clip earrings.
10-25-11