Jacqueline Kennedy Pyramid Style 7" Adjustable Bracelet
Retiring Style!
In Stock
Sold Out
We're sorry. This item is not available at this time.
Pre Order Possible .
Low Stock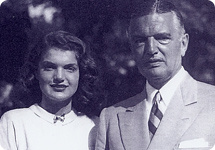 A Note About the Design
This became one of Jackie's favorite bracelets as it reminded her of her father. Nicknamed "Black Jack" because of his dark good looks and cavalier attitude, John Bouvier was a rakishly charming man who most people found to have an irresistible personality. Jackie had the same effect on her father, who would always lavish her with attention and gifts.
Description
Her style transcends time. Decades after this favorite First Lady stunned us with her style, her influence is still powerfully relevant. This polished goldtone pyramid-link bracelet is in keeping with her classic look. From the Jacqueline Kennedy Collection.
For more details on this bracelet's fit, please refer to Wrist Assist--the Bracelet Fit Guide above.
Goldtone
Three rows of highly polished interlocking pyramid links with side galleries of intricate textures and milgrain details; one removable link
Foldover clasp with extra removable clasp
Adjusts to fit an average to large-sized wrist, traditional fit; measures approximately 8-1/4"L x 3/4"W
Box, romance card, Manufacturer's Certificate of Authenticity
Important Details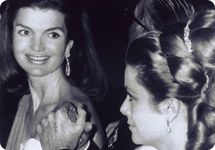 End of an Era
For the past 10 years, we've had the honor & privilege of sharing Jacqueline Kennedy's story with you through the romance of her jewelry & accessories collection. From the start, we always knew that the pieces would be limited in availability & duration. Due to your amazing support & loyalty, we've enjoyed extending the timeline far beyond our original intentions. Now we feel it's time to bring this fabulous chapter to a close. We've rendered all the pieces in her collection that are currently available to us, and we'll continue to offer the line only as long as inventory exists.
Information provided by On-Air Guest Phil Katz.
Reviews & Community QA
Jacqueline Kennedy Pyramid Style 7" Adjustable Bracelet
14
14
pretty but gold is fake looking
The design is beautiful but it looked fake to me because of the color of the gold. I wish it was a better tone of gold color.
01-02-14
Love!
I chose this bracelet in large part because of the very moving story behind it. It is a beautiful bold piece. The gold is very bright and shiny, and the fit is perfect. I like my bracelets to be loose, and I typically wear a 7 1/2" - 8" length. This 7" fits well with or without the extension, depending on how loose you prefer it to be. I have a number of Jacqueline Kennedy pieces and am proud to add this one to my collection!
06-18-13
beautiful,,!,,
I am so happy this bracelet was made available in a smaller size, it is truly a classic beauty and the size small fits a petite wrist. I wear it when I dress up and it is so right when I dress casually as well. a true winner .
04-20-13
CLASSIC, WILL NEVER GO OUT OF STYLE
I love this bracelet because it has classic styling. You can wear it with a cocktail dress or with jeans and a blouse. I also like the versatility of either wearing it snug or looser fitting by removing the extra link. Yes, the clasp is a little snug, but I have no trouble opening it. It has weight to it without feeling heavy, and I disagree with those who say it looks "brassy".
04-14-13
Glad I listened to the positive reviews
I almost didn't order this because of the mixed reviews but liked the overall design so well I bought it after I watched the on-air presentation. There is no way I could afford this in 14K and find the JBK line a nice alternative. I appreciate the history of these pieces but always make my purchases based on items I will like to wear that meet my taste. I bought the 7" and normally wear an average. I actually took out the extender for a closer fit today and like it. I'll use the extender on days I want to play with my jewelry. The side engraving is a nice touch on this light weight bracelet. I don't find it too brassy or clunky. It matches a gold toned diamonique watch and another JBK watch perfectly. I'd recommend trying it. I'm glad I did.
04-11-13
CLASSY
I wore this bracelet for the first time today at work, and everyone asked me where I got it ! The look from the side is what gets everyone's attention. The quality of these peices is magnificent. I have a few now and they all are A+. This one esepecially.....
04-05-13
Must own this!
Don't listen to the poor reviews. This is a must-own piece. If I could afford to have it re-made for me in 14k, I would do it in a heartbeat. Thank you to the Kennedy family for allowing such beautiful things be shared with the world. I got the 6 inch and it is absolutely perfect! I can wear it loose with the extender or tight like a cuff bracelet(which is very chic!) without.
04-03-13
High Quality High End Bracelet
I am baffled with the negative reviews regarding this bracelet. When opening the box I was stunned by the authentic appearance to real gold and the high polish. The workmanship is superb, it is truly rich and sumptuous in appearance and detail. If it was possible to rate this piece higher I would give it 10 STARS. Thank you QVC for giving your customers a day when every item was on easy pay. Also, I am so pleased that I finally ordered this bracelet and that I didn't let the negative reviews hold me back.
03-26-13
Love This Classic Bracelet
I actually got this a number of years back, maybe even five, and still love to wear it. In fact, I wore it today. It has held up beautifully and I feel just great wearing it. It's simple elegance and I highly recommend it!
01-16-13
+ Anywhere +
Stunning, high gloss CLASSIC which I will have to remind myself to store away from other jewelry so as not to mar the finish. The bracelet will surely be noticed. It is very comfortable to wear. With some sleuthing, the clasp can be located, It is well hidden in the design but readily opened. The inside (middle) link clasp is just a little shorter in length than those that don't open and the underside of the same short link is smoothly finished, just slip your fingers to the underside and feel for it. It also has a slight lip at one end. If you could only own one bracelet this could be it, it will take you anywhere.
12-22-12
Big let down for me...............
I waited so long on waitlist to get this bracelet. I could not get the clasp open at all and did not want to break the bracelet. This was not as it appeared on the TV, much too shiny and brassy for me. Quality was poor. I have two other pieces of JK jewelry and love them very much. I still would not hesitate to order other JK jewelry, this one just did not work for me.
12-04-12
CLASP IS EXTREMELY HARD TO OPEN
Like another reviewer, I had been on wait list for this bracelet for months. I thought it would be one of those no-brainer, go-to bracelets. The milgrain on the sides of each "pyramid" are beyond beautiful ... but, the gold color is very bright and very brassy. However, that is not what compelled me to return it. It was the clasp -- I had a very hard time getting the clasp to open up. Since I had to struggle with it every time I tried to put it on/take it off, I knew it would end up sitting in my drawer more than sitting on my wrist. Nothing needs to be that hard to open.
12-03-12