Jacqueline Kennedy Oval Simulated Emerald Wreath Bracelet
In Stock
Sold Out
We're sorry. This item is not available at this time.
Pre Order Possible .
Low Stock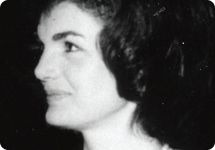 About the Design
This bracelet was "fit for a princess" and belonged to America's princess, Jacqueline Kennedy. This work of art was typical of the emerald jewelry favored by the Irish-American Kennedy family. All of JFK's great-grandparents emigrated to the U.S. from Ireland and within one generation enjoyed phenomenal success. Even generations later, the Kennedy clan was very conscious and fiercely proud of their Irish heritage.
Information provided by Phil Katz.
Description
First Lady fabulous. Inspired by Jacqueline Kennedy herself, this gorgeous bracelet is designed with openwork links accented with round crystals and a luminous scroll detail. Each link alternates between a large oval, prong-set simulated emerald and a smaller oval, prong-set simulated emerald framed in a beaded border. From the Jacqueline Kennedy Collection.
Goldtone
Double foldover clasps with removable link
Measures approximately 7"L to 8"L x 7/8"W
Box, romance card, Manufacturer's Certificate of Authenticity
Made in China
Important Details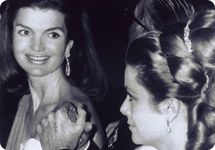 End of an Era
For the past 10 years, we've had the honor & privilege of sharing Jacqueline Kennedy's story with you through the romance of her jewelry & accessories collection. From the start, we always knew that the pieces would be limited in availability & duration. Due to your amazing support & loyalty, we've enjoyed extending the timeline far beyond our original intentions. Now we feel it's time to bring this fabulous chapter to a close. We've rendered all the pieces in her collection that are currently available to us, and we'll continue to offer the line only as long as inventory exists.
Information provided by On-Air Guest Phil Katz.
Reviews & Community QA
Jacqueline Kennedy Oval Simulated Emerald Wreath Bracelet
13
13
Absolutely Beautiful!
This bracelet is stunning and is definitely bold. It is equisitely ornate, detailed and just plain beautiful. The emerald stones are that pleasing blue green color. This piece looks like a work of art and has an antique style. Truthfully, when I opened the box it scared me because it was so large and bold. However, when I showed it to mum she said not to return. It is too beautiful. She said that I should wear something more substantial instead of the small and delicate bracelets I normally wear. I am glad I listened to her. This bracelet is eyecatching and I am proud to wear it. Not to mention, emerald is also my birthstone.
07-03-12
Stunning!
A few years ago a "friend" stole one of my jewelry boxes which contained most of my gold and gemstone bracelets. With the price of gold these days, not to mention gemstones, I simple cannot afford to replace them. I bought this bracelet to wear with my 5 carat green sapphire and diamond ring. The beautiful dark green/blue Columbian emeralds look real and match my ring perfectly! I've stopped mourning the loss of my "real" bracelets and started buying JBK bracelets!
06-29-12
Awesome, this bracelet is a piece of history!!!
My son ordered this for me as a Christmas Gift and I was so touched. I asked him how did he know I would like it? He said, "I realized that you adored Jackie Kennedy and JFK!." The bracelet looks as real as my 25th wedding anniversary emerald gifts. Jackie Kennedy was such a blessing to the United State of America!!! God bless her whole extended family!!! She taught us dignity, work ethic and fortitude by example! From a teacher
01-20-12
Beautiful
Just as beautiful as the other pieces in the collection.
09-13-11
BOLD
This is an extremely bold piece. I absolutely love it. It has a great weight to it. The emeralds sparkle. This will definitely be a conversation piece. Ladies, all of your girlfriend will be dying to know where you got it. Do NOT hesitate to buy it.
08-27-11
Great First Impression
This was the first JBK purchase I've made. I'm not easily impressed, but the high quality look of this bracelet blew me away. It is very expensive looking with a wonderful vintage feel.
02-20-11
BREATHTAKING
I have been collecting Jacqueline's jewelry for years and this bracelet is by far one of the most beautiful bracelets. The workmanship and quality is very well done. I will be wearing this bracelet a lot. It is beautiful. The emerald color is gorgious too. It's worth it!
02-19-11
EXTRAORDINARY...
This bracelet is a big beautiful statement piece. The workmanship is so well done it takes your breath away. It fits very comfy on and looks so real I have to remember that it is not. Dazzling stone's(crystals) shines like crazy. It is a bigger bracelet then her others but I love that. Had no problem wearing it or getting ohhs and ahhs. If you don't like her bolder pieces this may not be the bracelet for you, but my oh my it is my new best friend.
02-01-11
Ornate
I love Jackie's jewlery, but this piece was to much even for me. It is beautiful to be sure, but just too fancy for me. If you love bigger pieces this is for you, but I would only wear this and the emerald studs, you would not need anything else.
12-21-10
EXQUISITE!
I LOVE this BEAUTIFUL Simulated Emerald Wreath Bracelet! I had ordered this one about the same time as the other JBK simulated Emerald bracelet - the Inaugural one - that had matching necklace...but returned that one in favor of this Wreath one....to me, no comparison in beauty! This one is probably my most favorite of all the JBK jewelry I've ever bought and I have many, many JBK jewelry pieces. I don't see how anyone could ever be disappointed in this "Bold Oval Simulated Emeral Wreath Bracelet"....GORGEOUS!!! I also got the Emerald/Simulated diamonds ring....exquisite together! 5 Stars! Myra/Dallas, TX
11-26-10
Gorgeous bracelet!
I have several emerald pieces from the Jackie collection on QVC. Besides the Memory Ring, this has to be my favorite! It is wider and has a bigger presence than the Flower Gate bracelet, but I will wear both at the same time. If you love emeralds but cannot afford the real thing, this will make your jaw drop! I am Irish and (in real life, have auburn hair - though now it is auburn/white) have highlighted blonde hair....green is my favorite color and I wear a lot of it, so know this bracelet will get a lot of wear. I don't think you will be sorry, if you give this a try!
10-21-10
A Real Beauty!
Wow, I love this bracelet! The stones are deep and rich and the shade of gold looks believable. It is wider than other JK bracelets I've received so I now have more of a variety. I'm very happy with this purchase!
10-20-10