Jacqueline Kennedy Haute Couture Bracelet
In Stock
Sold Out
We're sorry. This item is not available at this time.
Pre Order Possible .
Low Stock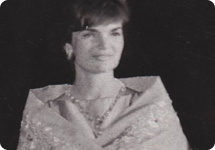 About the Design
Jackie's taste for haute couture is evident in this stunning suite. In 1962, she set off for India with her sister on an unofficial state visit where she wore these pieces. Although Nehru and John F. Kennedy didn't see eye to eye on some issues, Jackie, on the other hand, was able to charm international dignitaries; and the trip was a great success.
Information provided by Phil Katz.
Description
Let this resplendent bracelet tell the story of your impeccable sense of style. Seashell designs, circular links, and clear crystals lead to the intricately detailed center station, which is anchored by a square, pink crystal. A bow and arrow design and seashells with oval, clear crystals add to the regal focal point. From the Jacqueline Kennedy Collection.
Goldtone
Center station features a bow and arrow with bezel-style set, square, pink crystal surrounded by seashell designs; oval-shaped clear crystals; seashells with round, clear crystals and circular links; one removable link
Foldover clasp
Measures approximately 8"L x 1-1/4"W; adjusts at 7" and 8"
Box, romance card, Manufacturer's Certificate of Authenticity
Made in China
Important Details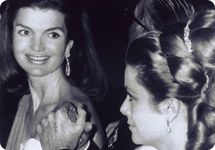 End of an Era
For the past 10 years, we've had the honor & privilege of sharing Jacqueline Kennedy's story with you through the romance of her jewelry & accessories collection. From the start, we always knew that the pieces would be limited in availability & duration. Due to your amazing support & loyalty, we've enjoyed extending the timeline far beyond our original intentions. Now we feel it's time to bring this fabulous chapter to a close. We've rendered all the pieces in her collection that are currently available to us, and we'll continue to offer the line only as long as inventory exists.
Information provided by On-Air Guest Phil Katz.
Reviews & Community QA
Jacqueline Kennedy Haute Couture Bracelet
17
17
Very pretty!
I got this bracelet this Friday and absolutely loved it. It's very delicate and looks pretty on my small wrist(I had to take the extension off). The pink color of kunzite matches the real pink kunzite in the ring that I own , very soft pink. The bracelet seemed to be lighter then other pewter pieces of Jackie's I have. It's very unique, you will not be disappointed .
09-23-14
MY SET IS COMPLETE!!!!!
I ordered the necklace and the earrings about a year ago directly from Camrose and Kross to match back to the Kunzite ring I ordered 8 years ago. I had no idea that there was a bracelet until it was presented back in April. I tried to order it and it sold out before I could order it. The necklace, bracelet and earrings match perfectly. Even though this suite was not listed as "Kunzite", it sure matches the Kunzite ring that President Kennedy was going to give Jackie for Christmas but he was assassinated before he could give it to her. This bracelet is just as impeccable as the necklace and earrings. I particularly enjoyed the story about President Kennedy having this suite designed to "bribe" Jackie into going to Europe. A lot of people always stated that the gold was to goldy gold but, European gold was much more "buttery" as Phil Katz always stated. All wealthy women in the early 1960's and prior always purchased their jewelry in Europe. This is "perfection at it's best" to quote Phil Katz.
08-09-14
Very fond of this bracelet
This bracelet holds its own, even without the history behind it. The color of the gold looks 18K and the color of the Kunzite is just enough to look real. To me, it is the millegrain work on the shell(s) and compass(es) that draw my admiration. This bracelet has as much attention to detail as my solid gold seashell bracelet. I wish I had the matching necklace and keep checking everyday to see if it came back in to inventory.
07-21-14
Classic and feminine....
This bracelet is lovely. Such an interesting design and it lays softly on the wrist. The color of the "gold" is spot on....18k...IMHO. Not brassy but warm and so intricate. Beautiful with the kunzite ring. It is unique and is in a level of sophistication all its own. Purchase if you can for a wonderful stroll down memory lane.
06-27-14
Bow and Arrow, Compass and shells Wow
It's a gorgeous piece. You don't meed to so wear this together with the necklace. More formal if you do. It matched the kunzanite ring, dress up and dress down. Matching with the necklace would make the set good for a more formal occasion. Very pretty, nice weight and great semi formal piece.
05-01-14
Amazing!!
I got this and the necklace and am just over the moon. This bracelet fits so delicately on your wrist and is stunning. It is not loud as you may expect, just a perfect bracelet for many occasions, or just to wear. I've worn these pieces more casually and they just elevate whatever I'm wearing. I love this piece!
04-19-14
+ Intricate, Delicate Charmer +
Fanciful Suite, they are all, Brooch, Necklace & Bracelet, very wearable in so many ways. Such a fascinating and collaborative reworking of an antique Tiffany design! Delicate in weight as well as appearance, not at all overwhelming. The wonderful deep buttery colored satin finish smolders along side the preciousness of the shell and compass motif. Clasps, including extension, and pins all function well. All the items in the Haute Couture Suite surpass any dress code dictates that may still prevail. Embellish yourself everyday, you'll feel better for it.
04-09-14
Beautiful
I bought both the necklace and bracelet. They are sooooooooooooo beautiful.
04-06-14
beautiful
When I learned this collection was coming to a close,i bought this piece and the necklace. Both are stunning. I have to disagree with one reviewer in that she said these pieces are not practical.......... to me, these pieces can and should be worn every day........ maybe not with jeans, but with sundresses........ nice pants and shirt....... the jewelry is what makes any outfit and it is NOT for formal wear. Buy them and enjoy them. People will admire your style and it is nice if people take the time to look nice daily. So enjoy these pieces as i intend to!!!!!
04-04-14
Gorgeous Bracelet!
This bracelet is so pretty. I bought the matching necklace as well. The metal is a pretty color and doesn't look cheap. It has great craftsmanship. I wish I had a matching ring. Maybe I will find one later on.
04-03-14
CHARMING BUT NOT PRACTICAL
I have decided to send this lovely bracelet back because I really will not get any wear out of it. I bought it because Phillip said that his license to sell JBK jewelry had reached its conclusion. I do have other pieces, like watches that I can actually wear, but most of JBK jewelry is not practical for the average person. Jackie lead a charmed existense, and the ordinary person of today has a hard time identifying with her great wealth. So it is with some regret that this bit of history will be going back, but as Lisa Robertson says, "It is price per wear," and I would not have any occasion to wear this ornate but charming piece which is made for a state dinner.
04-02-14
So unusual
The piece is beautiful. But I agree with a previous review - in that it is very lightweight. Also the center slides around due to gravity. Still I give it a 5 star because it is so lovely.
06-28-13