Jacqueline Kennedy Green Eye Necklace
Retiring Style!
In Stock
Sold Out
We're sorry. This item is not available at this time.
Pre Order Possible .
Low Stock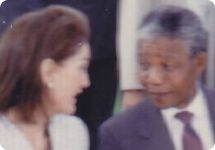 The Inside Story
Jackie wanted to create an independent life for herself that didn't simply define her as the widow of two important men. She wrote poems and stories, contributed to the writing and editing of one of the most important administrations in the United States, and moved in a circle of international intellectuals, artists, and authors. She also continued to commune with world leaders and helped honor Nelson Mandela at the Kennedy Library on June 24, 1990. She wore the original version of this pendant while chatting with Mr. Mandela over dinner.
Information provided by Phil Katz.
Description
Friends just may cast an envious eye upon you whenever you wear this fabulous piece around your neck. At the center of the "Green Eye" pendant is a rectangular, faceted green crystal framed by sparkling clear crystals. A geometric design covered with green epoxy enamel surrounds the crystal frame, while bead detailing composes the outer border. The head-turning pendant dangles from an equally stunning Venetian-style link chain. From the Jacqueline Kennedy Collection.
Includes pendant and Venetian-style link chain
Silvertone
Rectangular, faceted green crystal framed with round, clear crystals; green epoxy enamel over geometric design follows frame of clear crystals; beaded detailing on outer border
Tapered bail with clear crystals and beaded detail
Chain secures with a lobster claw clasp
Approximate measurements: Pendant 1-1/8"L x 1-1/2"W; Necklace 18"L x 1/8"W plus 3"L extender
Box, Manufacturer's Certificate of Authenticity
Made in China
Important Details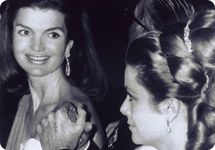 End of an Era
For the past 10 years, we've had the honor & privilege of sharing Jacqueline Kennedy's story with you through the romance of her jewelry & accessories collection. From the start, we always knew that the pieces would be limited in availability & duration. Due to your amazing support & loyalty, we've enjoyed extending the timeline far beyond our original intentions. Now we feel it's time to bring this fabulous chapter to a close. We've rendered all the pieces in her collection that are currently available to us, and we'll continue to offer the line only as long as inventory exists.
Information provided by On-Air Guest Phil Katz.
Reviews & Community QA
Jacqueline Kennedy Green Eye Necklace
20
20
Substantial size
I ordered this to have with my JBK jewelry collection. It is quite large in size and somewhat heavy. It looks great with other silver and emerald rings or bracelets. I will be sure to wear it on St Patricks Day. The large center stone is so dark green it is difficult to tell if it is green or black.
09-08-14
Beautiful Necklace!!!!
I am so glad I bought this necklace! It is so substantial and elegant. Very beautifully made. The green stone is more the color of a tourmaline than an emerald. It's NICE!
08-22-14
BOLD AND ELEGANT
I resisted this necklace for a long time because I don't wear much silver jewelry. Now I'm glad I read the reviews and ordered it. I love the green colors and the enamel work is beautiful. This is a very large pendant and would look wonderful on a long chain.
08-12-14
Arrived Broken
I was looking forward to receiving this necklace, but upon opening it, the large green stone fell onto my table. The box, containing the necklace, did not have an outer sleeve, and appeared to be rather worn inside. I immediately felt this was someone else's return. It's unfortunate that this quality control oversight occurred, but I am not surprised since it is the end of the Jackie Kennedy line of jewelry. Having said that, I could tell this would be a stunning piece if I could be sent a "new" one, instead of someone else's throw back. So, I have requested a replacement,, hoping QVC will make it right. I own several pieces of Jackie Kennedy jewelry, and this is the only piece I have had a problem with. The other pieces have arrived perfect and beautiful. This will be my last piece from this line I will be ordering, and I am sad to see the line end. I would still recommend this piece to anyone, because I believe it will be truly lovely when I get a new one sent to me.
08-12-14
UNIQUE PIECE
THIS NECKLACE IS STUNNING .IT IS LARGE,HAS A NICE DESIGN WHICH IS CLASSIC.I AM GLAD TO HAVE PURCHASED IT
04-21-14
Beautiful And Wearable
I am very pleased with this necklace. It is beautiful and so wearable. Think I will wear it often. Wish all of the Jacquelyn Kennedy pieces worked as well as this "Green Eye " Necklece.
04-20-14
Stunning piece!
Fell in love with it the minute I saw it on air and was hoping it would live up to my expectations. It does! I love everything about it - the size, the length, the color and the design. If it were available in the future, I would have highly recommended it. I'm glad I was able to purchase it now that QVC (and Camrose & Kross) will no longer be carrying the JBK items.
04-15-14
Get it while you can
Once I heard the collection was ending, I decided to pick up pieces on my wish list before they were gone. It has stretched the budget but some are lovely and a good investment since I will wear for years. This is definitely one of them. I agree with the reviewers and can't add much more than this is a bold piece with substance but not over the top. It can easily be worn going to work. Love the silver chain. I will miss Phil and his stories. This collection has been a delight to purchase.
04-14-14
Very Beautiful
This is a very beautiful piece. JBK collection is retiring and I am deeply saddened by it so I decided to pick a few items before these true historical pieces would become "history" once again.. & I do not regret my decision of getting this beautiful Green Eye Pendant with a silver tone chain. The chain is pretty substantial and the square pendant with the emerald in the center is amazing!!! This piece speaks volumes...it looks very classy and stylish, way beyond the than typical faux, fashion jewelry. A true refection of Mrs. Kennedy's strong personality and elegant style. Thanks to QVC and Mr. Phil Katz for presenting this priceless collection. Brought tears to my eyes to see the moulds being destroyed on live television : (
04-09-14
Panache
This pendant is much larger than I thought; it is absolutely gorgeous. The enameling is more of an earthy-green, and the stone in the center is more of a chrome diopside color, so those collecting that stone would not be disappointed in this necklace. "Ripkanistas" would also want this in their collection, as it goes well with her sterling pieces, of which I have a ring and earrings set. This reminds me of what my beloved Auntie Patricia would have had. She and Jackie were a lot alike; they were beautiful, wore lovely clothes, had impeccable taste, could entertain wonderfully, and had panache. That is the only word I could think of when I saw this necklace. You won't regret adding this to your jewelry wardrobe!
04-04-14
A fantastic find!
Received this Jacqueline Kennedy Green Eye Necklace yesterday and could not be any happier with it! The picture does not do this piece any justice. It is so much more impressive in person! It is drop dead gorgeous and is size able with lovely stones. The chain is also very nice with it's extender 18" to 20". The enamel work is beautiful showing the metal work pattern underneath. The center stone is a lovely green color with depth. Trust me, just order this piece before it's gone forever! This necklace isn't even on the official Camrose and Kross website. It is worth every penny of the price! Love, love, love, this purchase!!
04-03-14
Lovely presence
My husband bought this as a gift, it's understated and lovely. Dress up with the LBD or jeans and a nice shirt. I wear the simple silver earrings with it and it's always perfect, not too much or to little.
03-31-14