Jacqueline Kennedy Garland-Style Bracelet
Retiring Style!
In Stock
Sold Out
We're sorry. This item is not available at this time.
Pre Order Possible .
Low Stock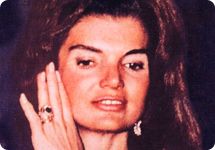 About the Design
This piece is a shining example of timeless elegance. A garland-style bracelet is fashioned from rectangular links with beaded accents. It also has a faceted oval crystal in the center that alternates with rounded, square, openwork links and two clear, faceted, pear-shaped crystals.
Information provided by Phil Katz.
Description
A shining example of timeless elegance. This garland-style bracelet is fashioned from rectangular links with beaded accents and a colored oval faceted crystal in the center that alternate with rounded, square, openwork links with beaded accents and two clear, faceted, pear-shaped crystals in the center. From the Jacqueline Kennedy Collection.
Light Blue, Green, or Red.
Light Blue: silvertone
Green and Red: goldtone
Foldover clasp with removable link
Measures approximately 7-1/4"L to 8-1/4"L x 1/2"W
Box, romance; Manufacturer's Certificate of Authenticity
Made in China
Important Details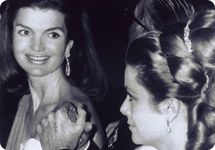 End of an Era
For the past 10 years, we've had the honor & privilege of sharing Jacqueline Kennedy's story with you through the romance of her jewelry & accessories collection. From the start, we always knew that the pieces would be limited in availability & duration. Due to your amazing support & loyalty, we've enjoyed extending the timeline far beyond our original intentions. Now we feel it's time to bring this fabulous chapter to a close. We've rendered all the pieces in her collection that are currently available to us, and we'll continue to offer the line only as long as inventory exists.
Information provided by On-Air Guest Phil Katz.
Reviews & Community QA
Jacqueline Kennedy Garland-Style Bracelet
25
25
OMG!
Can I give it six stars? This is sooo beautiful I can't stop looking at it. I bought this in the ruby and the sapphire. I was going to give the sapphire one to my sister, but it is sooo pretty, I'm thinking of keeping it. It fits very well and moves a little on my wrist. I have a large wrist so I got the larger size. It has a little bit of weight, but not too heavy or too light. It is just beautiful! You won't be disappointed.
05-16-14
Sooooooo beautiful!!!
Had not planned to order a piece of JBK jewelry, but when I heard QVC was discontinuing this line I had to have a piece. Found this in my birthstone ruby color and was so very pleased when it a arrived a week ago. Came back just a couple of days later to listen to the bracelet's story and was thrilled to see it was back in stock in the silver tone with Carolina blue stones!! Good thing I ordered one right then because just a few hours later the blue was gone again. Grab one of these if you can. It is not gaudy at all, light on the wrist and will make you feel special.
04-29-14
Prettier in person!
I had wanted the green, but out of stock so I went with the red bracelet. Just lovely! Fits well, comfortable on the wrist. A well made piece as with all Jacqueline Kennedy jewelry. So dainty and you will be pleased with your purchase.
04-25-14
Very pretty bracelet
Love this bracelet in red. The white stones don't look real but the bracelet is gorgeous.
04-16-14
Better than the Pictures
Gorgeous believable bracelet - not gaudy; very sophisticated and beautiful. I purchased the red which perfectly matches the cross with the centered red set from the Jacqueline Kennedy collection. A great purchase.
04-16-14
Took My Breath Away
I have never been taken aback by a piece of jewelry, even the paper clip necklace didnt get that reaction. I opened the box and I literally gasped. I had admired it on TV but couldn't see paying the price. When I found out they weren't doing the line anymore I had to get it, and a few other pieces. It's so amazing in person, at certain angles in certain light it looks kind of fake, but man it is SO beautiful! You can wear it dressy or casual with nice jeans and a shirt & cute shoes. I'm so glad I got it, get it, you won't be sorry. O, sizing, I'm average 7ish, fits well with a bit of wiggle room, plus it has the extra piece that should add an inch. It can get a little stuck but if u move it it'll fix itself easily. I got the red and it almost matches garnets I have it's just so pretty, looks like I paid $1000 more. P.S. I got the paperclip necklace years ago and LOVE it
04-16-14
Simply Lovely
This bracelet allows me to feel as though I own a piece of meaningful history. Although a replicate, the bracelet is well constructed, the stones a beautiful blue with clarity and shine, and the silver tone very close in appearance to sterling silver. It is feminine and beautiful and the extra, removable link allows you to customize to your wrist. I am very happy with the purchase and will remember the story behind the bracelet forever. It can be worn with a casual or dressy outfit. Thank you for the Jacqueline Kennedy memories.
04-15-14
Breathtakingly Gorgeous Bracelet
I ordered this bracelet knowing that it would be beautiful. I own several pieces of JBK jewelry and I love them all. Mrs. Kennedy had a sense of style, elegance and timeless beauty and charm like no other. I am proud to wear replica's of her jewelry and knowing that no one else will ever guess that they're not the real thing. LOL I'm heartbroken that QVC will no longer carry this line but I'm happy knowing that I own several pieces to remind me of the Great Lady and her style forever!!!!!
04-15-14
Stunning
I usually don't purchase bracelets but this piece just spoke to me. When it arrived it was just stunning! The blue stones were just the most beautiful color. I can't wait to wear it to an up coming special event. Thank you for sharing Jacqueline Kennedy's special pieces with us.
04-12-14
Get while you can
I just received the blue and red bracelets; the green had already sold out. They will take your breath away. I hadn't seen these on any previous show but since the collection is being discontinued I found it on QVC.com. You will truly love this piece of history.
04-03-14
Gorgeous!
I just purchased my 2nd Garland Bracelet in Red. The 1st one was a gift for my best friend. I loved it so much I purchased another Red one for myself. Just Gorgeous! Jackie's jewelry is exquisite.
03-31-14
A Nice Addition to my Collection
I have been watching this bracelet for quite some time and when the green version was sold out, I decided to buy the blue/silver combination before that was gone, too. It is beautiful! The sparkle on the stones are amazing!! It's a lighter weight piece which is a nice change and having a 7 1/2 inch wrist normally, find once I remove the extra link, it is a perfect fit. I collect items with butterflies and appreciate that the clear stone sections resemble them. So, it's a meaningful piece for me and as my budget allows, I will be ordering it in both the red before that's gone, too. I have many JBK pieces and am constantly amazed at the variety and nicely done costume jewelry with a history that I can purchase. I hope QVC carries this line for a lone time.
03-21-14