Jacqueline Kennedy Egyptian Style Simulated Pearl Necklace
Retiring Style!
In Stock
Sold Out
We're sorry. This item is not available at this time.
Pre Order Possible .
Low Stock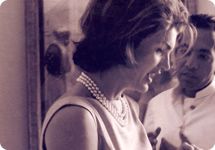 The Inside Story
This Egyptian-style necklace brings together two of Jackie's close connections — Egyptian culture and New York's Metropolitan Museum of Art. In 1965, the Aswan High Dam was about to submerge thousands of acres of land that held many cultural treasures, including the Temple of Dendur. Jackie spearheaded international efforts to save many monuments, and as a thank you, Egypt presented the Temple of Dendur as a gift to the United States. After a massive scramble by leading U.S. institutions — nicknamed the "Dendur Derby" — the temple was awarded to the Metropolitan Museum of Art, represented by Jacqueline Kennedy. Jackie wore this necklace in India while meeting the Maharajah of Udaipur.
Description
A striking treasure. Bold and ever-so-chic, this Egyptian-style necklace flaunts a strand of simulated pearls and an elaborately embellished, floral-designed goldtone pendant. A dimensional pharaoh figurine, detailed in epoxy enamel, makes a dramatic statement in the center of the pendant. From the Jacqueline Kennedy Collection.
Goldtone
Simulated pearls measure approximately 8.0mm
Egyptian-style; strand of simulated pearls and an elaborately embellished, floral-design goldtone pendant; dimensional pharaoh figurine with epoxy enamel in the center of pendant
Spring rings clasps at each end of strand connect to the pendant
Approximate measurements: Pendant 3-3/8"L x 1-1/2"W; Necklace 28"L x 1/4"W
Box, romance card, Manufacturer's Certificate of Authenticity
Made in China
Important Details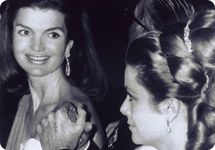 End of an Era
For the past 10 years, we've had the honor & privilege of sharing Jacqueline Kennedy's story with you through the romance of her jewelry & accessories collection. From the start, we always knew that the pieces would be limited in availability & duration. Due to your amazing support & loyalty, we've enjoyed extending the timeline far beyond our original intentions. Now we feel it's time to bring this fabulous chapter to a close. We've rendered all the pieces in her collection that are currently available to us, and we'll continue to offer the line only as long as inventory exists.
Information provided by On-Air Guest Phil Katz.
Reviews & Community QA
Jacqueline Kennedy Egyptian Style Simulated Pearl Necklace
29
29
Looks Better In Person!
I am soooo glad I purchased this necklace! I have worn it several times and enjoy it. I have thought about taking the pendent off but I believe it is the Egyptian style pendent that makes the simulated pearls so pretty.
09-02-14
Classic, unique and versatile!
I am a huge JKB jewelry fan and a collector. I loved the story about this piece, but also value the versatility of being able to unhook the pendant to wear just the pearl strand. Also, you can wear the pendant on a gold chain. I wore it to dinner the first night I received it, and everyone was fascinated by it. Best of all, I will think of Jackie when I wear and enjoy it.
06-30-14
Beautiful Pearls Great Pendant
These are the beautiful pearls that are being used with a number of Jacqueline Kennedy pieces of jewelry. The pendant is pretty and interesting. It is removable so the pearls can be worn separately. Be careful to not twist the pendant to avoid breaking the welds that make up the connections on the pendant. Using jump rings would have made more sense rather than welds, which can break more readily. Still, with care this necklace will bring you much satisfaction.
05-19-14
A unique piece and very pretty
I disagree with the negative reviews. For someone like myself that has lived most of their life in a city where people from all over the world live, it has received very nice compliments. University towns are a mesh of people from all over the world and with many cultural backgrounds. The town is constantly changing because people keep moving in and moving out. That's University life! Professors and Administrators retire or move to another campus and new people take their place. It's a wonderful life but it also creates a very diverse look. Unique things are always marveled at and appreciated. I wouldn't hesitate giving this as a gift to someone that enjoys a slightly Bohemian taste.
05-14-14
Striking!
The pictures online do not do this piece justice. In person it is absolutely stunning. Looks like real pearls and precious metal. Husband even commented on how nice it looks.
04-26-14
STRIKING NECKLACE
SUPER GLAD I ORDERED THIS OUTSTANDING PIECE. THE PEARLS ARE INDEED LOVELY AND ACTUALLY LOOK QUITE REAL. ABSOLUTELY LOVE THE EGYPTIAN PENDANT AND THE LENGTH OF THE NECKLACE IS PERFECT FOR WHAT I WANT TO WEAR WITH IT WHICH ARE MANY TOPS AND IN THE WINTER TURTLENECKS. VERY ATTRACTIVE ON AND PLEASED WITH THE LOOK.
04-23-14
Unusual necklace
I love Egyptian items, and Egypt itself. This is a necklace that you won't see yourself coming and going. I plan to wear it with my Bob Mackie maxi dress to my son's Wedding.
04-13-14
Can be worn many different ways
I have been on the fence about this piece for a long time but when it dropped in price for lunchtime special, i decided to take a chance. I am glad I ignored some of the negative reviews. The pearls are outstanding and the 'multi-functions' of this piece are an added benefit. I just unclipped the pendant caerfully, since my eyes aren't as good as they used to be, but it come off successfully and hooked the pearls together. The pstrand is now just the perfect length to me to take on and off over my head. The peals are the heavy glass quality of the 3 strands pieces. Looking at the pendant, I feel it is well made but not really my style since I don't wear much Eyptian. However, it I decide to wear it, it can easily be put on a chord or chain through the bail without using o-ring clips. I may surprise myself and select it more often that I think! I am sorry to see the JBK shows end as I along with many, many others enjoyed the highly interesting & historical aspects presented along with insight into the lives of JFK & JBK. Hopefully, I gave some ideas for people thinking of picking this up.
04-10-14
SO UNUSUAL & LOVELY!!!
I am glad I ignored some of the negative reviews and ordered this beautiful JBK necklace. The pearls are just outstanding and the 'multi-functions' of this piece are an added benefit BUT most of all it gives a touch of history that will probably never be duplicated. So sorry to see the JBK shows end as I along with many, many others enjoyed the highly interesting & historical aspects presented along with insight into the lives of JFK & JBK. Thank you.
04-09-14
Beautiful and Unusual Piece !
I didn't know what to expect from this piece taking into account the mixed reviews. I can only speak for myself but the one I received is perfect and beautifully made. I like the fact that it can be worn without the pendant but probably wouldn't because that is what makes the necklace special. It seems to hang straight although I haven't worn it over a long stretch. I just find it so enchanting that I can't stop looking at it. Plan to wear with a boat neck little black dress. As always, JBK jewelry packaging is flawless as is the documentation.
07-10-13
Very Disappointed
Got my attention because it was unusual. But when it arrived, it just looked extremely cheap! Pearls are nice. I like that you can unhook the pendant. BUT pendant looks like it was bought at a $1 store. What a disappointment! How do they make something like this look so nice on camera?
07-09-13
Excellent costume jewelry!
I have several pieces of the Jacqueline Kennedy collection of jewelry. All of it is made very well and very beautiful for what it is - costume jewelry. It is not "fine jewelry" made of gold, real pearls, diamonds, etc. That being said, some pieces may "fool" some folks but that is not why I purchased this item and others of the collection. I love the uniqueness of the designs such as this Egyptian style necklace. I have a real 22k cartouche necklace purchased in Egypt but lots of people have cartouche necklaces. This necklace is striking and different!
04-04-13