Jacqueline Kennedy Castellani Wedding Bracelet
Retiring Style!
In Stock
Sold Out
We're sorry. This item is not available at this time.
Pre Order Possible .
Low Stock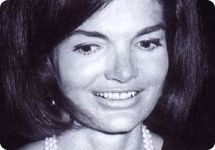 About the Design
A world traveler and sophisticated patron of arts and crafts, Jackie knew of the Castellani bracelet and always wanted one. Castellani was one of Europe's greatest jewelry designers. He created the following sayings that became the ultimate symbol of love and devotion:
NON RELINQUAM means, "I will never give up on you."
NON RELINQUES means, "You will never give up on me."
Information provided by Phil Katz.
Description
A message of love. Red epoxy enamel and highly polished letters spell out in Latin, "I will not give up on you" on one side of this elegant bracelet, and "You will not give up on me" on the other. Single simulated rubies on top and along the bottom sides of the round links add delicate sparkle, while a goldtone border presents a finished look. From the Jacqueline Kennedy Collection.
Goldtone
Two foldover clasps
Approximate measurements: Bracelet 7"L x 8-1/4"W; Removable links 1/2"W
Box, romance card, Manufacturer's Certificate of Authenticity
Made in China
Reviews & Community QA
Jacqueline Kennedy Castellani Wedding Bracelet
437
437
Preview Your Review
Great idea, but the tiny links that connect the letters broke. I had only worn the bracelet 2 or 3 times. Very disappointed because it was not exactly cheap.
10-11-14
Such a lovely bracelet
I bought this a gift. I was glad I did. It was good quality. The recipient loved it too.
09-08-14
Beautiful
Comfortable, well made, different from a standard bracelet with lettering that only the one who wears it knows that it means. love it!
09-06-14
Cadtellani Wedding Bracelet WOW!!!!!
LOVE THIS BRACELET! Husband bought It for our 25th Wedding Anniversary. STUNNUNG! PERFECT FIT. Color is Magnificent. Substantial weight. GORGEOUS coloring! Just ordered another one for our daughter-in-law.Don't miss out on this one ladies!!!!!!!
08-10-14
LOVE ,LOVE.LOVE!!!!!!!
I love this Bracelet...well I love everything Jacqueline Kennedy...can't wait until they come back to QVC!!!!!!!
07-28-14
Amazing, well made, cherished
I just got this about ten days ago, and absolutely love it, both because of the link to JBK, and because of the sentiment, personally.Am very glad that I ordered it before the very sad last show, tonight. Have enjoyed all of the very many pieces I've bought over the years, and this is especially meaningful, so will be passing it along to my adoptive daughter (as will be doing with all of my JBK items).
06-26-14
Our relationship
My husband and I have been married 41 years now. About six years ago believe or not we were going thru a Period of Adjustment in our relationship. Many things affecting us, and I wondered where we were going. I saw this bracelet on QVC and the sentiment in the meaning in Latin seemed to mean a lot to me. Kind of got me emotional. After I received it, showed it to my husband, explained what it meant; he thought it was fabulous! In tern; when we did remodeling we had a mural painted on our kitchen wall and the wording of the bracelet is painted on it to remind us daily. I will not give up on you, You will not give up on me. Mural letters painted in Latin.
06-25-14
Beautiful
My husband recently gave this to me for our one-year anniversary. The sentiment is perfect! The bracelet itself if a good weight and beautiful. Only two small issues: first, the red stones on the sides. Some are more set in than others, so from the profile view, it looks like some are missing. They are not, but I just wish the stones were set the same all the way around. Second, the sizing is a bit strange. I have an average wrist and the bracelet without the extender fits a bit snug. With the extender, it's too big. Still, this bracelet is a gorgeous addition to my jewelry collection and a definite conversation starter. It's gotten lots of compliments. I just love it!
06-25-14
The last one
I have wanted this piece for a long time. QVC had only three left, and I think I got the last one @ 2:30am. on June 25th, 2014. How great is that??? The mold is gone...
06-25-14
Finally Have It
I've wanted this bracelet for about two years. I finally bought it. I think it is wonderful. I love the meaning behind the words. I have been terribly excited to wear it. The bracelet has a good weight to it. It looks nice. Very classy piece. It goes great with my purses. ;)
06-23-14
High Style!
This is one of my favorite purchases from QVC. It is a very well made and a weighty piece. It is an exact copy of the original piece once owned by Jacqueline Kennedy. The red enameling is second to none! This is a superb piece of classic jewelry. Buy it and you will not be sorry. I highly recommend this fine piece of jewelry!
06-21-14
So Classy
I was surprised by this bracelet. I didn't think a piece of costume jewelry could look so good. It is a substantial piece and the gold and red enamel combination is very rich looking. The gold tone is very buttery. There is not an overwhelming gold presence so it can pass for real. This bracelet will not disappoint.
05-16-14