Isaac Mizrahi Live! 2-Ply Cashmere Fisherman Cardigan
In Stock
Sold Out
We're sorry. This item is not available at this time.
Pre Order Possible .
Low Stock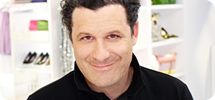 Be inspired! Versatile, essential, and easy, the cardigan is a classic wardrobe staple. Watch as designer Isaac Mizrahi and show host Shawn Killinger show you four ways to wear one to suit any occasion.
Description
The joys of cashmere are endless. Not just for keeping warm, this impossibly soft fisherman cardigan also ensures you look sensational. Marble buttons add a high-end touch to this luxurious, V-neck sweater. From Isaac Mizrahi Live!(TM).
Two-ply cashmere, cable knit details, V-neck, marble buttons
XXS(00-0), XS(2-4), S(6-8), M(10-12), L(14-16), XL(18-20), 1X(18W-20W), 2X(22W-24W), 3X(26W-28W)
Semi-fitted; length measurements XXS 28", XS 28-1/2", S 29", M 29-1/2", L 30", XL 30-1/2", 1X 31", 2X 31-1/2", 3X 32"
100% cashmere
Dry clean only
Made in China
To see the specific garment measurements for this item, click here.
Tune in to QVC for Isaac Mizrahi Live!(TM)
Thursday, February 1, 2018 from 4 – 5 a.m. ET
Reviews & Community QA
Isaac Mizrahi Live! 2-Ply Cashmere Fisherman Cardigan
23
23
I waited for the easy-pay
I've waited and waited for a break on paying for this sweater and my patience paid off, but only to get on a wait list. Isaac's sweater arrived yesterday. I've read every review many times since last winter. I usually have more interested in the negative reviews and pay close attention to remarks about sizing issues. I've been given several cashmere sweaters for birthdays and Christmas from JJ Jill and know good quality cashmere when I see and feel it. This sweater is clearly in that league. I am a true XL with a waist line that is disproportional to the rest of my body and this sweater fit and draped across my body like the photo. I was very pleased. I got the only color available to me, the red, a deep, rich, expensive look. I knit and have done this type of Aryan pattern and could not have hand made this sweater for 3X's the price I paid, in this yarn alone. To the customer who complained about the holes..judging from the one I got this is the nature of the design and not excessive as the review would imply . If the sweater was knit any tighter and not allowed for breathability it would be to hot to wear indoors, even in Iceland, and would have been called a jacket. Lastly there was no cupping under my behind, I repeat, it looked exactly like the photo!
09-21-13
Love this cardigan
I love this cardigan. I got it in camel and size 1X ( normally I order XL from QVC, but new that I need 1X in Isaac's sweaters ). I absolutely love it. Great fit, roamy for me since I sized up. Great quality. A GEM. I love new price. If QVC offered easy pay, I would get another color.
03-03-13
Runs small
although at a better price, my regular size is too small. Arms are tight, cannot button bottom of sweater (we do have hips). You need to wear a turleneck or a long sleeve tee underneath, and there is no room for that. Had to return.
02-20-13
Can't find this in the department stores
This beautiful sweater is just what i dream of for a luuxiry sweater. It is stylish, soft, and cozy warm. It works perfectly for occasions that are "classy casual". Since society is becoming so much more relaxed in how we dress, this sweater is perfect. I have the camel, and I love it. I think the black would be very useful, too. Although this sweater is not inexpensive, I think it is easily worth every dollar of the price....you get what you pay for.
12-07-12
Worth the price -- crew neck for next year please!
I received the cabernet cardigan. Perfect for football season! Warm, soft and vivid color. Please make next year's IML highest quality cashmere sweater a crew neck. I can't wear turtles, mocks or mandarin collars. A real crew neck (not scoop neck) would be so appreciated in this high-quality cashmere (the $200+ kind). And dark gray and navy would be appreciated, too! Thank you, Isaac.
11-20-12
STUPENDOUSLY CLASSY
I have watched this sweater for almost a year and finally decided I had to have it. It is just perfect. I got the tan and have had other fisherman sweaters in about the same color. That is where the comparison ends. This sweater is made so well, the quality is worth the money - price is pretty steep. Love you Isaac.
11-16-12
Isaac, you're KILLING me!!!
Oh Isaac, you really are killing me with these gorgeous AB FAB cashmere sweaters! I ordered this one after much hemming and hawing, secretly hoping I would hate it so I could send it back, save the money and avoid the guilt. NO SUCH LUCK! I am completely and totally in love with this sweater. This sweater is PERFECT! I got the gorgeous camel, sized down and am in heaven. I may not have any money for retirement, but I WILL have one kick-a darned fantastic PERFECT cashmere sweater! Every girl needs at least one that makes her feel like Kate Hepburn (or Grace Kelly) right? I can see Cary Grant pulling up to take me to his country home right now. Gotta Run! Ta Ta!!
10-27-12
The most special sweater ever!
This was a carefully considered purchase for me as the investment is significant. I am so happy I decided to buy this because the feel, fit, and style are absolutely delicous! This cashmere sweater makes me feel so special and put together regardless of if I wear it for dress or casual. While this sweater is an investment piece, in my opinion it is so versitle and beautiful it is worth the money. Beautiful job Isaac! Thanks.
10-12-12
Disappointed
Pros: Thick, warm cashmere, classic design Cons: Camel color is odd shade which cheapens the look of the sweater, long and boxy shape, bulky Just ok for me. Too much $ to not love.
02-08-12
What a feeling!
I own the turtleneck sweater like this one from last winter. I bought it in both colors and loved it. This sweater runs just a little bit smaller but feels just as wonderful. The cashmere is top quality. It is so soft, it's so cuddley, I just love it. I think this sweater my be knit a little tighter than it's sister(the fishermans turtleneck)which is why it may feel a little smaller. In the turtle I have one med. and one large, in this one the large fits great. The red is the perfect shade. I can't say enough good things about this sweater!!
01-20-12
The very best!
Sandra Bennet said this the best on air..."You get what you pay for". This is a beautifully well-made cashmere cardigan that will last a lifetime. The quality of the cashmere married to the wonderful design speaks for itself. This is warm without being bulky on. It feels like a dream wearing it as well as when you touch it. I plan on wearing this all seasons, even in air-conditioning in the summer. Yes, it is surely an investment piece. Isaac...love it!
01-09-12
Super soft sweater
I bought this finally after looking at it for a long time. It is very soft cashmere and i love it. the sweater is long and not tight around the bottom it actually is very generous. i could have sized down and got a smaller plus size if i wanted it fitted which i didnt. the price is spendy,but this is my first isaac piece after admiring his line for sometime. And id definatly say go for the sweater no matter the price.
01-07-12