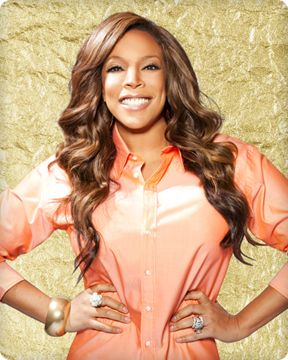 InsideQ
:
Tell us about the jewelry in your collection.
Wendy: It's a reflection of the types of jewelry I love. I actually took pieces from my own collection and pieces from my collection at The Wendy Williams Show, because when women watch the show, they ask, "Where did you get that bracelet?" or "Where did you get that ring?" We have a very comprehensive breakdown of my look at Wendyshow.com. I love a bold right-hand statement ring. I love important jewelry—and when I say important, it has nothing to do with price, it has to do with if you're going to wear it, wear it. I'm not a delicate jewelry kind of girl, you know what I mean? The jewelry is bolder, but practical; important, but quiet. It's not so heavy it's going to pull your ears off or weigh you down.
InsideQ: What's your philosophy on looking and feeling your best?
Wendy: Listen, I'm 47 years old, and things happen. I'm embracing all of my change. There's no point in struggling to look 28 if you're 47. It's not important to look a different age; it's important to look the best we can for the age we are. And feeling good is just as important as looking good. People say, "Oh well, it's more important that you're healthy." No, it's more important that you're healthy and you look good while navigating through life. And that you don't spend a fortune. Recession or no recession, I've always kept an eye on the dollar.
InsideQ: What's the best part about your collection?
Wendy: My line is reflective of a busy woman on the go. We don't want to spend a lot of money, but we do have to quickly change to go to our next thing, and we have to look reasonable. Our kids get embarrassed when Mommy is broken down. The boss looks at you and says, "Well, if that's what you look like, that must be what you work like." And I think we're all watching our pockets. I have a son to send to college. TV is a very iffy career, but I have my love of my husband, which is very grounding, and I have my sense and sensibility, and I would like to share that with people. You don't have to spend a lot of money to look good.
InsideQ: What's the secret to walking in high heels?
Wendy: Being comfortable with your own walking flaws. I know when I walk in my heels and the doors open and I walk out, I know that's some kind of walk. First of all, I have knock knees and big calves, so my knees are saying, "Hit me, hit 'cha back, hit me, hit 'cha back." (Laughs) I'm not walking like Naomi Campbell, and I never will. But I'm not going to stop wearing the shoes. You just have to embrace your flaws and do it because you want to.
InsideQ: How has your interviewing style changed over the years?
Wendy: My interviewing style hasn't really changed much over the years, because it started out being authentic. Authentic from the Wendy I was growing up in New Jersey, asking a lot of questions—sometimes inappropriate—and wanting to know the answers. And I think a good interviewer starts from a perspective of genuine curiosity about the person you're sitting with, whether it's an A-list person or a taxi driver. I have genuine curiosity about people and the world around me. I feel like you can ask anyone anything if you couch it from a place of no harm, you know? And a good interviewer also shares, because that's how you extract information from your interviewee.
InsideQ: How did you become known as the "Queen of All Media"?
Wendy: Oh! (Laughs) Howard (Stern) needed a queen! I love Howard Stern, and I said that tongue in cheek much like he did years ago when I was on the radio. I had written five books, two of which are New York Times bestsellers; I had a series of specials on VH1. I'd already conquered radio and soared to the highest of heights, set the bar—not just as a black woman but as a woman in general. The eyes of the radio community were on me for a better portion of my career. It wasn't just a little fluke. I've been inducted into the National Radio Hall of Fame. So I've done radio, books, TV—so there's your media. I was talking on the radio one day and said, "Well, that makes me the Queen of All Media!" (Laughs)
InsideQ: Tell us about being inducted into the National Radio Hall of Fame.
Wendy: I cried, of course. I'm a crier. My mom, dad, older sister, and younger brother came out. My son Kevin was old enough to understand Mommy's getting this award, which was a BIG deal. A lot of times, for kids, the great things happen after your parents are dead. Ernest Hemingway was not famous and fabulous and a well-respected author until after he was dead. He would sit and write these books and nobody cared. A lot of great adulation comes after a person has passed away or is so old and not of the moment. So for me to be inducted into the National Radio Hall of Fame—first of all, it's an all-guys club, you need to know that, there's very few women—only two black women and I'm the second one—so it was big to be there. Dennis Miller was there, Rush Limbaugh was there. Heck, the guy I interned for back in college is not even in the National Radio Hall of Fame. The boys that I worked with coming up in radio are not even in it, you know? It's a very big deal and I hold it close to my heart. It was a poignant way to leave radio.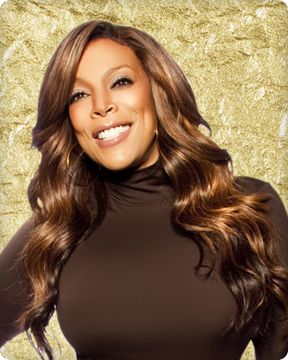 InsideQ: Why did you leave?
Wendy: I left radio voluntarily because I had to focus on TV. It wasn't a big decision, but it was a big deal to me that I make TV work because I didn't think of it as, "Well, if TV doesn't work, I can always go back to radio." No, I'm not going back unless I can go back on my own terms, which would be radio as a really enjoyable hobby. Because you know, when it's your job, any radio jock will tell you, you do it for enjoyment, but you also answer to so many people. If I did it again—and I would like to do it again—I would have the contraption in my house. I would have a nice, easy breezy one or two hour show, lady talk, no music. And I don't want to sweat it; I want to do it for the enjoyment because radio was my first love and always will be. But I needed to leave it to focus on TV and I'm so glad it worked out.
InsideQ: What's one of the perks of being on television rather than radio?
Wendy: TV offers me more time than ever to spend with my family. My husband and I work together. When I leave this interview with you, I will be home—my son gets off the bus at 3:30. Our show is live out of New York at 10am, which means if you try to call my cell phone, I'm on the floor doing the show. But at 11:05, guess where I am? I'm up here (in dressing room) taking off my clothes. You know what I'm saying? And I might have a meeting or two, but these things happen momentarily after I get off. And because my husband is my manager, we're together as I go around and do these things. I'm able to come home and cook a full meal—including sides and a vegetable—at least three times a week. I'm not the best cook; I'm not trying to pressure women! I'm just saying what I enjoy doing—probably working mother's guilt! (Laughs)
InsideQ: Who are some of your favorite radio broadcasters?
Wendy: One of my favorite radio broadcasters is Joan Hamburg, and she's here in New York on WOR AM 710. And Howard, of course. I love him and his wife, Beth Ostrosky. I really enjoy Governor David Paterson who has a talk show in the afternoons on WOR; I'm a fan! I like talk radio. I listen to all kinds of music. I love hip hop music with driving beats, I'm pumping my fist because I've got an 11-year-old, but also because I come from that era, you know? I'm older, but I'm not dead—I grew up on hip hop. But I also like Top 40 music, Katy Perry and all that stuff. But when I'm alone, alone, alone, (voice deepens), there's nothing like soothing conversation, which brings me back to why I fell in love with QVC so many years ago. The conversation—you just feel like you're with your friends—and you're buying your Christmas decorations in August, and there's nobody pressuring you to buy, and the talk is soothing, and they're like your friends. All you have to do is watch a particular person sell one time and they become your girlfriend or your guy friend in your head. So I plan on being just as comforting when I get on QVC and of course continuing the tradition of quality merchandise at a great value.