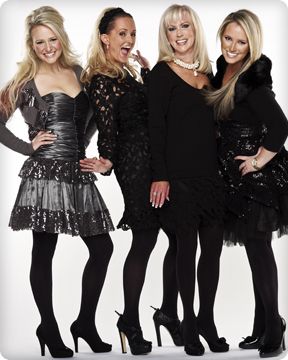 InsideQ: When shopping for bras or underwear, which design details matter most to you?
Kathy: I prefer bras that have intricate detailing and seaming in order to showcase the positive. It makes such a difference in how we look and feel!
Kalina: I tend to look for a light lining or a fiber-fill modesty T-shirt bra. I need help with shaping my bustline, and lightly padded cups do the trick.
Laurissa: I'm always looking for support in my bras. For everyday wear, I prefer full-coverage cups. Being a D cup, I'm looking for the most uplift and support I can get, without any fiberfill or padding. However, during summer, I gravitate toward lightly lined cups because of the modesty factor.
Catherine: I tend to look for something cute first, then try it on and hope it's comfy as well. It's hard to find a cute, comfy bra, so when I do, I buy it in multiple colors.
InsideQ: Name your favorite bra to wear from Breezies®, Barely Breezies®, or AngelLove™.
Kathy: I love silhouettes with interesting detailing in both the strap and décolleté. Love the satin trim of our last Today's Special Value®, A216457, and the lace trim of Barely Breezies A72247.
Kalina: A43416! I'm working on another T-shirt bra to launch in January—look for something "special" at the beginning of 2012.
Laurissa: My favorite Breezies bra…well, it's hard for me to choose just one because I have three favorites in rotation. Right now, my ultimate favorite is A201421. I love the support and comfort that this bra gives. My favorite Barely Breezies bra is A209653. I've been wearing this silhouette since we first got the samples for it, and I love it! For nights out, I love the AngelLove bra, A202095. It's incredibly sexy and gives me great cleavage in lower-cut dresses.
Catherine: I like Barely Breezies A43416. It's lightly padded when I want a fuller, rounder shape. The Barely Breezies A211590 is easy to put on and super comfy.
InsideQ: Which intimates should we be thinking about updating for fall?
Kathy: I love incorporating more seamed bras for added support. When layering, a woman still needs to look curvy.
Kalina: I'll be looking for deeper, richer colors and lace for fall, and I love to wear pretty, feminine bras and panties under layers.
Laurissa: Fall is all about transitioning. We're still wearing some finer knits, so seamless bra styles are still a must. However, chunkier sweaters are coming into play, and this is when I start reaching for my beautiful lace bra styles. No matter the time of year, shapewear is key! Underneath my sweater dresses, I wear A198926. Our new leggings, A213598, are definitely something I cannot wait to wear this fall. Another MUST is tights—I swear by A209246.
Catherine: Tights, tights, tights!
InsideQ: Why is a seamless bra so essential to a woman's wardrobe?
Kathy: A good seamless bra is quintessential! It can be worn year round with the finest fabrics for a flawless look.
Kalina: Seamless bras almost always answer the question, "What should I wear with this top?" They're a must-have in every woman's intimate wardrobe.
Laurissa: We have so many different types of shirts, so it's important to have the right bra for each one. When wearing a thinner knit top, seamless styles are the only way to go. We want to draw people's eyes up to our faces, not staring down at our breasts. A seamless style creates a smooth finish to finer shirts.
Catherine: If a woman likes to wear thinner shirts, a seamless bra gives you support without showing your bra.
InsideQ: How long have you been in the intimates industry, and what do you enjoy most?
Kathy: Since 1994, but I was previously in fashion merchandising and retailing for many years before that. I love translating intimate detailing from ready-to-wear collections.
Kalina: Almost 12 years. I love everything about the industry—the fashion elements, making women feel good about themselves and the eternal quest for finding the next best thing. Working with my family is also a huge plus!
Laurissa: I started in the company my sophomore year of college, but growing up with my parents in the industry, I feel like it's all I've ever known. What I enjoy most about it is hearing how our intimates change people's lives. Whether it's that they found the perfect bra, their straps don't fall down anymore or they feel pretty, every story is equally as heartwarming. We take a lot of pride in our products, and we only bring you what we feel can possibly make someone's life better. It's so important to have the right undergarments on—they're the first thing we put on each day and the last we take off. There are enough day-to-day struggles on our plates—the last thing we need to worry about is our undergarments. If you're not thinking about them, they must be doing the job right!
Catherine: For about 2 years. I enjoy hearing the success stories of women who feel better or look better in our products.
InsideQ: What advice would you give someone who's lacking body confidence?
Kathy: Smile! It relieves any anxious feelings and is always so welcoming by others.
Kalina: Women come in all shapes and sizes. No one will notice what you think are your imperfections if you hold your head high and think you're the cat's meow.
Laurissa: Be the best version of yourself you can be. Let your personality shine in all that you wear and all that you are!
Catherine: Try a shaping camisole. It tucks you in at your problem areas.
InsideQ: How has your company changed over the years, and what trends are you looking to incorporate into upcoming designs?
Kathy: Craig and I are fortunate to have three daughters (and two son-in-laws) in the business. They keep the silhouettes fresh, yet still incorporate the traditions of quality and design.
Kalina: Not only is the whole family now involved, but we're constantly looking for new silhouettes and trends to bring to our lines. We've gone from one panty in 1994 to so many different styles of bras, panties, shapewear and legwear today.
Laurissa: We go through changes all the time, but we try and focus on one thing—making women feel good. We're always traveling to stay current on trends and listening to our customers.
Catherine: We've expanded by adding more intimate categories, and we're always looking to incorporate new and exciting trends.
InsideQ: What's sexier: lace or ruffles?
Kathy: Lace—a true bra designer's dream! It makes any garment more feminine and creates a beautiful, flirtatious illusion.
Kalina: LACE!
Laurissa: This is a toughie! I'm going to go with lace with ruffles. Don't ever ask me, "Is this too much?" Too much is never enough in my eyes! When I saw this question, I thought, we must do a lace bra WITH ruffles!
Catherine: Ruffles!
InsideQ: What do you like to do in your free time?
Kathy: Travel! I love being on the go, especially with my grandchildren.
Kalina: I love hanging out with my hubby, son and newborn daughter. My best day starts with watching my son Pierre feed a bottle to his little sister Paloma, followed by cooking up a big homemade meal and having my sisters, their families, my parents and my husband's family over for dinner. I love entertaining and being around my family.
Laurissa: Just hanging out with my son Gabe and husband, usually doing nothing—we end up having the best time. I love being with all of my family as well…we do pretty much everything together and it never gets old. Watching Gabe and nephew/Godchild, Pierre, play together makes me so happy. I also enjoy traveling, cooking, baking, watching my shows and shopping. Downtime is so important to me—it gives me the fuel to keep up on our busiest of workdays.
Catherine: Hanging with friends and going out on the town.
InsideQ: Share a fun fact that QVC customers may not know about you.
Kathy: People say I'm superstitious, but I feel I'm driven by a much higher power.
Kalina: I spend a lot of time daydreaming about our trips to Europe. Give me pasta, red wine, fresh olive oil and my family at any Italian restaurant and I'm a happy camper. I also love snowmobiling, although my mother wishes I didn't. :)
Laurissa: I'm a hoarder. I could probably qualify to be on the show Hoarders. Although, I don't hoard old food, ew!
Catherine: I'm Paloma's Godmother.