InStyler Next Generation Ceramic Rotating Hot Iron
In Stock
Sold Out
We're sorry. This item is not available at this time.
Pre Order Possible .
Low Stock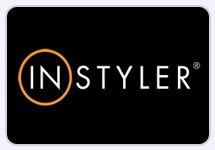 Description
What is it: A time-saving styling tool that incorporates an innovative vented bristle design into the patented InStyler rotating barrel to dry damp hair while you style. Just like the original InStyler, it straightens, flips, curls, and adds volume and shine to hair. It can also be used on hair that is already dry.
Who is it for: Those who want to reduce the time it takes to do their hair while still achieving superior shine and excellent style. It's suitable for all hair types and lengths.
The 3/4" barrel iron works well for women with shorter hair lengths and those that want to create a spiral curl. Use it to style short bangs, to create a swept bang look, and to smooth hair that's close to the root.
The 1-1/4" barrel works well for women with medium and longer hair lengths. It creates perfect soft curls and soft flip-under and flip-out styles. It's also great for adding a boost of volume at the crown.
Why is it different: The Next Generation InStyler is designed to work on both blow-dried and towel-dried hair. It dries hair by whisking water out of hair strands; as the water travels up the rotating barrel, it's vented away. Because it does this while you style, styling time is significantly reduced.
How do I use it: Turn it on and set the temperature to a level that's appropriate for your hair type. Use the High heat setting if you are using it on towel-dried hair.
Place the InStyler in a section of hair at the root, and close the unit so the hair is held snugly but loosely enough that you can easily glide it from root to ends. The barrel will automatically rotate. Glide the barrel from root to ends.
You can rotate and angle the unit different ways to achieve different effects: straightened, curled, flipped, tucked-in (for bobs), and volumized.
It's recommended you use one pass to dry hair and one pass to style.
From InStyler.
Includes InStyler Next Generation rotating hot iron, thermal shield, instructional manual, DVD (run time 57:54), comb, microfiber hair towel, and combination travel bag/countertop heat mat
The ceramic tourmaline-coated heated plate creates a smooth surface which allows hair to pass through the InStyler without pulling or tugging hair
High heat setting: 410 degrees F; ideal for thick, course hair or hair that is towel-dried
Medium heat setting: 315 degrees F; ideal for thick-to-medium textured hair that is already dry
Low heat setting: 285 degrees F; ideal for thin, fine hair that is already dry
Exclusive to QVC until 1/20/13
Measurements: 3/4" barrel iron measures 11-1/2"L x 2-1/4"H x 2"W when compressed with 6'L cord; 1-1/4" barrel iron measures 11-1/2"L x 2-1/4"H x 2-1/4"W when compressed with 6'L cord; hair towel 19" x 39"; combination travel bag/countertop heat mat 15" x 7-1/4"
ETL listed; 1-year Limited Manufacturer's Warranty
Made in China
Reviews & Community QA
A228739 - InStyler Next Generation Ceramic Rotating Hot Iron
259
259
Not For Me
I found this really hard to use. It seems well made but the results as seen while aired are nothing like that at home.
02-04-13
love this
my hair is so thin it didnt hold curl at all. this instyler is the first item that i have used that picks my hair up at the roots and makes my hair look really nice i look like i have alot more hair then i do i love this product. i wish he would bring a mousse and hair spray to use with it
02-04-13
Waste of Time, and Energy, Very Disappointing!
I gave this InStyler as one of the Christmas gifts to my daughter who is a teacher, thinking it will help her get ready for work faster in the morning but it ended up breaking her hair. She used it only twice, and the thinning was obvious to me after the first usage. She had broken pieces of hair throughout her head. She brought the InStyler back to me well-packed, saying "No, thanks for this gift." While she is still enjoying the others. Thanks QVC for the refund!
02-03-13
i am using it but it's NOT working well at all
i have been using it for a whiloe,but it does not work at all unless you use a lot of hair products to hold your hair style.
01-31-13
Love it!
This was my first time trying the instyler because the barrel had always been to large for my hair type. I am truely satisfied with my results. It does not snag or cause breakage. I do use a lite oil with it because I an black with kinky-coily hair. Once it straightens my hair I good to go for about a week. I can't use it wet because of my hair type. I had to give it for satrs because the brush bristles seem to be wearing out. Other than that I love it.
01-05-13
FABULICIOUS HAIR
I have long curly hair and I have used this product to straighten my hair and also used it to make barrell curls. I no longer need my straight iron or curling iron. This product does it ALL. I'm a WEN girl and let my hair AIR dry overnight then style it with my InStyler. My hair looks FAB and shiny. Love it.
01-04-13
don't do it!!!
This is not what they say it is! Makes your hair a kinky mess....barrel rotates and pushes hair through,,,,you have no control! BRING BACK the old version please...want another one!!
01-01-13
Great Concept
I really liked the concept of this hot iron after I got used to it, but I felt it was a little on the heavy side to hold and did make my hair look a little frizzy which regular irons did not (I also did not use product so maybe that was the cause). I couldn't really get the long curls on one side of my head as I could on the other so my hair didn't look the same on both sides, and I would get a kink or line where I started the iron against my scalp which annoyed me. Maybe because I'm not a pro at it but I really, really wanted to like this iron because I loved the concept, but I ended up returning it.
01-01-13
Shines hair!
I love this product. It's hard for blond hair to be shiney, but this really delivers. I use the lowest setting and have no trouble with it being too hot. It took a couple of times to get proficient with its use, but its clear sailing from now on. I strongly recommended it to my sisters!
12-31-12
Love it!!!!
I love the In Styler! used it for many years. This is my 3rd one.
12-27-12
Must Have!!!!!!!
I have naturally curly hair, ugh! For me to be able to enjoy straight hair before this product would take me 3 hours, but now I can straighten my hair in about an hour! It conditions my hair as I do each section. It is no longer impossible for me to have straight hair :) my hair is very long. I love this!
12-15-12
The best styling tool ever!
This is the best styling tool I ever purchased! It has cut my styling time in half or maybe more! When I style my hair myself it used to take two to three hours depending on the air humidity. Now it takes about an 1 to 1 1/2! Buy this! I do recommend it for all ethnic hair! The more course your hair is it may take sectioning your hair in smaller section and a little more time but it works!
12-15-12