InStyler 3/4" Hot Iron w/ Tourmaline Plate, Ionic Bristles & Acc.
In Stock
Sold Out
We're sorry. This item is not available at this time.
Pre Order Possible .
Low Stock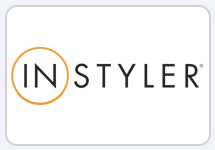 Discover the InStyler
It's not a brush. It's not a flat iron. It's not a curling iron. It's the InStyler rotating hot iron!
Description
What is it: The InStyler rotating hot iron, now with a smaller, more versatile 3/4"Diam barrel. The InStyler heats up rapidly, and can straighten, flip, or curl your hair while adding volume and shine.
Who is it for: Women of any age with any length of hair who desire tighter curls, bangs, and flips. It helps women with coarse hair achieve a smoothing effect closer to the root, and is also ideal for detail styling.
Why is it different: The original InStyler features a 1-1/4" barrel. This version uses a 3/4" barrel which is perfect for shorter hair. It creates tighter curls and a swept bang look, as well as styling closer to the root.
How do I use it: Turn unit on and set temperature appropriate to your hair type. Place the InStyler in a section of hair at the root, close the unit so the hair is held snugly but loosely enough that you can easily glide it from root to tip. The barrel will automatically rotate. Glide the barrel from root to tip. The unit may be rotated or angled to create different styling effects including straightening, curling, flips, bobs--all while adding volume and shine!
From InStyler.
Includes InStyler 3/4" barrel rotating hot iron with ceramic tourmaline plate and ionic bristles, comb, heat shield, stand, and instructional DVD
Stand: vented to keep from overheating; folds flat for travel
Ionic bristles create less static on hair, making the InStyler more manageable for thicker/courser hair
Nylon bristles even out each section of your hair for uniform heat distribution
The ceramic tourmaline coated heated plate creates a smooth surface which allows hair to pass through the InStyler without pulling or tugging hair
Measurements: Overall 11-1/2"L x 2"W; Barrel 3/4"Diam; Cord 6'L
ETL listed; 1-year Limited Manufacturer's Warranty
Made in China
Reviews & Community QA
V31242 - InStyler 3/4" Hot Iron w/Tourmaline Plate, Ionic Bristles
424
424
Damages hair
It just don't make since that a row of brushes would be pushing against your hair each time you use the styler. Guess if you want a wavy tease it would be ok. I learned to use it but when you least expect it you would have a strand of tangled mess.. Cant be good for your hair. I used it about 4 or 5 months but went back to the old regular hot curling iron.
01-10-13
Ok Purchase
I thought I would be more impressed with this product but, I'm not. It's ok but, can be a little difficult to use.
12-30-12
Not for me...
Tried to get used to this item, good concept, just didn't give me the results I get with my T3 flat iron. Loved the red/leopard color! Would recommend others to try this item since we're all different with different hair types/needs.
10-04-12
Instyler
I received the InStyler as a gift. The cap at the end of the barrel is very flimsy and fell off after 3 uses. So, when I go to use it, my hair will get caught in the end of the barrel quite often. I tried putting the cap back on but it does not stay. Mechanically it could be a bit more sturdy as the construction seems somewhat faulty for the price tag. The price is too much. It shouldn't be 100 bucks and I def wouldn't spend that much for it. So, receiving it as a gift is the best route. The brush works well and the iron heats up in seconds, so that is a plus! That being said, it works quite well. I have course, thick wavy hair and I don't need to spend a lot of time using this product, because it does straighten it out and even adds shine. If you are struggling w/flat irons then I def would recommend this as it does help w/people like me who have naturally thick and frizzy hair! Everytime I use it, I am happy all day w/my hair bec it stays nice and smooth. And I live in FLORIDA!! :-)
09-27-12
This Product Is AMAZING
I purchased my in styler with a little bit of fear:(( I was absolutely pleasantly surprised and would recommend it to everyone !!! I have a short cute hairstyle. The in styler makes beautiful healthy curls!! I smooth them out with my fingers a little styler spray and out the door. My hair is shiner and healthy than ever. Flat irons burnt it up and roller brushes made it frizzy. I can't say how it would do on long hair because you have to use it slowly but I LOVE IT!!!!!!!
09-26-12
BEST THING SINCE....
This is the best invention since the DVR! I've been using it for a couple of months and I love it. I waited to buy it because of the price but when it went on 6 easy payments and free shipping, I took the plunge. I expected to be disappointed and was prepared to send it back but, to my surprise, it really works. And it's so easy. I have to admit I burned my forehead the first time I used it but since then I've had no problems. I used to wash my hair, dry it, and then pass a straightening iron through it. My hair is fine and highlighted and I could never get it to look really shiny. Even applying products to gloss my hair did very little. Now I wash my hair and let it air dry. Then I use the Instyler to straighten it. It takes me about ten minutes and when I'm done, it's straight and very shiny. Thanks QVC for the easy pays and free shipping. That's what it took to change my life in a small but significant way.
09-26-12
Great for short hair!
I'd wanted to try this product but was put off by the size of the original barrel and commented about how you had to be an octopus to use it because the roller bar only rotated in one direction. I love the lift it gives my shorter coarse hair. I will be traveling with it later this month and the friends I'm visiting want me to bring it so they can try it!
09-24-12
Very happy with purchase
I ordered this product after trying to go "heatless" for a year. I have naturally wavy hair and I stopped blow drying and using a flat iron but finally decided I was sick of looking frizzy all the time. I really like this product, much better than a regular flat iron and less damaging in my opinion. I usually only wash my hair every three days, I still do not blow dry my hair so on the first day I have wavy hair, the second day I use the Instyler and the third day my hair is still shiny soft and smooth, no need to use the Instyler on the third day. I have to admit, I did not watch the DVD that came with this item, I plugged it in and started using it right away. I love it and find no problem and difficulty using it. I just section hair, not too much or too little, about three inch sections, then I run the Instyler from the root to tip, and I am good to go. I find this product is quite sturdy, not cheap feeling or cheaply made and I think it will last a long time. I use the heat guard so as not to burn my fingers and have not had a mishap yet. Highly recommended.
09-19-12
Sending back
I received my instyler in December 2011 and fell in love with it. This past week I can not get it to turn off unless I unplug it from the outlet. I called customer service and they gave me a fax number and an order number to send back to the manufacturer. I also had to send them my receipt (don't have) but I printed the Order Detail from my Order Status and will be faxing them that. They said once I fax the order detail someone will call me with the details to return. I will let you know how it goes from here. I am dealing with Tre Milano, LLC.
09-18-12
There's a learning curve, but it WORKS !
Unlike most of the women reviewing this product, I have straight, flat, dry, somewhat thin colored-treated hair. In addition, I am going 'longer' again with my overall length as well as the layers. What I want to achieve is volume, shine and smoothness, especially on the ends. When I saw the demo and saw that it smoothes AND curls, I thought I'd try it. I never thought anything would replace my curling iron after 25 years (which I previously relied on for curls, volume, and smoothing frizz) but this has replaced it. There's is definitely a learning curve, but if you watch the videos (and there are lots more on Youtube) and keep at it, you will definitely get the hang of it. I love the smoothing effect from the tourmaline plate, too. To see how smooth it makes your bangs and the ends is awesome. I'm still experimenting with ways to add volume, but as mentioned there is much information available. If you're looking for superior straightening, volume, curl, or all of the above like me, try this. Awesome tool.
09-18-12
Horrible product
This one that I got it got hot for just a bit and then IT stopped heating. Is going back!!! The presentation is great the product is poorly constructed...The brush wobbled and it felt like it was going to break.
09-18-12
Can't Believe How This Works
I have very thick hair, curly underneath and straight on top. I've used a chi in the past to straighten and it worked well but it was time consuming. My daughter wanted the instyler so I ordered this for her. It only took one time of using the instyler and now I'm going into her room in the morning to fix my hair! It is an amazing thing. Go slow and use sections of hair like it says and it only takes one pass! Better than that it makes my hair look shiny! We've used it to curl and to straighten and we both love this thing. Curling took a a few tries to master and I've had some burnt fingers and a burnt ear so be careful. This thing gets super hot in the high setting. I've used it on the lowest setting for my youngest daughter and it worked well for her hair (5yr old) without all the excess heat. I was skeptical that anything could be better than what I was using but now I'm a believer now!!
09-14-12