InMotion Compact Elliptical with ResistanceBands Display & DVD
In Stock
Sold Out
We're sorry. This item is not available at this time.
Pre Order Possible .
Low Stock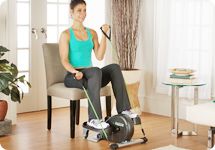 Learn more about InMotion Compact Elliptical:
Description
Get a big workout in a small footprint with this InMotion compact elliptical trainer with upper-body resistance bands. It's small and lightweight enough to use at home with the included DVD, and even at the office or on vacation. Wherever you are, it's an affordable way to get an upper and lower-body elliptical workout--one of the most popular machines at the gym.
With the InMotion, you've got options. The nonslip foot pedals go in a forward or reverse direction so you can target different muscle groups in your lower body. Adjustable tension lets you control the intensity. Feel the calorie burn while you get a low-impact cardio workout that's easy on your joints, unlike running. The unit can be used and the electronic monitor can be viewed while standing or seated on a chair--perfect for watching TV or for those with balance concerns.
When you're ready to get full-body exercise, attach the arm-resistance bands and get stretching. They work to strengthen and tone your back, arms, shoulders, chest, and torso--an effective routine you can rarely match at this price.
And you won't run into it in stores--this InMotion elliptical is exclusive to QVC and Staminaproducts.com until 1/14/12.
From Stamina Products.
As always, please consult your personal physician before beginning any diet or exercise program.
Take a realistic approach: If you work consistently and follow the program, you maximize your results.
Includes elliptical trainer, two detachable rubber latex arm-resistance bands, 24-minute instructional DVD, and 1 LR44 button-cell battery for electronic display
Sturdy steel construction
Heavy steel flywheel makes unit run smoothly
Adjustable tension on pedals
Arm-resistance bands allow you to exercise your upper body while you pedal
Use standing or seated on a chair
Monitor shows distance, total number of strides, exercise time, calories burned, or a scan of all stats
Display can be moved 180 degrees so you can view it while in a standing or sitting position
Nonslip pedals
Portable unit stores easily in a closet or under your desk when not in use
Measures 24"L x 17"W x 11-1/2"H; weighs approximately 26 lbs
Supports up to 250 lbs
90-day Limited Manufacturer's Warranty
Limited assembly required; tools for assembly are included
Made in China
Reviews & Community QA
InMotion Compact Elliptical with ResistanceBands Display & DVD
315
315
good while it lasted
bought to use while seated because of bad knees. Only used about a dozen times when it started to click. Kept getting louder and then "froze". Too late to try to return it. It's out with the trash now.. Hoped for better quality, especially since I never even had a lot of weight on it,
05-01-13
fun workout
I love this machine. I saw it on air many times before I purchased this, I joined a weight loss program and decided it was time to get serious. This was easy to assemble, does not take up alot of space and I think I have found something I will enjoy doing and hopefully stick with it. Thank you QVC!
04-24-13
Good for just one year
I thought this exerciser was a good purchase and it lasted for about a year. One day, one of the wheels broke and ball bearings went flying across the room accompanied by a horrible crunching sound. That was the end of it. I thought it was a solid piece of equipment but it was very heavy and difficult for me to move every time I wanted to vacuum or put it out of the grandbaby's way. If that is a consideration for you, I would look for something lighter in weight.
04-11-13
love it......
I love this inmotion machine i cant live without it i brought many excercise machines before but nothing worked so i wanted somthing easy that i can do so i got this . My mom also loved it when she used mine she ordered one to from qvc to ,this is the best . You can stand up or sit down and lose weight with this machine i love it .
02-14-13
Great machine for the price
I have used my elliptical a couple of times, and I think its great. It was relatively easy to put together. I feel like I get a good work out. It's true what others have said--you do need pretty good balance if you're going to use it standing up. I bought this model because I live in a small apartment--it's perfect for that. I can easily use it in the living room in front of the TV and then move it to another room when I'm done. The main disadvantage for me is that the stride is a little short. It seems to be squeaking a tiny bit, but that's no big deal to me considering it's very quiet compared to other ellipticals I've used. I'm not sure that the distance guage is accurate. It says I went six miles in a half hour, and I'm pretty sure I don't normally do that. :) But I think it's a great work out machine for a hundred bucks!
02-06-13
slightly disappointed
You have to have good balance to use this machine, or have a hair nearby to balance yourself. It's also hard to move it around. I've had mine for under two years, and about six months ago I noticed the wheels are splitting. Because of this I don't trust standing up on it. I only use it sitting down.
01-01-13
Very happy with this!
I love this little machine. I put it in front of the TV and before I know it, I've completed my 45 minute workout. It's great for the winter months when it's too cold to go outside and walk or bike ride. I feel like I get a really good workout with it too!
12-29-12
Not User-friendly
I use an ellipitical at a gym and assumed this would be good for home. It is angled in a way that puts stress on your knees. I tried it for a few weeks, gave up and put it away. I brought it back out and tried it again, didn't like it. A friend of mine wanted something to work out in at home and he thought it was extremely awkward to use and gave it back to me after a week. I wish I'd contacted QVC for a refund back when I purchased it, because it's just collecting dust and I could have used the money towards something else.
12-16-12
wanted to love this
I read the reviews and wondered how good this could possibly be and bought it anyway. It was easy to put together however it is really not good if you don't have excellent balance to begin with. I can't even imagine standing and using the pedals and the resistance bands at the same time!! If I hold onto them then I can use it standing up but so far have preferred to use it sitting down. I have been using it for about five days and it has started making noise and the little timer thing is beginning to fail. I haven't finished paying for it yet and will keep it because it gives me a workout while I am watching a movie or tv.
11-17-12
Great for seniors
This is a great machine for seniors who may not want to walk outside or are unsteady and need to be seated. I was very surprised at how quickly my heart rate came up. I am looking forward to using this while I am watching TV and doing something good for my health at the same time. Losing a few pounds in the process would be a bonus!
11-12-12
Yes but....
The machine is very well made but one of the exercising bands broke the third time I pulled on it. The machine is hard to do without the cords unless u have excellent balance and strength. I have not called QVC about it yet because I have not had time but going to. I don't want to have to take the machine apart to send it back so we will see what happens. I also like the size is the machine. It is easy to move out of the way.
11-10-12
Great piece of equipment for the low price!
I wanted to wait to write a review until I tried this elliptical for a while. I received this at the end of August and have been using it daily. I absolutely love it! I purchased this because I have rheumatoid arthritis and ellipticals are said to be less stressful on the knees. This is a really smooth workout. I have lost 12 pounds so far and my legs are much more toned than before I started using this. My arms are also toned from using the resistance bands. The only complaint that I have is that I have trouble keeping my balance when I use it standing up. Instead, I use it while sitting and it still gives a great workout. My sons, ages 13 and 16, use it while standing up and they do not have any problems with balancing. Both of them have had the same results with the toned legs and arms. There wasn't much assembly but the assembly that it does have is easy. Very compact and sturdy. Great value for an elliptical. Easier on your knees compared to treadmills or stepper equipment.
10-29-12