Heys 3-Piece HardsideSpinner Luggage Set w/Packing Cubes
In Stock
Sold Out
We're sorry. This item is not available at this time.
Pre Order Possible .
Low Stock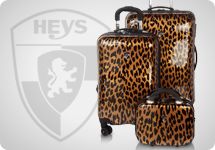 A New Spin on Luggage
Learn more about this Heys spinner luggage set.
Description
Plan the perfect arrival. This durable, three-piece luggage set makes it easy with eye-catching new prints and dependable double-spinner wheels, offering both glamour and reliability. You'll wonder how you ever traveled without it.
Destination: Style. This trio adds high fashion to function with chic prints and metallic colors that make it effortless to find at baggage claim. Plus, it comes from a global luggage innovator often seen in top fashion magazines and high-end department stores. As a result, you'll always know you look your travel-savvy best.
Easy navigation. This lightweight set's double-spinner wheels put an end to suitcase struggles. Offering 360-degree movement, these wheels make maneuvering a cinch especially down tight airplane aisles. In addition, aluminum telescoping handles on the large and carry-on cases allow you to maintain control at every turn.
Tough traveler. These pieces feature hard outer shells that are designed to help keep all your belongings safe without adding extra weight.
All the amenities. This set does not skimp on the details. High-gloss finishes and full inner linings make it perfectly posh, while built-in three-digit TSA locks make it sensible and smart. Medium- and large-sized packing cubes allow you to separate laundry, undergarments and more and protect your clothes from unhygienic hotel drawers. Plus, organizational compartments in the beauty case keep everything you need right at your fingertips.
You've just found your favorite new travel companions--your journey is complete!
From Heys.
Includes large spinner packing case, carry-on, vanity case, one medium packing cube, and one large packing cube
Large packing case/carry-on: dual 360-degree spinner wheels, built-in TSA locks, telescoping handle system, expandable
High-gloss finish
Packing cubes: Carry handles, corded double-zippered pulls, zippered front pockets, lightweight nylon construction
Metallic Leopard, Silver, Bronze, Lavender, Taupe Floral: Black lining
Zebra Red: Red lining
Metallic Leopard and Taupe Floral are exclusive to QVC until 12/2/2011
Approximate measurements: Large packing case 26"H x 18"W x 12"D, weighs 9.4 lbs, handle 17-1/2" extended; Carry-on 22"H x 14-1/2"W x 11"D, weighs 7.1 lbs, handle 22-1/2" extended; Vanity case 12"L x 5-1/2"W x 9"H, weighs 2.3 lbs; Large packing cube 18"W x 14"L x 2-1/2"D; Medium packing cube 14"W x 11"L x 2"D
Polycarbonate composite material
7-year Limited Manufacturers Warranty
Made in China
Important Details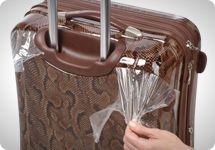 Plastic Protective Coating
A clear protective coating has been applied to the outside of your new luggage. This easy-to-remove thin wrap of plastic is applied at the factory to protect the high-gloss finish on your new luggage. To remove, start at the upper-right corner on the front of your bag. Lift an edge of the plastic wrap and peel it away. Repeat until all the plastic is removed.
Reviews & Community QA
Heys 3-Piece HardsideSpinner Luggage Set w/Packing Cubes
164
164
Save your money
I love the smaller piece for weekly travel. The set I have has a bright print, so it's easy to find when doing gate check. But the first time I used the larger piece, two of the wheels literally came off. Reading other reviews, this seems to be a common issue. Seems like the smaller piece is ok since it's gate checked so it's handled less. But don't waste your money if you want larger luggage that the airline is going to destroy.
03-16-14
Pretty but NOT functional!!
This luggage set only lasted one leg of a roundtrip. Checked both bags and received them back all scuffed up. One of my bags ripped while trying to zip them up. This set is definitely not functional. Save your money because this set is not durable!!! Two stars because it's a good looking set prior to using.
03-15-14
Worthless Warranty- Not worth paper it's wrote on
I had one wheel and one metal handle break off the 26". I thought, no worries, I have lifetime warranty. What a huge joke and mess Heys' CS and warranty are... Took forever (2 wks) to get response from email and I could never get through to CS agent, continually disconnected. Via cell the longest hold time via cell was 45m to get disconnected! Next, warranty is a joke! Email response said... need to "send" proof of purchase. Okay, I did that. Took 1.5 wks for Heys CS agent to respond via email, to say... We need pics of the damage to determine if this was manufacturing fault or customers fault. Okay, so I sent pictures. 1 wk later.... heys CS sent me an inspection # and it was "on me" the customer to find the nearest authorized heys service center. From this point, the service center will make a final decision, if the repair is the fault of Heys or the customer!! First in order to find Heys service center... I went to heys site and the closest one was over 3 hrs drive (one way) to drop off luggage. I called the authorized service center to find out; I have to pay out of pocket to ship item to them and to ship it back when the service center had completed the work. This was not the responsibility of heys to pay shipping costs for damaged luggage, geez!!! You can't buy parts yourself; heys doesn't allow customers to buy parts. Next, I had to wait for another 2 wks for service center to determine they can't fix it and the damage was caused by my mishandling, really! I went on one trip of normal use. So, basically I paid $60 in shipping to get nowhere and weeks of dealing with Heys CS & service center for them to tell me it's my fault! Wow! Never again! I was better off with Samsonite or any other brand luggage! Oh, I also had a different pc of heys luggage I used on a flight to Vegas, which was destroyed. I found out if heys' luggage is used on a flight, it's not heys' responsibility to fix the items. You must file a claim with the airline to fix or pay you for your loss.
01-30-14
It's pretty, but....
I travel extensively for work and was so excited to get this set. I get lots of compliments on it, but within a year the large piece broke (one wheel came right off) and just a few weeks ago, the lock on my smaller one wouldn't unlock!! I had to destroy the lock to get into my luggage when I got home. Now I'm looking for a new set :( any one have recommendations? I guess this might be better suited for someone who doesn't travel every week - maybe it just got overused.
01-26-14
very satisfied with luggage
I just returned from a two week trip to Italy, the reason I purchased this luggage set. The taupe floral pattern was easy to find at baggage claim and the spinner wheels are worth their weight in gold. It is lightweight but sturdy enough to keep my belongings safe. I had no problems with dents or scratches. It still looks like New. Do not hesitate to buy this luggage.
11-03-13
LOVED IT!
I bought this 3-piece luggage set last time it was on air in purple and fell in love! I had to get it right away and have been using it ever sense for trips or visiting my family!
10-18-13
Great Choice for Luggage
Purchased a set like this, minus the packing cubes, quite awhile ago. While there are a few scratches here and there, I am very pleased with how well it has held up. Had never used it for airplane travel until this past summer when my daughter took all the pieces overseas to study abroad in England. After reading some of the reviews, she was hesitant to use the set as she was afraid that the wheels would crack or fall off and she didn't want to be overseas with broken luggage. She did take it and it held up very well, even after wheeling it over cobblestone streets and sidewalks going to and from train stations, etc. I was very pleased with how well it held up.
10-15-13
Good Buy!!
I was excited to get this luggage and was pleased when I took it out of the box. I chose the black. It was beautiful and lightweight and the spinner wheels were the deal maker for me. The luggage moves smoothly with you. I will admit that it scratches easily which messes up the finish but overall I love the set. The cosmetic case and the packing cubes are a great add on. I would recommend this set to anyone.
09-08-13
Beautiful pattern but didn't hold up...
I agree with other reviewers in terms of this set being great when you first open it, but you can see the wear it goes through after a few flights. I bought the brush strokes design which is adorable and I've gotten so many compliments on it!! I also love how the luggage rolls on all 4 wheels, but my most recent trip from Boston to Dallas ended up in a broken wheel and cracked at the bottom. The luggage definitely scratches very easily. There is no protective coating on it...I'm just lucky enough that the luggage pattern hides the scratches well. So now my Heys luggage is taped up on one of the wheels so that I can continue to use it but I know that after a few more trips, this luggage will most likely fall apart if you check in your luggage like I do.
09-08-13
Pretty But Poor Quality
I used my Heys luggage one time and it came off the baggage carousel completely scratched up. I would have thought there would have been a tough top coat to protect the luggage. Also, my daughter took the smaller sized luggage piece to Spain. On her way back, a wheel completely cracked off. I am disappointed as it was lovely luggage when it arrived.
08-31-13
Love Heys and their luggage :)
I don't know what happened with the review under mine, but I love my luggage and Heys' customer service is amazing. I purchased this set (in snake) in May 2011. I have used it 7 or 8x's and always get compliments and it is so easy to move. The capacity is MUCH greater than it would seem when looking at it. It has an expander zipper that gives you MUCH more space. All that said, on my last trip (just car, no plane), while carrying the 20" piece, the handle just broke. I immediately began getting it repaired... I first called QVC, then Heys customer service. I will admit it took a bit of persistence. I called 4x's. Every other day for a week. Finally, on the following Monday, I received an email from Heys. I had to send pics of the luggage and damage and in less than 2 weeks had the exact piece of NEW luggage at my door! I didn't have the hassle of returning the damaged piece and it was quick and easy! Their customer service is amazing! Don't hesitate to buy this set. I am so glad I did!!
08-21-13
Scratched~~~ Dented ~~~and NOT happy!
I bought this set a while back and used it for my trip to Vegas. When I got off the plane to get my beautiful luggage I was CRUSHED!!! It looked like it went through a war! Scratched/dented and looked as if it was an old set. So sad for my pretty luggage... Called Heys and never received a call back...and to late to send it back because I did not use right after purchase.... so now I am stuck with scratched~ dented luggage...
08-19-13