Heys 26" and 22" Hardside Spinner Luggage Set
In Stock
Sold Out
We're sorry. This item is not available at this time.
Pre Order Possible .
Low Stock
Description
A frequent traveler's favorite. Glide from check-in through security with this deluxe luggage set by your side. Part of the Duvall collection, these hard-side polycarbonate cases are fitted with Air Glide 360 spinner wheels for efficient portability. TSA-accessible locks and a chrome dual exterior handle system make using the bag a cinch. Now, all you have to do is pack! From Heys.
Includes carry-on bag and packing case
Air Glide 360-degree spinner wheels on both bags
Built-in TSA locks
Fully lined organizational interior
Modern chrome dual handle system
Polycarbonate composite material in a high-gloss metallic finish
Measurements: Carry-on 22"H x 14"L x 9"W; Packing case 26"H x 16"L x 11"W
7-year Limited Manufacturer's Warranty
Made in China
Important Details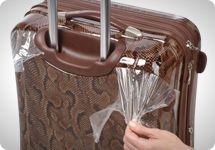 Plastic Protective Coating
A clear protective coating has been applied to the outside of your new luggage. This easy-to-remove thin wrap of plastic is applied at the factory to protect the high-gloss finish on your new luggage. To remove, start at the upper-right corner on the front of your bag. Lift an edge of the plastic wrap and peel it away. Repeat until all the plastic is removed.
Reviews & Community QA
Heys 26" and 22" Hardside Spinner Luggage Set
9
9
Nice luggage
I was in the need for a new set of luggage and found this lunchtime special and am very glad I purchased it. However, the color is not what I believe to be as bronze..more like a light olive color, which works for me. The main problem as I hear from all Heys luggage sets is the plastic film on the surface of the bags. This film is a major problem. It took an hour to peel it all off both bags. The bags have not gone on a trip yet, but they both seem like they will hold a good deal and they are very lightweight.
08-02-13
Not A Good Investment!
I purchased Hayes luggage with high hopes but both my bags have been damaged by American airlines and the airlines did nothing about it, the bags are still under warranty by Hayes and I have had great difficulty getting them replaced or fixed. The luggage repair shop in San Antonio, Texas, that Hayes told me to go to, said they are refusing to do anymore work for Hayes because Hayes will not pay their bills to the repair shop. The Hayes customer service has been very disrespectful and even laughed at me. I typically don't complain about anything but this is ridiculous. Buyer beware!
07-23-13
good set
I dont know what the others reviewers are complaining about. For the price this has been a great set. For the price. If you want an amazing set then go out and spend 1500.00 per bag! I use these for car trips and checked baggage, my carry on stuff is much better and is not from QVC.
07-20-13
Beautiful, practical luggage
I purchased this when it was on a lunch special for only $88! (Plus shipping and taxes). That is cheaper than what you can get at Costco's for a hard case suitcase. Even though, I already have a suitcase that I am happy with, I needed a bigger suitcase and went for this set. I purchased it in red and I think it looks really sharp! I also really like the lock on it. You don't have to lock your suitcase if you're worried about forgetting the code or the TSA forgetting the key!- There is also a function where it can just hold the zipper pulls and keep them in place so your suitcase won't fly open. What I don't like about the set 1. The handle is NOT sturdy. The shiny silver "metal" on it is not really metal but some cheap plastic material that wiggles and makes one wonder when it will break. 2. The plastic protective that comes on it is a nightmare to remove. You just can't peel it off, it gets stuck in all the corners and nooks. Even tweezers can't pull all of it off. I gave up on getting all mine off and hope no one notices. Especially around the emblem. 3. It collects dust more than my grandmother's attic. 5. There were loose threads where the zippers are. 4. Yes, it does scratch and scuff. Doesn't really bother me as much as the other stuff. I guess if I cared enough I could rub it off like the other reviewers suggested. Overall, I am happy with my purchase, tho I would have never bought it at the normal price. It looks good and gets the job done. But if you are looking for something of better quality, I would not recommend.
07-18-13
DO NOT BUY
The first time I took it, and checked it on a plane trip, the composite sides cracked all the way through.
07-05-13
Very Happy With Purchase
Come on people!! Scratches,scuffs . . .really?? It's luggage. Have you seen the way it is treated by the baggage handlers? Isn't it much more important that your belongings arrive at your destination unscathed ? I do not remember the Heys rep stating that it would never scratch or scuff. Life is not perfect, why would you expect perfection from your suitcase. Please!
07-05-13
Excellent Luggage
I have a set which is printed and the life marks are just part of the beauty. It is light weight and sturdy. It glides like a dream. Expecting that luggage will never get a mark is unrealistic.
07-05-13
DO NOT BUY THIS LUGGAGE
I thought this was the most beautiful luggage when it came...inspite of how hard it was to peel off the clear coating. The bad news was I bought it months ago for my trip to Charleston from Portland OR. When we got to Charleston, it had many scratches on the beautiful surface. The really bad news was, upon return, it had MANY more scratches, black marks (as described in previous review), and one large dent in one of the corners. This is not a good product to take as checked luggage. I have the carry on and will use it for appropriate trips...to get my moneys worth out of the purchase. Probably too much of a pain to try to fight with the manufacturer for any kind of rebate for the 26" bag. It feels like plastic and did not perform much better. Do not buy! It only got one star because giving no stars is not an option. Lesson learned on this one.
04-30-13
Dissatisfied
Used this luggage for the first time on a recent trip, was scratched and had black stain/skid tracks all over! I was able to wipe some of the markings off but not all came clean and required much scrubbing , unfortunately some of the tracks/stains won't come off and the scratches remain! Worst purchased product from a usually satisfied QVC customer..
03-17-13