Heys 20" Spinner and Beauty Hard Case LuggageSet w/Crossbody Bag
In Stock
Sold Out
We're sorry. This item is not available at this time.
Pre Order Possible .
Low Stock
Description
Stop talking about getting away for a weekend. Just go. And use this fabulous luggage to carry your essentials. The set has three durable, fashionable, surprisingly roomy bags: a TSA-approved pilot case with a telescoping handle and spinner wheels; a beauty case with a built-in organizer; and a crossbody bag with its own matching passport wallet. From Heys USA.
Includes pilot case, beauty case, and crossbody organizer bag with matching passport wallet
Pilot case: fully lined; zip expansion; telescoping handle with button lock; spinner wheels
Beauty case: fully lined; organizer; carrying handles; adjustable, detachable, padded shoulder strap
Approximate measurements: Pilot case 20"; Beauty case 12"; Crossbody bag 7" x 9" x 3"; Passport wallet 9"L x 4-3/4"W, closed
Pilot/beauty case: high-gloss acrylonitrile butadiene styrene shells
Crossbody travel bag/passport wallet: ripstop fabric with faux-leather trim
7-year Limited Manufacturer's Warranty
Made in China
Important Details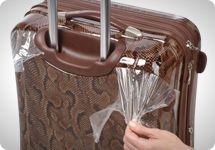 Plastic Protective Coating
A clear protective coating has been applied to the outside of your new luggage. This easy-to-remove thin wrap of plastic is applied at the factory to protect the high-gloss finish on your new luggage. To remove, start at the upper-right corner on the front of your bag. Lift an edge of the plastic wrap and peel it away. Repeat until all the plastic is removed.
Reviews & Community QA
F08902 - Heys 20" Spinner and Beauty Hard Case Luggage Set w/Crossbody
46
46
Discouraged
I bought this set & used it immediately for a trip....however, as soon as I walked into my hotel, the strap on the small case broke and I was left carrying it by hand for the rest of my trip! Frustrating!!
07-29-11
Shabby Chic
I ordered this beautiful set for my recent vacation. I did not want to check my bag and wanted a stylish, roomy set for the trip across country. The suitcase was just okay=/; I liked the beauty case, but the holders for the shoulder strap broke the night before I caught my flight=/. And, like others have said, the spinner wheels only work on tile or hardwoods, not on airport or hotel carpet. AND, it is hard to push if it is packed to the brim. I have NEVER had to return to QVC, but this set is going back. Nice concept, but I think Heys skimped on the quality...
07-22-11
Love this set!
I bought the Zebra set and it was/is perfect for travel. I was able to use the larger bag as a carryon and the smaller bag was exactly what I needed for make-up, deodorant, etc. I'm even planning to take it along when I fly to Guam this summer. By rolling the clothes I'm taking, I can still get several clothing changes in the suitcase and not have to deal with checking my luggage! I don't know what is wrong with the buyers with negative comments. This set is well made and I had no problem whatsoever in pulling it at every airport I was in. I am looking to buy a larger Heys set now. I would recommend it to anyone and everyone.
06-17-11
Cheaply Made
When I received this unfortunately I hadn't any travel plans for awhile and stupid me didn't open box till the 30 days were already up, because when I did finally open the box I would of returned it. It is cheaply made and I'm sure it wouldn't make it through the checked luggage. I have used it a few times as a carry on and the wheels don't roll smoothly. Very disappointed. The bag inside is nice for makeup and toiletries that don't have to be put into a quartz size bag (but thats the only nice thing about this set).
04-17-11
Chic and on the pulse of sensibility and fashion
This luggage is hip and streamline. I use it for weekend travel in the car. (I believe the airport would tear up my sweet little luggage). I keep it packed so I can enjoy myself and travel in a flash. I have the camo and plan on getting other colors. I placed a little green flashlight and a little green hand wash on the side loop of the small case and off I go to summer and fall weekend resorts. Being chic and fun means being practical too! My luggage spins on a dime with ease accuracy and precision.
03-21-11
love the green
i travel quite a bit and have already given this set a work out. I have only one negative comment regarding the presentation...... the presenter led me to believe the brand was only available at high end exclusive stores but i saw it at 'T"
03-21-11
Love this set!
I purchased this luggage in the zebra print. I wanted a carry-on for a trip to California. It was perfect! With rolling everything, I was able to get a weeks worth of clothes inside and the Beauty Hard Case was just right for the remaining essentials. I plan to take this set with me this summer on a longer trip because of the success of the shorter trip in January. The spinner wheels were great for getting through the airport.
02-22-11
Looks can be deceiving!
Looks great but...Pilot bag does not roll on airport or hotel carpets. Very frustrating and hard on your back! Very cheaply made. Checked the bag one time and it looks like it was run over by a Semi truck! Cosmetic case broke while I was running to catch my connecting flight and I had to carry it in my hands instead of throwing it over my shoulder. Also if you put anything in the pockets you lose all storage space on one side of the case. A very very frustrating design! You get what you pay for and I knew the price was too good to be true.
02-19-11
great price - too cheap!
I thought this had a great price, but am sending this back. It's just tooooo cheap for me. hardcase or not, i can't see this making it through too many airports without falling apart. the emblem on the large piece is already falling off, the two cases had totally different colors that did not match, and the plastic parts seemed really cheap. i love QVC, but sorry, not this time!
02-08-11
Cheaply made...SOOO sad
Very cute, but very cheaply constructed. Upon opening the large case, I found that one of the cross straps had never been sewn in and was just hanging there. Zipper "catches" alot while zipping and unzipping. The crossbody travel purse included with the set has a cell phone pocket that will barely hold a large lipstick or Mace. Nevermind any cell phone fitting! Disappointing to say the least. The concept is good, but more thought should have gone into the construction. My large case was obviously not inspected, as evidenced by the flaws and unconnected inner strap. Heys logo was glued on crooked, as well.
01-16-11
Luggage WITH STYLE & CLASS
PRO: Luggage with style and class, and durable! CON: NONE!!!
01-10-11
Beautiful
I got this for my daughter for Christmas. This is a rich looking case and I was very impressed with the quality of the bags. BTW, She loved it !
01-05-11