Heys 2-pc Hardside Spinner Luggage Set with Vanity Case and Scale
In Stock
Sold Out
We're sorry. This item is not available at this time.
Pre Order Possible .
Low Stock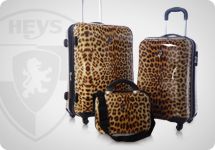 A New Spin on Luggage
Learn more about this Heys spinner luggage set.
Description
Where are you going on vacation? Whether you're traipsing off on a family trip or jetting to an exotic locale, take this luggage set and vanity case along for the ride. A durable design; high-style colors; and convenient, easy-to-use features combine to create a collection you won't want to leave at home.
Room for more. All your traveling essentials find a home in one of these fully lined pieces. The large packing case and carry-on incorporate built-in, three-digit TSA locks for extra security. And, stock up on souvenirs without worrying about space. Both pieces feature an expandable design that allows for the storage of additional items.
Roll with it. It's easy to move these pieces from car to plane to hotel using the spinner wheels and telescoping handle systems. The matching, fully lined vanity case can be tucked into one of the other two pieces or carried on its own. Filled with organizational compartments, it keeps all of your toiletries in their proper place--even as you experience turbulence or ride over an especially bumpy road.
Hard to beat. The sides are constructed of lightweight polycarbonate composite material, so all three pieces stand up to the hustle and bustle of travel. Plus, colorful fashion-forward designs and a high-gloss finish make them easy to spot at baggage claim. A bonus luggage scale helps you ensure that each piece suits airline luggage weight restrictions.
You'll always travel right with this chic, convenient luggage set.
From Heys.
Includes large packing case, carry-on, vanity case, and luggage scale
Large packing case/carry-on: fully lined, spinner wheels, built-in three-digit TSA locks, telescoping handle system, expandable
Vanity case: fully lined, organizational compartments
Top-layer removable, protective seal
High-gloss finish
Pieces nest inside one another when not in use, for easy storage
Approximate measurements: Large packing case 25"H x 18"L x 12"D; Carry-on 21"H x 14-1/2"L x 10-1/2"D; Vanity case 9-1/2"H x 12"L x 6"D
Polycarbonate composite material
7-year Limited Manufacturer's Warranty
Cannot ship to Canada
Made in China
Important Details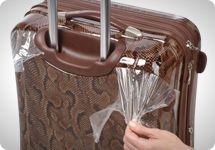 Plastic Protective Coating
A clear protective coating has been applied to the outside of your new luggage. This easy-to-remove thin wrap of plastic is applied at the factory to protect the high-gloss finish on your new luggage. To remove, start at the upper-right corner on the front of your bag. Lift an edge of the plastic wrap and peel it away. Repeat until all the plastic is removed.
Reviews & Community QA
F09249 - Heys 2-pc Hardside Spinner Luggage Set w/VanityCase & Scale
143
143
beautiful but small
I travel a lot back and forth to Florida where my mother resides. I am forever schlepping tons of 'stuff' back and forth even though I have a full closet of clothing already there. When I saw this luggage set, I fell in love. I thought the size looked perfect! However, when it arrived, I thought that even though I didn't want a huge suitcase, that I would be able to handle the midsize and smaller suitcase just fine. No way. The small sort of cosmetic carry-on little thing is a tossaway that will sit on the top of my closet forever. And trying to roll two suitcases through a busy international airport at the same time with a winter coat wrapped around your neck when it is 90 degrees outside is crazy to say the least. I have tried to find one larger shiny black Heys suitcase to no avail (it would match the other pieces I have). They do scratch easily and I have seen others come around the conveyer belt with the plastic still on and notes stuck on to them to 'please not to remove the plastic!) so there are many other ladies out there who know that these cases do scratch, ding and marr. On the good side, they are light weight, easy to fill, have nice expansion capacity, etc. I would have liked the Heys company to have included some nice bright name tags that one could have filled in with a Sharpie once you purchased the product rather than the aluminum Heys dog tag that cannot be written on (it is just an advertising piece for them). I hope QVC would offer the larger suitcase piece and a better make-up piece to add to this set (as this little piece that was included was a joke you can't have bottles in it - have Lori G. design it for Heys/QVC!) and offer it in all the colors you had offered in the special. Thanks for reading. Susan Bonneau, loyal QVC shopper
02-02-13
Would Not Recommend
No one has handled my Heys but me and I am very careful to keep them looking good. Even as careful as I am, they still get scratched and marred. I love the packing space and how they handle, but would never travel with this brand by plane, train or any other way that someone else would be handling my luggage. They would not last too long.
01-12-13
BEWARE, cheaply made made parts
This luggage look awesome. I ordered it in black as airlines are known for scuffing luggage. I've flew one leg of a round trip flight. The pull-up handle is completely missing from the mid-size bag.The pull-up handles are made of lightweight, cheap material. The airlines does not cover damage to "zippers, handles, wheels, ect" and the warranty does not cover damage when luggage is in the hands of athird-party, such as airlines. Highly dissappointed
12-25-12
Not impressed!!!
It sems to be made very cheaply. The glue was showing and the zipper didn't work. I sent it back.
11-29-12
Surprised and Disappointed
I think that ths is probably a good product, however, I recommend that it be inspected closely upon arrival. I received my luggage the end of October, took it out of the box, and placed it in my closet without looking it over closely. I've rarely had problems with QVC purchases and just trusted that everything was fine. My mistake! I took the luggage out last evening to prepare for my Thanksgiving travel and had an unpleasant surprise. When I went to "un-nest" the pieces, and unzip the outer and largest piece of luggage, the zipper kept catching in an area along the side. In order to get it to work, I had to work to align the top and bottom areas in a certain way to get it to move along. Then, when my overhead light hit the luggage just right, I noticed markings/scratches in the finish, and just above the wheels there was even a gouging and peeling away of the outer finish material. I was ready to cry! Luckily, I have old luggage I can use for the holiday, but I was really looking forward to using my new luggage. Instead, it is being sent back today!
11-15-12
Love Love Love Love Love!!!!
Just got these today from UPS...Love them and love the scale very nice addition to the set becuase I was a little worried being hardside they would weigh more but the bags themselves are light as a feather! When I first pulled them out I kind of wanted them to be fabric covered hardside but as I got to playing around with them and looking at them more....I cant wait for my trip to IL next month to use the Carry on and the Vanity CAse...FYI for anyone thinking of purchasing...my IPAD fits perfectly int he Vanity Case and my I pad has a thick Targus cover with a Keyboard...PERFECT FIT!!! Thanks QVC and HEYS!!!!
11-13-12
Durable
I have two sets of these bags. My job requires I travel weekly so they get a lot of abuse. Other than a few scratches which is inevitable , they hold up very well. I have brought pottery home without a chip to be had. I would recommend these to anyone. The TSA locks are priceless!
11-10-12
Great for Business Travel
I've had this set for over a year now and they look as good as the day that I unpacked them. I travel a lot for business and the different sizes really work for me. A plus is the houndstooth pattern makes it easy to pull from the airport baggage claim. I also get a lot of positive comments from people when they see me with this luggage. A great value, sturdy construction.
11-02-12
Love my Heys luggage
I ordered the Houndstooth & have used it for long weekend car trips for the past 6 months. The 2 larger pieces was plenty big enough for 2 of us to pack enough clothes for a week long trip by plane. It was very easy to use & easy to identify when it came off the baggage carousel. Yes there were black scuff marks but they all came off with a magic eraser. The only down side for me is the vanity case. It really serves no purpose when traveling by plane because of the TSA rule about liquids. But overall I am very happy to have this luggage and we are back for set #2. We know we will have plenty of room for our 2 week long honeymoon.
11-02-12
Just Ok
Beautiful luggage. Love that it is hardback but the wheels and zipper pulls are terrible. I travel a lot for work and it only took a few uses before the wheels and zipper pulls were broken on both suitcases. Heys did replace the wheels but I am very leery of how I pack now b/c I am afraid of the breaking again. Needs to be sturdier.
10-22-12
Great luggage!
I am very happy with this purchase. My daughter lives on the West Coast with her family and I on the East Coast. When I go to visit her I feel good about being able to have this luggage! It looks good and makes me feel very ladylike with it. I have the Leopard set and it is gorgeous!
10-22-12
Wheels work poorly in most airports!
If you use your luggage in airline travel-DO NOT BUY THIS SET. The wheels only work on the smoothest of floors. Most airports, parking lots, etc are not smooth and these spinner wheels are horrible. I believe they are just too small. After one flight the gray was scuffed with black marks and never looked good again. I finally gave up and just purchased another set with larger wheels. The only good item was the Vanity Case.
10-14-12