Haier 14,000 BTU Portable Air Conditioner with Remote
In Stock
Sold Out
We're sorry. This item is not available at this time.
Pre Order Possible .
Low Stock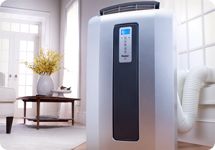 Chill Out
Learn more about the Haier 14,000 BTU Portable Air Conditioner:
Description
Beat the heat this summer, and for years to come, with a powerful, portable air conditioner from Haier.
As the temperature rises, so does the cost of your electricity bill. Packing 14,000 BTUs of cooling capacity, this mobile unit is a cost-effective answer to controlling the temperature in virtually any room--without paying to cool the whole house!
Stop cranking up your entire central air system to cool that one pesky room that never seems to get comfortable--this unit is the perfect solution. Suitable for rooms up to 400 to 500 square feet--for example, that would be a 20' x 22' room with 8' ceiling--this powerful air conditioner has three settings and four-way adjustable air flow for precision temperature control. The three-speed fan is perfect for warm days and evenings, when all you need is a nice breeze.
The built-in dehumidifier removes up to 86.3 pints of water in 24 hours of operation. It's great for the hazy, humid days of summer and the easy-to-install universal window exhaust kit lets you vent the water outside--eliminating the need for messy trays and buckets. Auto-evaporation technology helps cut down on water removal. Plus, because this portable air conditioner doesn't need to be window-mounted, it's easy to put away for the season and ideal for communities that have restrictions against overhanging window A/C units.
From Haier.
Includes portable air conditioner, full-function remote control, and window kit
14,000 BTU cooling capacity
Four-way adjustable airflow
Three cooling settings
Three fan speeds
Dehumidifier mode removes up to 86.3 pints of water in 24 hours of operation
Auto evaporation allows continuous operation without water removal
Digital thermostat automatically turns unit on and off to maintain the desired temperature
Electronic controls
Timer function
Time/temperature display
Slide-out washable air filter
Window kit fits windows 20"W to 48"W
Remote control requires 2 AAA batteries, included
Measures approximately 33-1/2"H x 20"W x 14"Deep; weighs 75 lbs; cord 6'L; window hose 5'L
UL listed; 1-year Limited Manufacturer's Warranty
Made in China
Reviews & Community QA
Haier 14,000 BTU Portable Air Conditioner with Remote
132
132
HAIER
*****************BE CAUTION WHEN BUYING PRODUCT LIKE THIS FROM HAIER - YOU CAN ONLY CARRY THESE BIG PRODUCTS TO NEW YORK TO GET FIXED IF THEY BREAK AND PAST WARRANTY******************I LIVE IN SOUTH JERSEY AND HAIER IS REQUIRING ME TO PUT THE PRODUCT IN MY CAR (TOO HEAVY) AND CART IT TO THEM TO FIX**********************CAUTION BEFORE BUYING******
11-12-13
not so good
this 14,000 btu a/c is ok at best. i got a 12,500 unit the year before and the 12,500 works better to cool off my house. In fact, during the major heat of last summer, i had to use both units on my 1st floor. my house is an old 2 story with a 575 sqft foot print. THIS unit should be enough to cool my whole down stairs....it doesn't even come close. don't get me wrong, it was cooler inside than it was outside, but...not by what I hoped for nor expected.
11-08-13
Solved our problem
This unit works well cool our sunroom. It has been a hot humid summer and we have not had to empty any water! The only negative, it is loud.
09-25-13
So Far So Good.
As of this review (9/13/13 @9PM pacific time) I've had the air conditioner set up for about 3 - 4 hours. My apartment was 90 degrees when I installed it. Within 10 minutes it was down to 86 degrees. It's not any louder than a fan running in the other room. It also arrived 4 days before the estimated delivery. It didn't take too long to install at all - the biggest issue is that I have wind out windows so setting up the window vents is a pain that requires a lot of ugly tape. I got the unit in black and it looks nice. It's not too bulky and I really like the black. The unit is in my dining room facing out to my living room and is a much bigger space than it says it cools but I'm actually a little chilly. Take the negative reviews with a grain of salt. Noise is not a factor unless you like silence - Draining is probably only a factor if you have the setting on dehumidifier and not cool - not cooling is probably a factor of not having the unit on cool. I would say I have two complaints. One, the vent to blow out the air is retractable. I have two cats who are bound to jump on top of it and close it - so we'll see how that works out. Second, you have to use a small screwdriver to open the battery case on the remote and that is just annoying... Prior to this, I had another brand of an Air Conditioner unit - same BTU - from another online retailer. Granted the unit was about $100 cheaper... but it broke in less than a year. The air was no longer cool. I contacted the retailer and was shipped a new unit. Within a month of receiving the replacement, it broke again. This time the air conditioner made a tremendous squealing noise and stopped cooling. It constantly needed to be drained and I had to get a refund and return the unit because they no longer sold it. I read the reviews here and I figured, whatever. Again - it's only been a few hours but so far I'm happy and not hot... which is a big deal for me. Before I pack this away for the "winter" I'll update the review. It's a 4 star because it's only been 4 hours... in a few weeks maybe it'll go up to 5 and hopefully it won't go down.
09-13-13
Just Average
I had a Haier before and had to constantlydrain. This unit is much better. Still for a 14,000 BTU it does not cool my bedroom as well as my old 8,500 window unit. If anything the window unit was better. Also the parts are not well made. Very flimsy. However I have been kept cool this hot summer.
09-12-13
I am happy I decided to try this unit.
I received a pre- TSV e mail notice for this air conditioner, I live in Northeastern PA where we have been experiencing more heat waves than in years past. My apartment has 3 floors with a heat pump wall unit on only the first floor so the 2nd and 3rd floor can get quite warm. Although the standard air conditioners are much less expensive, they are an eyesore and the window cannot be opened to get fresh air when it is cooler. I felt that these would be a good alternative. I ordered 2 units in white and received one that was damaged by UPS. QVC customer service arranged a UPS pick-up and sent another unit. I struggled to move the air conditioners to the second and third floor as they are VERY heavy. Once in place the set up was fairly easy and all that was needed was heat to try them out. Within a couple of days our first heat wave came. The air conditioners performed very well. The 3rd floor is a 250 sq ft one room office so it had no trouble bringing the temperature from 90+ to 70 degrees. The 2nd floor is a bit more challenging..two bedrooms and a bath. I set it up in the master bedroom and stationed an oscillating fan in the doorway to cool the bath and 2nd bedroom. certainly the master bedroom is the coolest but the other rooms are better than they would be with no air circulation. When I watched the presentation on QVC, the bottom drain was shown as the one to use in the event of a shut down due to a high water level. The host also said that for the most part, the air conditioners were self evaporating. After several days of use I decided to drain the units because I could hear the water dripping when I would turn them off despite the fact that they had not shut down on their own. I opened the bottom drain as was shown on the presentation and very little water came out. I had to actually tip it back to get the water out and it was obvious that mold was starting to grow from the water just staying in the bottom of the conditioner. I must say that I was a little freaked out by this discovery as it is unhealthy to say the least. While trying to "tip" every last drop of water out, I noticed a removable "screw" type part with a rubber plug located just below the exhaust hoses on the back of the units. I removed it and the water just poured out. Happily it landed in the pie plate that I was using for the bottom drain. In order to prevent stagnant water laying in the bottom of the air conditioners, I attached an approx. 18 inch hose and allow it to drain in a bucket . Depending on the humidity, I can collect almost a full bucket is a 4 hour period. I put a plastic coffee can lid under the lower drain just in case there is any drainage from that drain but thus far there has been none. Problem solved!! No stagnant or moldy water and no interruption of service. You do have to watch the water level in the pail or whatever container you choose because the units are very effective in removing moisture from the air. I am rating this 4 stars because I watched the presentation several times throughout the day and not once did the presenters mention the upper drain. I realize that this review is a bit lengthy but I wanted to address the high water shut down issues that I read in other reviews,
08-31-13
always having to drain this!
I think this unit cools just fine. It does have a little noise to it. However my biggest frustration is how often I have to drain this unit. I do live in Ga where it's very humid in summer but this is ridiculous! The last couple of days I have had to empty the.drain almost every two hours like clockwork. The drain is super low to the floor and very difficult to get to. After trying several methods that would work about two inches to the floor, I found that an empty contact lense solution bottle works perfect. It fits over the drain just right and then I can easily empty into a bigger container. I still never expected to have to empty so frquently and with such hassle. Therefore the low rating.
08-24-13
Give it a chance
When I installed this AC unit, I thought, what have I done. It didn't seem like it was working at first. Don't really know why, but it turned out to be a great unit. Yes, there is noise, but my old one in the wall sounds the same. I didn't want to have to hire someone to put in a new wall unit... having to enlarge the wall opening, etc., etc. The new unit was only 12,000 BTU, $479.00 plus tax, installation $250... need I go on. I installed this unit myself in my sliding glass door... all is good... I'm happy and cool!!!
08-18-13
Great for Storms & Power outages
I like the Haier 14,000 BTU Portable Air Conditioner with Remote- This is a must if you live any where a hurricane can possibly hit. I have it for my emergency back up if we loose power here. It can be used with a small generator and will keep a large bedroom & sitting room area cold so you can sleep. Went through two weeks once with no power or air and now am prepared better with this unit. Modern and nice looking as well.
08-07-13
Works fine
I purchased this as extra to help cool our loft. It does the job. My only issue with it was the top vent piece seems out of place and I called for a new part. New part wasn't available so I was told a repairman would come and take care of it. WRONG........the company wanted me to haul the unit into their service center. Needless to say it didn't get fixed.
08-06-13
Glad we purchased
Living in Florida, it is very hot and humid. We needed a little help for our central air. This is great. Read all of the other reviews before deciding on this model. Can't understand why some didn't like it. It is no louder than a window unit. Great buy!!!!
08-04-13
Not worth the price
Does not cool, very noisy and hard to drain. I have it in our bedroom and there is carpet and trying to get something that fits under it to drain is hard it has to be unhooked and brought in to the bathroom on a wood floor to get the smallest lid to fit under it.
08-04-13